Whether they're living life on the road full-time or just taking lots of road trips, nomadic RV owners can seem hard to shop for. How do you find gifts for RV owners that are worth taking up valuable space in the RV and won't be left behind when they hit the road?
This guide will help you pick fun and practical gifts that RV owners will adore!
ABOUT THIS GUIDE TO GIFTS FOR RV OWNERS
We've made it easy to find the best gifts for RV owners! This guide is split up into the following categories, so you can quickly find exactly what you're looking for:
Gifts for RV Owners Under $25 – More than just stocking stuffers!

Handy Kitchen Gifts for RV Owners – Upgrade their cooking game with these gifts.

Great Books for RV Owners – Lots of road trip inspiration & stories.

Cozy Gift Ideas for RV Owners – Help them stay comfy & warm on the road.

Just for Fun Gifts for RV Owners – Unique gifts to elevate RV life.
You can head straight to the section that seems right for the RV owner you're shopping for, or check out all the sections to get lots of gift ideas for RV owners.
The gifts in this guide are geared to RV Owners. If you're looking for fun gifts for gifts for climbers, gifts for hikers, gifts for backpackers, & more, check out our other outdoor gift guides!
*Please note: the below post contains affiliate links
BEST GIFTS FOR RV OWNERS UNDER $25
1. BUNGEE CORDS
When you're on the road in an RV, you realize quickly that everything needs to be secured in some way, and bungee cords are indispensable! Any RV owner would appreciate the gift of a bunch of bungee cords to keep things in place, and a set like this with a variety of lengths will definitely come in handy constantly.
2. BEE'S WRAP
When space is at a premium, like in an RV kitchen, even storing a roll of plastic wrap can be a problem – plus, it's not great for the environment. But Bee's Wrap solves both those issues! Made of cotton covered in beeswax, these wraps store flat but can be shaped to keep a variety of food and snacks covered. They are also washable and reusable.
3. CHARCOAL AIR PURIFIER
If you're spending an extended amount of time in an RV, you might start to notice that it starts smelling a little less than fresh. Charcoal air purifiers naturally absorb odors without adding a fake scent. This pack of 4 can be stashed or hung around the RV to keep it smelling nice, and it will be a much-appreciated gift for motorhome owners.
Buy the Charcoal Air Purifier Here
4. FOLDING STEP STOOL
A step stool is a super practical gift for an RV owner, making it easier to get in and out of the RV and to access the ladder and awnings, among lots of other uses. A folding step stool like this one is great because it collapses to easily store in the RV when it's not being used.
Buy the Folding Step Stool Here
5. STASHER BAGS
Reusable silicone Stasher bags belong in every RV kitchen since they make it simple to store food without taking up any unnecessary space. Stasher bags come in a variety of sizes and colors, and the half-gallon bag works especially well for storing prepped meals and leftovers.
Buy Stasher Reusable Food Bags Here
HANDY KITCHEN GIFTS FOR RV OWNERS
6. INSTANT POT
While it's not just RVers that adore the Instant Pot, it's especially useful in an RV kitchen where space is super tight. The smallest Instant Pot (6 quarts) will still take up some space, but it packs such a punch with what it can do that it's totally worth it.
Of course, you can make hearty stews, rice, and grains in it, but did you know you can also bake banana bread, make hard-boiled eggs, and even cook dessert in the Instant Pot? This is the gift that will keep on giving delicious meals!
7. SEA TO SUMMIT X-BREW COFFEE DRIPPER
You still need coffee when you wake up in an RV, and the Sea to Summit X-Brew Coffee Dripper is the perfect space-saving coffee maker for your favorite caffeine fiend.
This silicone dripper makes a great pour over cup of joe without the need for a paper filter, and it collapses flat for easy storage in a small RV kitchen. Combine it with a bag of their favorite coffee, and you will fuel many road trips.
Buy the Sea to Summit X-Brew Coffee Dripper Here
8. STAINLESS STEEL WINE TUMBLER
Michael and I own a set of these stainless steel wine tumblers, and what we love most about them is that they have lids! Small spaces mean we are often bumping into each other, so it's nice to have a little extra protection from spilling your wine, especially when you're on the road.
Buy a Stainless Steel Wine Tumbler (with Lid) Here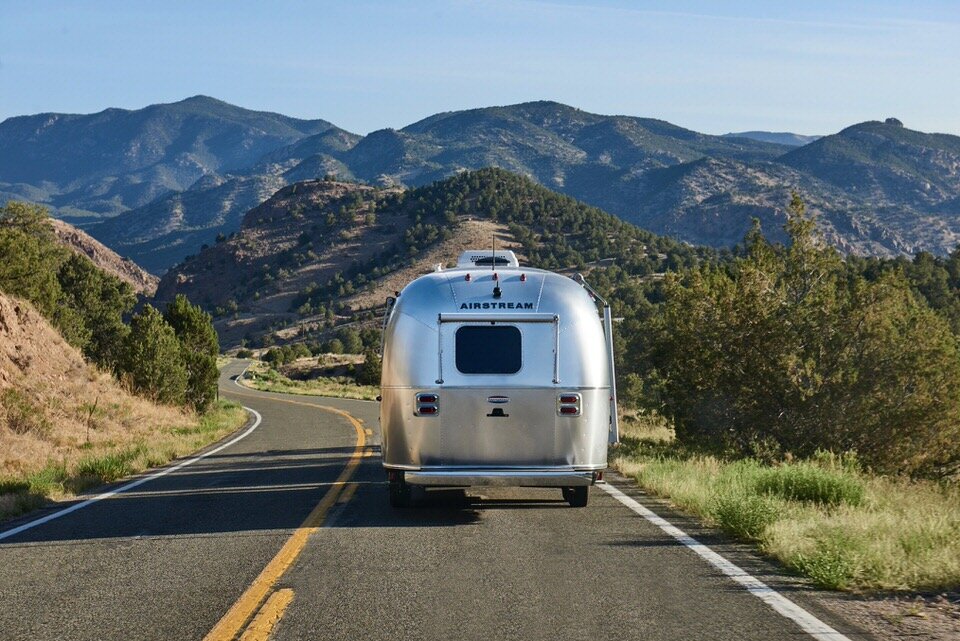 9. NESTING BOWLS
Nothing could be better for an RV kitchen than nesting bowls! And this set includes more than just mixing bowls – it also has a colander, strainer, measuring cups, and a tablespoon, giving an RV owner just about everything they need to stock their kitchen.
10. COMPACT KITCHEN GADGETS
In an RV kitchen, you don't have extra space for non-essential things, but this compact set of kitchen gadgets provides some useful tools that can easily be stored away. Featuring a grater, a grinder, a veggie peeler, a pizza slicer, and a can opener, this would be an awesome gift for an RV chef, especially combined with the nesting bowl set mentioned above.
Buy Compact Kitchen Gadgets Here
11. IMMERSION BLENDER
Another crucial kitchen space saver is an immersion blender. A regular blender is far too big for an RV kitchen, but a handheld stick blender allows RV owners to make smoothies, soups, sauces, and more, all in a small package that can be stored away without taking up counter space.
12. MINI WAFFLE MAKER
This little mini waffle maker is the most adorable addition to any RV-Owners kitchen, and it takes up hardly any space! It's the perfect little motorhome Christmas gift.
Buy a Miniature Waffle Maker Here
GREAT BOOKS FOR RV OWNERS
13. KINDLE PAPERWHITE E-READER
The Kindle Paperwhite – now waterproof with 2x the storage space – is another GREAT gift for RV owners who love to read. There is not a lot of space in a motorhome, so this is the perfect solution for keeping a stocked library with minimal storage space. I use my Kindle nearly every night in our campervan.
Buy the Kindle Paperwhite Here
14. THE OPEN ROAD
A perfect present for RV owners looking for their next road trip, this book offers equal parts inspiration and practical planning advice. The Open Road features itineraries for 50 amazing road trips across the United States, and it's organized by region and length of the trip. The variety of trips offers something for every kind of RVer, and this book will be an excellent companion when hitting the road.
15. CAMP COCKTAILS
Help an RV owner bring classy cocktails to their camp bar with this excellent book. Camp Cocktails assists amateur bartenders with awesome drink recipes, from super simple to more fancy. The book includes plenty of warm cocktails for those cold nights on the road, and even has a chapter based on foraged ingredients to bring nature into your glass.
Buy the Camp Cocktails Book Here
COZY GIFT IDEAS FOR RV OWNERS
16. RUMPL BLANKET
I love these adorable Rumpl down puffy blankets! You can easily stuff them into the included sack and shove them into any nook or cranny of extra space in the RV then bring them out when you need extra coziness in your life.
These puffy blankets come in a bunch of fun colors and patterns to fit any style, and they also add a nice extra layer of insulation if you are looking to add some layers to your RV bedding.
17. NORTH FACE THERMOBALL TRACTION BOOTIES
Sometimes it gets cold on the road, and the North Face Thermoball Traction Booties are the perfect thing to keep your feet warm! These cozy insulated booties are extra awesome since they have a rubber sole for wearing both in and out of the RV.
Buy the North Face Thermoball Traction Booties Here
18. HAMMOCK
Hammocks would make a fun gift idea for an RV owner to bring some comfiness to their outdoor space when they stop to camp. They can just keep the hammock in the RV, and when they get that epic campsite, they can set up a cozy reading or napping nook in the trees.
Buy the Honest Outfitters Hammock Here
19. STRING LIGHTS
Add atmosphere to the indoor or outdoor space of an RV with the glow of string lights! The MPOWERD Luci String Lights are cool because they are actually solar-powered, so you can simply recharge them outside when you're on the road and away from RV hookups. They are also easy to store since the lights fit inside the charger unit.
20. PENDLETON BLANKET
We absolutely LOVE our Pendelton blanket in the van! These gorgeous wool blankets would do a great job adding a heavy layer of warmth to your bedding in an RV, too.
We like to layer our bedding system with a sheet, down blanket, and the Pendelton wool blanket on top to trap in the warmth. The twin size actually fits well on our van bed, but you could get a bigger one for your favorite RV owner if they have more space.
Buy a Pendelton Wool Blanket Here
PRACTICAL GIFTS FOR RV OWNERS
21. CELL SIGNAL BOOSTER
If your RV owner friend or family member is a digital nomad working from the road, this would be the most welcome gift. Finding wifi or cell signal can be such a hassle when you're trying to work on the road, and this booster will make it so much easier to connect. It is definitely a pricey gift, but it will totally pay off in terms of productivity!
Buy the Cell Phone Signal Booster Here
22. ROADSIDE RESCUE KIT
Hopefully, an RV owner will never need this Roadside Rescue Kit, but you really never know what will happen when you're on the road, so you want to be prepared. This kit has everything for all sorts of emergencies from minor injuries to RV issues. It includes a basic first aid kit, jumper cables, tow strap, roadside warning sign, flashlight, and more, so you can give the gift of peace of mind!
Buy the Roadside Rescue Kit Here
23. PACKING CUBES
Staying organized when you're living life on the road can be incredibly difficult—trust me! Even though you have fewer possessions, you also have very limited storage.
Packing cubes can make it easier for RV owners to keep their small space organized. These cubes can also be used in your suitcase when you travel for work or play. We use ours daily and love them!
24. SCRUBBA PORTABLE WASH BAG
When you are spending weeks at a time away from the amenities of normal life, sometimes it's hard to feel clean. This portable clothes washing bag gives RV dwellers the ability to wash their clothes without having to stop at a laundromat. It also doesn't take up too much space, and would make a great Christmas gift for RV owners!
Buy the Scrubba Portable Clothes Washing Bag Here
25. POP UP TRASH CAN
Sure, a collapsible trash can might not be the sexiest gift for RV owners, but, honestly, it might end up being the most useful gift! Once you park your RV and set up camp, you'll need a place to put your garbage, and this pop-up trash can is really the perfect thing.
Clips inside the top securely hold a trash bag, and the zipper top keeps bugs away. Plus, you can get a recycling version, too, to keep everything separated.
JUST FOR FUN GIFTS FOR RV OWNERS
26. CAMP TABLE
Although an RV kitchen will provide enough space to cook, often you'll want to eat outside, and sitting with your plate on your lap can get old rather quickly.
The GCI Outdoor Compact Camp Table is a fantastic way to set up your meal outside the RV. This table is easy to set up, reliable and takes up little storage space. Even if your friends or family have a place to cook and eat inside of their RV, they will appreciate dining al fresco on those warm summer nights.
Buy the GCI Outdoor Compact Camp Table Here
27. KING KONG CAMP CHAIR
A camp chair is always a good gift for someone who likes to spend time outdoors, and RV owners can prioritize comfort over weight. The King Kong camp chair is extremely comfortable since it has extra padding and sits high off the ground. Spoil your favorite RV owner with this rugged camp chair that will last for a very long time.
Buy the King Kong Camp Chair Here
28. SOLO STOVE FIRE PIT
Nothing says a night in the outdoors like a campfire, and the Solo Stove Fire Pit makes it super simple to build a fire wherever your RV goes. This portable fire pit is compact and contains a campfire to leave no trace. The special airflow system also produces very little smoke, making it more comfortable to sit around.
Buy the Solo Stove Fire Pit Here
29. BLUETOOTH SPEAKER
While your friend probably has a stereo system in their RV, a Bluetooth speaker allows them to bring the beats outside once they set up camp. While I don't recommend blasting music at a crowded campground, enjoying your favorite songs around the campfire can be really nice when no one else is nearby. The OontZ speaker has a long battery life and can be recharged via USB.
Buy the OontZ Angle 3 Bluetooth Speaker Here
30. RV WELCOME MAT
A doormat does double duty by making an RV more welcoming and preventing dirt from getting tracked inside. While there are lots of options, this extremely cute RV-themed mat sums up life on the road and will add some charm to your friend's RV campsite.
31. NATIONAL PARKS PASS
A US National Parks Pass would be a REALLY AWESOME gift for RV owners. The annual pass costs $80 and gives access to all sites managed by the National Park Service, Forest Service, Fish and Wildlife Service, Bureau of Land Management, and Bureau of Reclamation for an entire year.
It's 100% worth the price if the RV owner you're shopping for wants to visit lots of national parks in their RV, since park entrance fees run about $20 per visit without the pass. So after just 4 visits, the pass pays for itself! We buy one every year, and I think every RV owner would appreciate this gift.
Buy a National Parks Pass Here
I hope this gift guide has sparked some ideas for your RV owner friends and family members (or maybe yourself)! If you have any questions or want any other suggestions, reach out to me in the comments below, and be sure to check out some of our other gear resources!
OTHER GEAR AND OUTDOORSY GIFT GUIDE RESOURCES:
Cheers,
Allison – She Dreams of Alpine