Rugged, rocky trail that runs along a ridge with many expansive viewpoints before arriving at Terrace Pond.
Mileage: 5.5 miles round trip. Surface varies from a generally level rocky trail to traversing rock slabs to short sections of scrambling up and down.
Shorter: 3.4 – Rugged route with the views but skips the pond. Turn around where noted below.
Longer: 6.3 – Add a circuit around the pond.
Very Nearby: Bearfort Ridge – Surprise Lake.
Hike Info:
Updates: 10/2019 – re-hiked, minor description changes. 6/24/14 – re-hiked, route/description revised, new GPX, new photos.
Our two cents:
Multiple nice viewpoints, interesting trail with some scrambling, and a nice pond as an end destination – all in under 6 miles.
This is not the popular, shorter route to Terrace Pond. On a brisk fall morning we saw no other hikers. In summer expect it to be busy around the pond.
This route requires walking down a gas pipeline cut. While that is one of our least favorite things to do, it's not a long section. 2019: Pipeline had some very overgrown tall grass in sections.
The prominent road noise in the beginning fades pretty quickly.
Map:
North
Jersey Trails. Located in the Bearfort Mountain Natural Area that is part of Wawayanda State Park but trails are shown on the Abram S. Hewitt park map.
Note: Our online map shows the full route including the optional circuit around the pond.
Books:
This route isn't in any that we know of. Alternate Terrace Pond routes are in 50 Hikes in New Jersey, Hiking
New Jersey, Take a Hike New York City, Hike of the Week, Best Day Hikes Near New York City.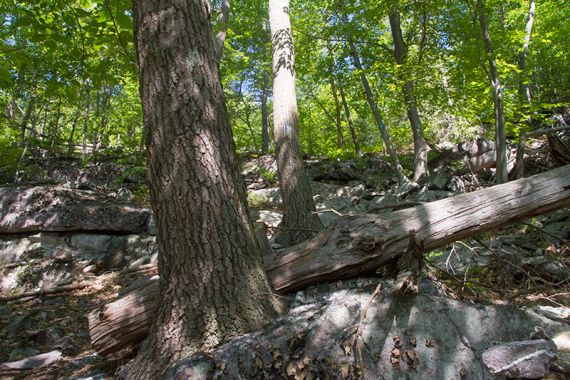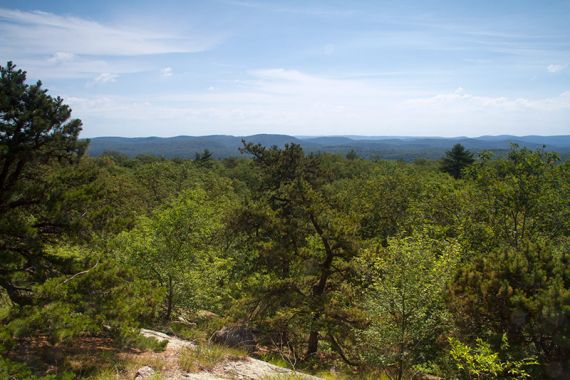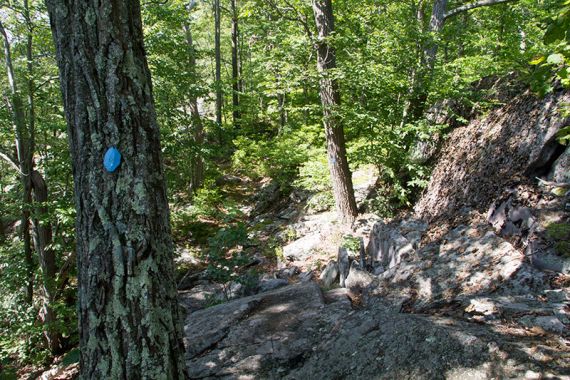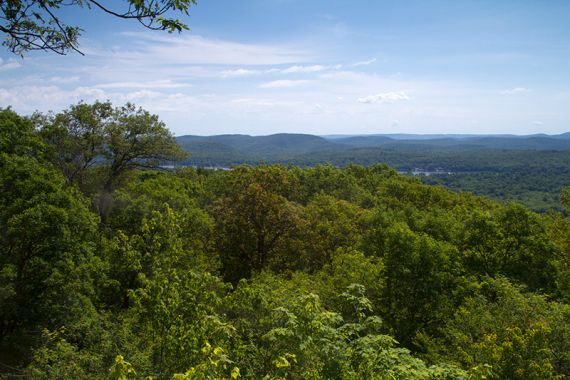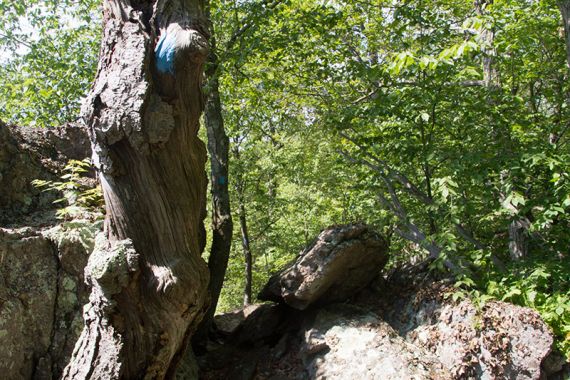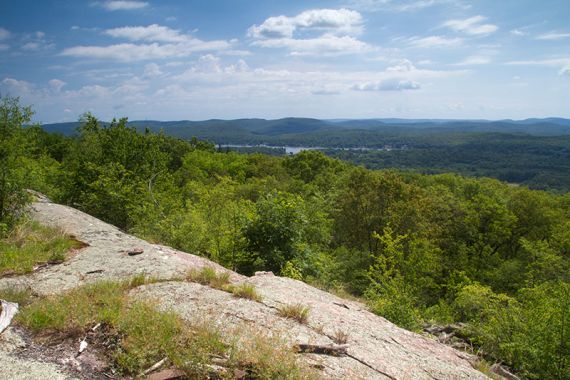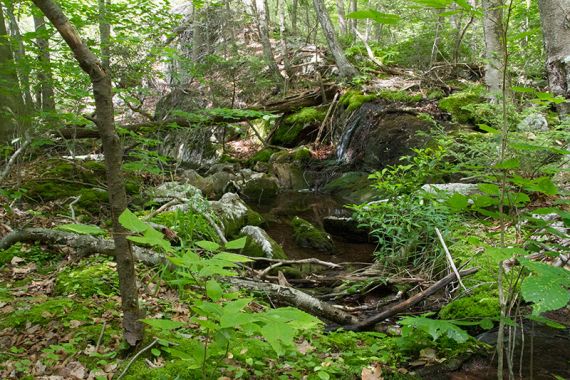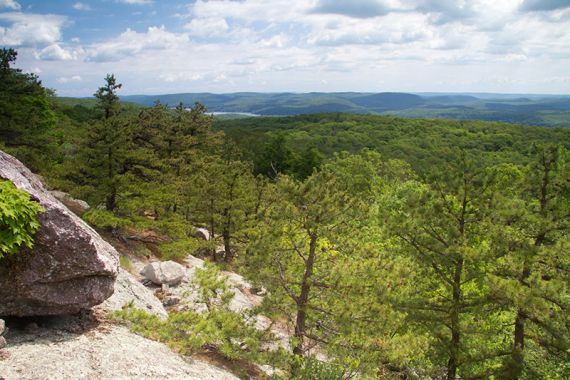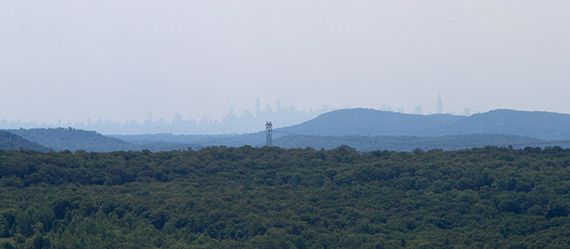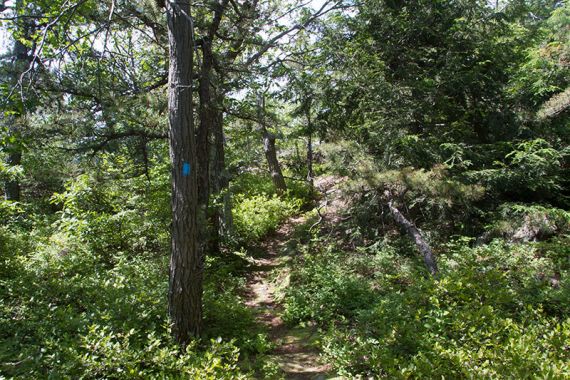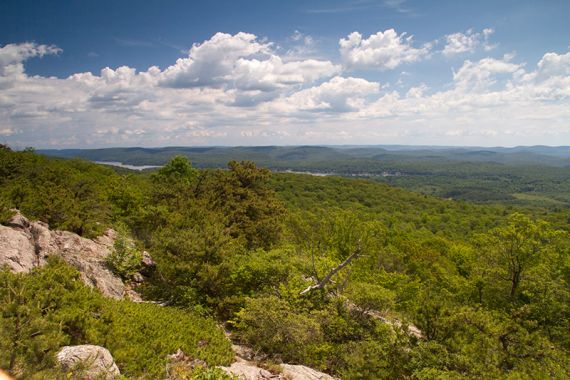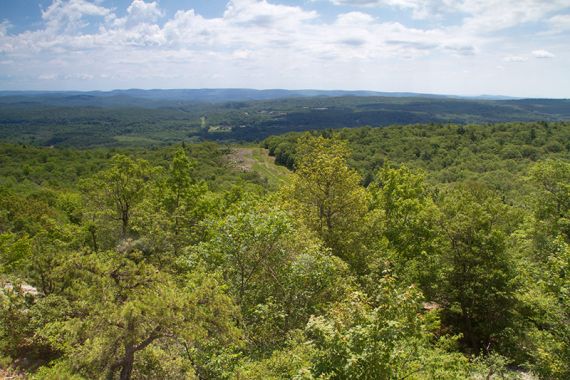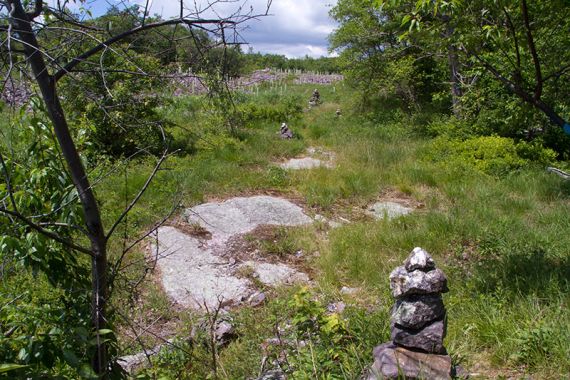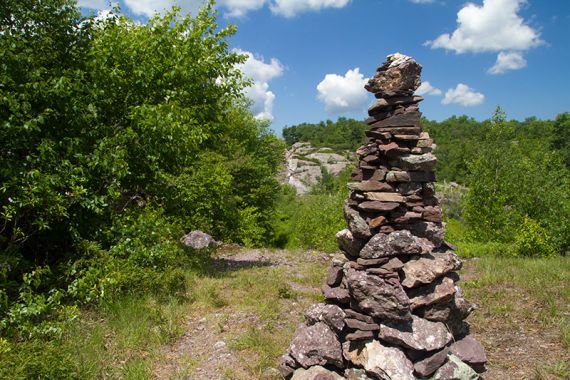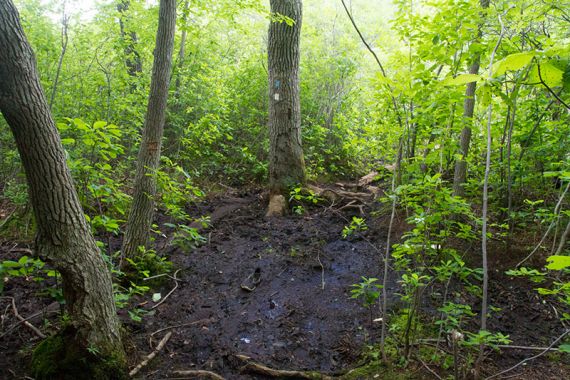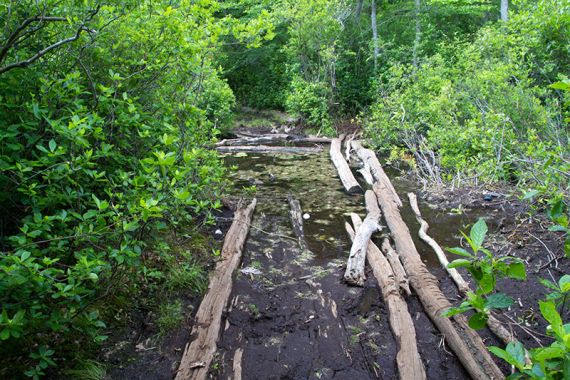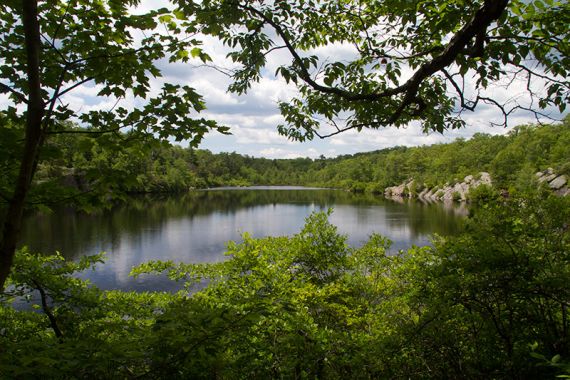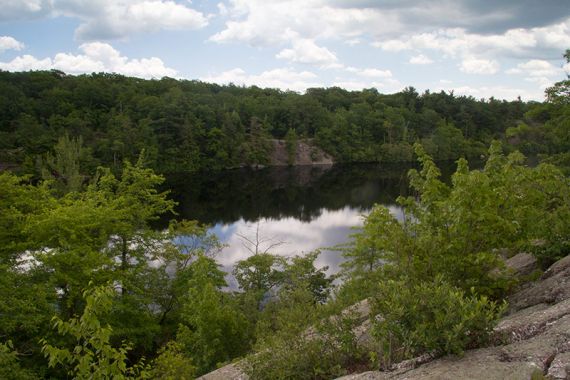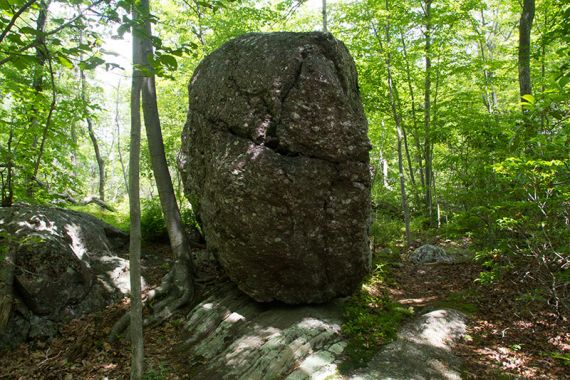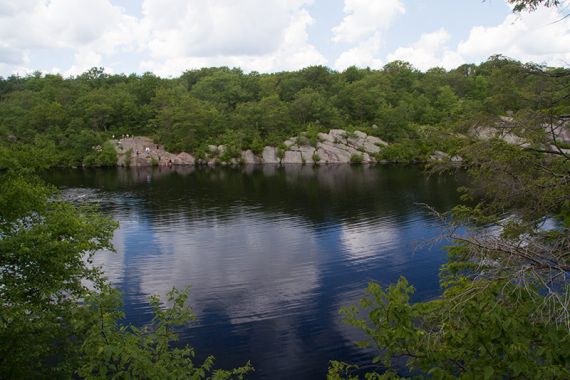 Prev
1of20
Next
Rt 287 N to exit 55, follow 511 North through Wanaque. Bear left at the Y-intersection with Skyline Drive.
Keep straight past the intersection with Lakeside Road, following Rt 513. Stay straight at the fork, becoming Warwick Turnpike.
Pass the trailhead for Bearfort Ridge/Jeremy Glick and their two small parking pullouts on the right side (the first is right after a concrete bridge and the guardrail, then another shortly after). This hike starts at the third pullout further down the road with room for a few cars.
There is signage near the pullout and BLUE markers across the road for the trailhead. Traffic moves quick and around a corner so crossing can be a tad dicey.
If the parking is full, an option is to start the hike at the parking for nearby Bearfort – Surprise Lake and connecting to this hike using WHITE (Bearfort Ridge).
Note: Google shows this parking as "Quail Trailhead" which is incorrect. Quail (ORANGE) starts from the Bearfort Ridge trail, nearer to the start of the Bearfort Ridge – Surprise Lake hike.
Restrooms:
None. Best bet are gas stations along 511, there is one nearest the trailhead at the intersection of Lakeside Rd.
Also: Porta-john at the Monksville reservoir on Rt 511. Look for the "Long Pond Ironworks" park sign on the left and follow the driveway down.
Restrooms are at the visitor center for Long Pond Ironworks but usually open very limited hours (Usually 1-4).
Swimming Note:
Though you'll see people doing it, swimming in Terrace Pond is not allowed – it's patrolled and ticketed.
The sides of the pond are somewhat high above the water on rock ledges in most spots, it's not like you can walk into the water from a beach.
It can be dangerous and several people have drowned. In addition, it's difficult for Search & Rescue to reach this remote location quickly.
See "Terrace Pond attracts hikers from all over, but there's a reason why swimming is banned."
Hike Directions:
Overview: BLUE (Terrace Pond North) – WHITE (Terrace Pond Circular) – BLUE (Terrace Pond North)

0.0 – After crossing the road, BLUE (Terrace Pond North) immediately travels through a beautiful rhododendron tunnel and heads uphill a bit.
The rugged trail climbs to multiple outcrops. There are many views so we've just noted a few standouts. Watch for turkey vultures and hawks gliding in the valley below.
0.6 – Viewpoint. GPS: View1-TPN
0.8 – Viewpoint. GPS: View2-TPN
1.0 – Continue following BLUE (Terrace Pond North) thru a pretty area with a stream and mossy rocks.
1.5 – Viewpoint, right after a climb up and near a large rock. Greenwood Lake becomes visible to the left, while the NYC skyline can be seen off on the right if it's clear. GPS: View3-TPN
1.7 – Viewpoint. GPS: View4-TPN
[Shorter: Turnaround now and retrace your route for a 3.4 mile hike]
1.8 – Meet up with the gas pipeline cut. Viewpoint, NYC skyline may be visible.
Turn RIGHT and continue following BLUE (Terrace Pond North) along the right side of the cut, then follow it as it crosses to run along the left side. GPS: Pipeline1/TPN
2.1 – Turn LEFT, still following BLUE (Terrace Pond North), as it re-enters the forest and leaves the pipeline. GPS: Pipeline2/TPN
2.6 – Arrive at the start of WHITE (Terrace Pond Circular), which continues around the pond and ends up back here.
[WHITE (Terrace Pond Circular) goes left and right, BLUE (Terrace Pond North) continues right] GPS: BLUE-TPN1/WHT-TPC
Turn LEFT to now follow WHITE (Terrace Pond Circular) to the LEFT. [*OR, see variation below]
2.7 – There are a few viewpoints/break spots for the pond on the right side. The first is somewhat limited, the second is better, and the next is larger and more open but may have more people. GPS: VIEW1/2/3-TPC
When ready, retrace the entire route back.
——-
Optional extension: Instead of backtracking from this point, keep following WHITE (Terrace Pond Circular) around the pond.
The trail moves away from the pond and continues through dense rhododendron (passing intersections with YELLOW DOT, YELLOW, then RED) and several more viewpoints.
Negotiate scrambles and a seasonally wet area that can be a bit tricky to negotiate before completing the circuit. Turn LEFT and retrace BLUE (Terrace Pond North) back.
——-
*Variation: Instead of heading left at the intersection with WHITE (Terrace Pond Circular), turn RIGHT and follow WHITE (Terrace Pond Circular)/BLUE (Terrace Pond North) for other great viewpoints or to circle the pond in a more challenging direction.
The scrambles are first and a bit harder in this direction (going down is harder than up, and one is a bit far to reach down if you are short).
Follow WHITE (Terrace Pond Circular) the entire way around, through a seasonally wet area that can be a bit tricky to negotiate.
Pass some more views and intersections with RED, YELLOW, then YELLOW) before completing the circuit and retrace BLUE (Terrace Pond North) back.
—
Hiked: 10/19/19. Trail Blog: "Hiking the Terrace Pond North Trail in October"
Hiked: 6/22/14. Trail Blog: "Terrace Pond North – Ridge Vistas and around the Pond"
Hiked: 5/25/09. Trail Blog: "Terrace Pond North Trail"