Fall foliage views from the ridges on the way to Terrace Pond.
Since 2019 is the 10 year anniversary of njHiking.com we've been re-hiking some of our favorite hikes.
We hadn't done this route since 2014, "Terrace Pond North – Ridge Vistas and around the Pond", and never during fall foliage season… so off we went.
This hike is a favorite because it switches it up going back and forth between just hiking a trail and some fun minor scrambling, there are plenty of nice big views from the ridges, and it ends up at Terrace Pond.
For complete hike info, photos, maps, check out our main "Terrace Pond North" page.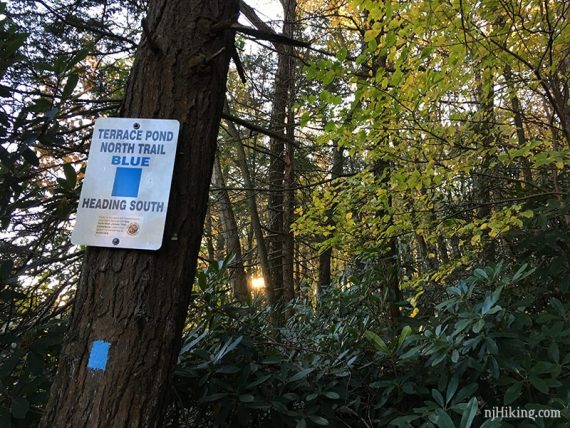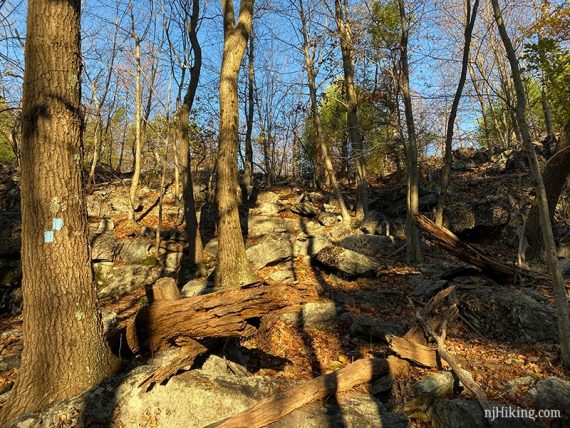 Sometimes it pays to get an early start. But it was chilly in the upper 30s.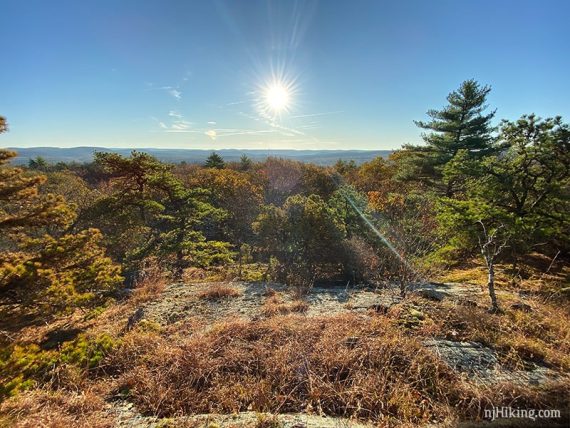 Rocky trail to keep things interesting.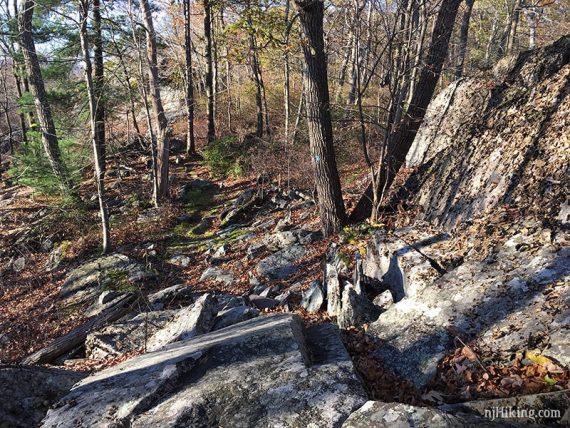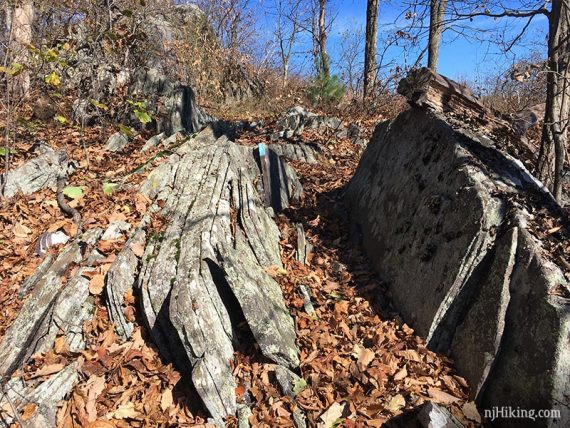 Some large rock formations along the trail.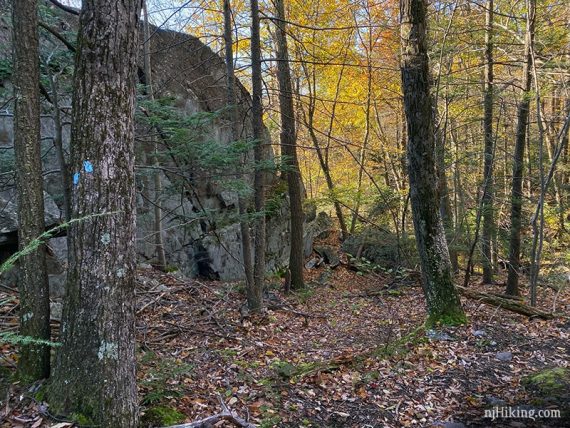 Keep climbing up…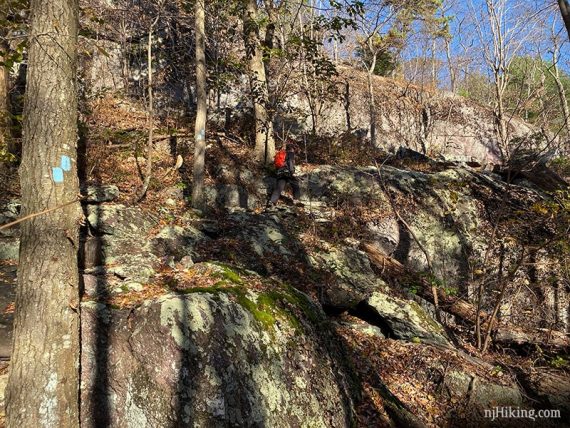 For more views.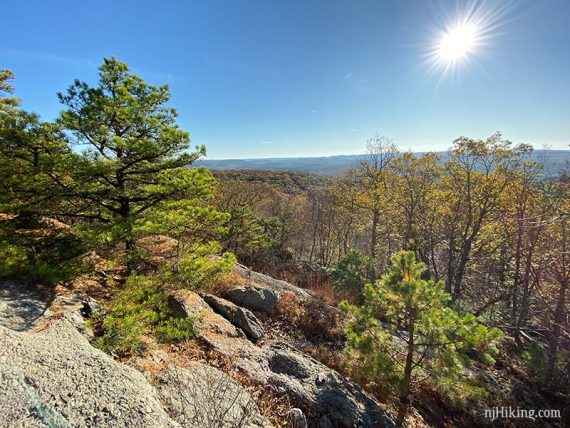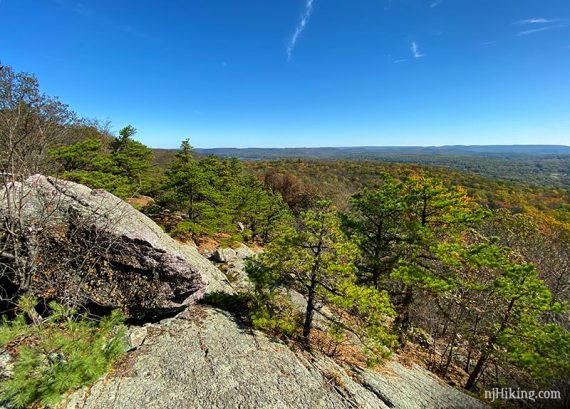 There is an area with some cool pine trees… complete with a blast of that pine smell (which we didn't notice in the cold morning but on the return in the warm sun we did…)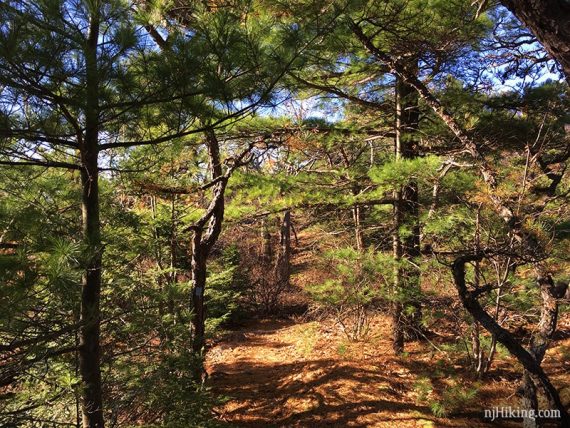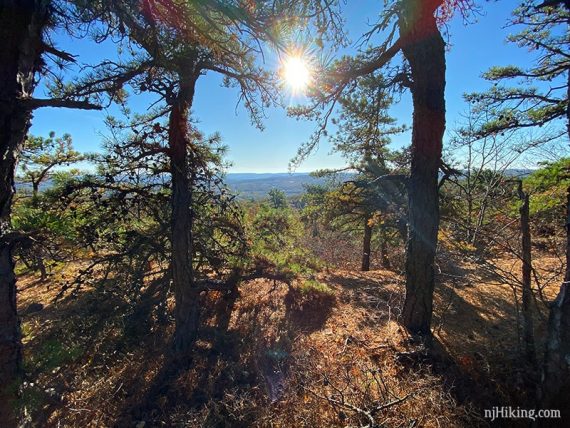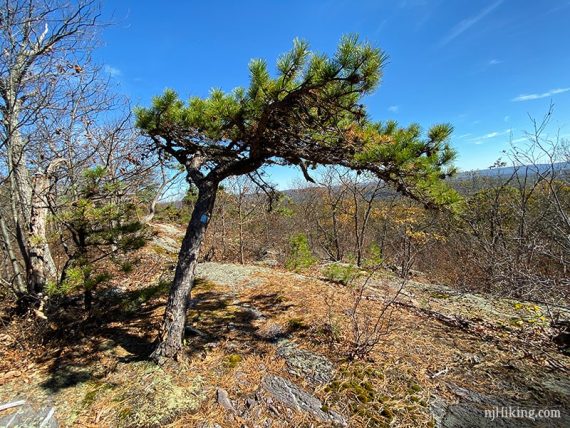 The trail turns and runs along a gas pipeline cut for a bit, but there is a nice view from here. The NYC skyline can be visible here and on a few viewpoints before this one if it's clear enough out.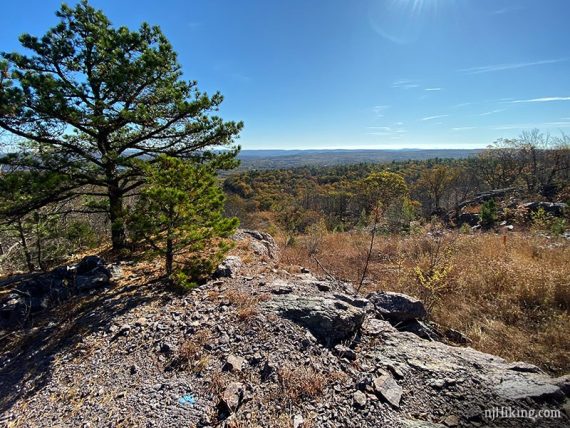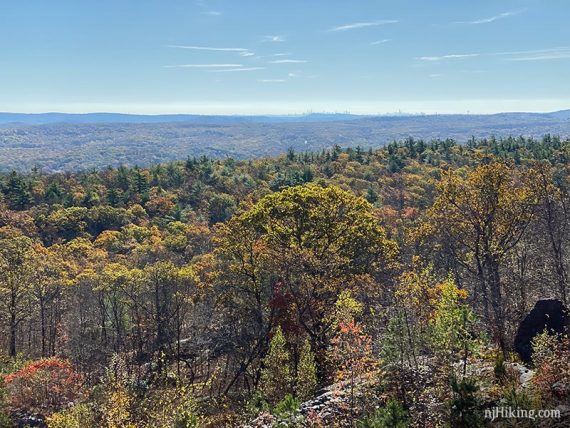 The cut was very overgrown in one spot, with the grasses reaching several feet high.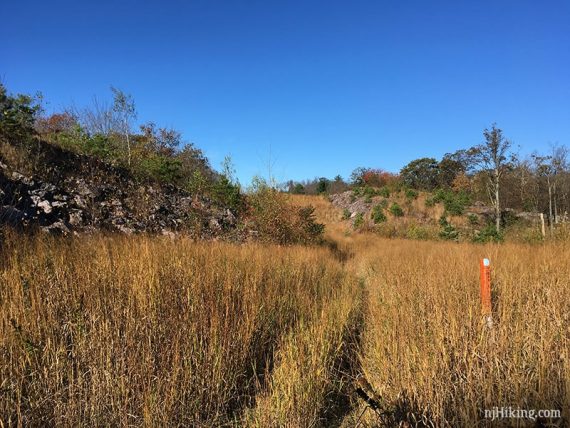 One of many rock slabs the trail runs along.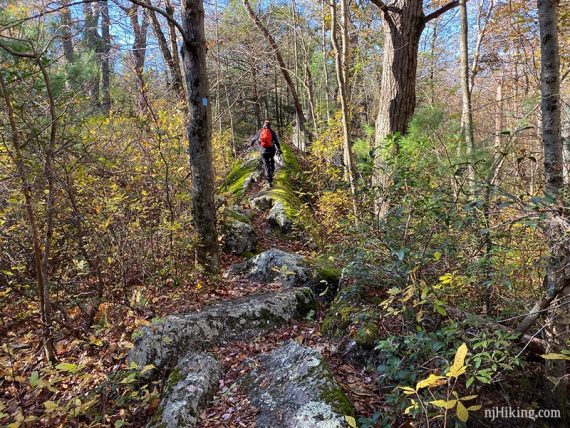 We planned on taking our snack break at Terrace Pond but it was so cold in the shade and there was a breeze off the pond that we decided not to.
This area can be plagued by trash summer months, and while the trail was spotless we did see several pool "noodles" floating near the shore.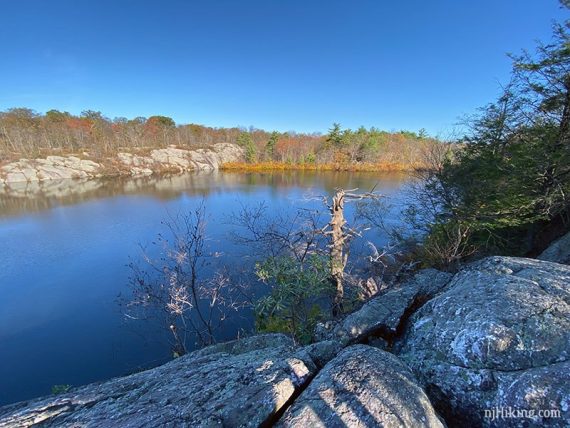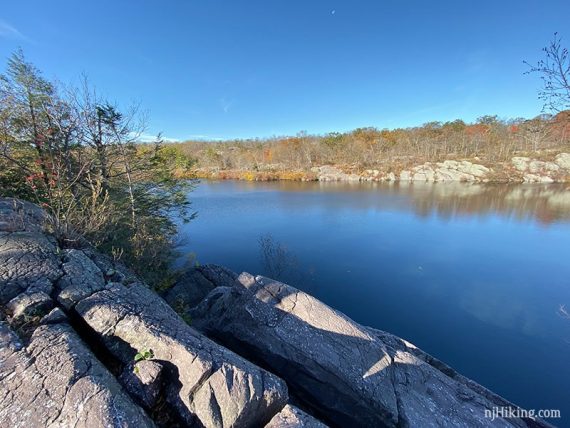 At this point you can continue the loop around the pond, or retrace for a nice out-and-back. We decided to not go around the pond this time as we'd just done a hike to the other side of Terrace Pond last month.
Heading back…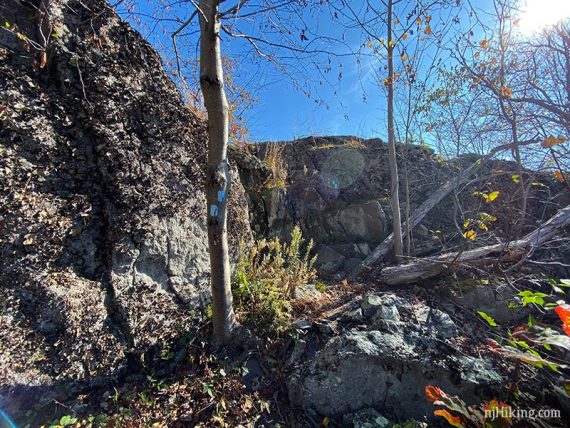 There was a nice big sunny rock we took a long break at. Greenwood Lake is visible in the distance.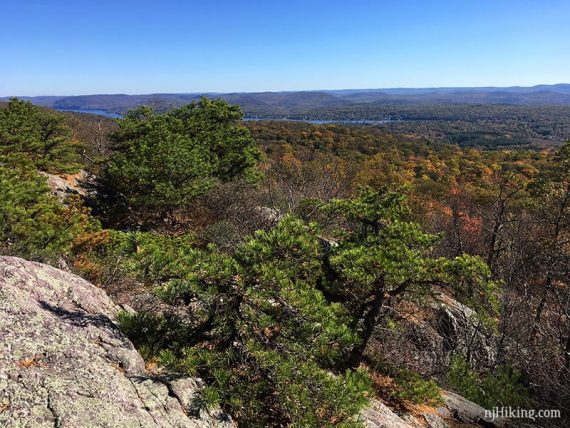 Ever get the feeling you are being… watched? These two hung out above us. Maybe they wanted my Clif Bar?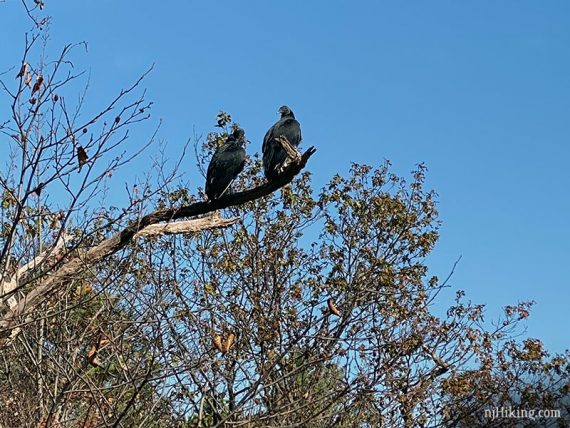 There was a lot of leaf drop from the prior windy few days, but still some nice color on the trees. There is also a rhododendron tunnel right at the beginning/end of the trail.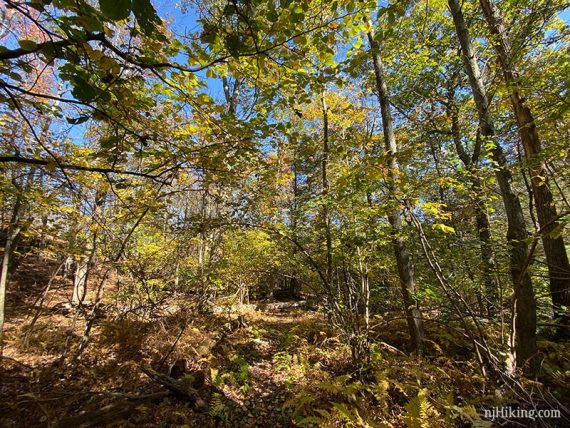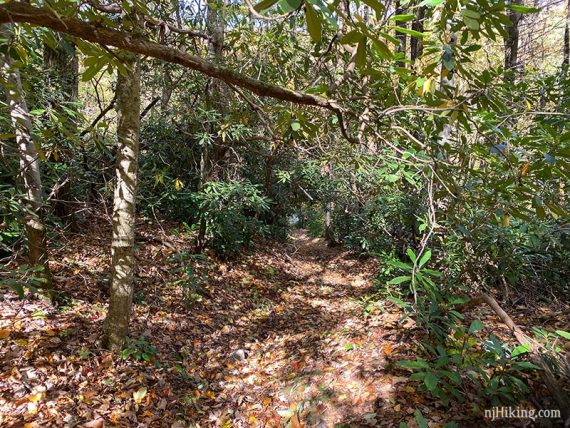 For complete hike info, photos, maps, check out our main "Terrace Pond North" page.
Miles: 5.5
Wildlife spotted: A pair of turkey vultures, in a tree above us while we had our snack break. Sitting. Watching. A bit later we passed a pair again in a tree and wondered if it was the same ones. Lurking…
Post hike: Venti iced vanilla latte, nitro cold brew pumpkin cream ('cause it's almost Halloween…)