I've always dreamt of backpacking and hiking in Idaho's Sawtooth Mountains. I didn't know much about them, but a past coworker of mine once told me it was one of her favorite places to visit and so I mentally bookmarked the Sawtooth Mountains as a "must-do" future adventure.
Then luckily, this Fall when the time finally came for Michael and I to continue our van travels up into Idaho, I immediately did some researching for epic backpacking adventures in the Sawtooth's.
That's when I came across the Alice Lake hike.
I was looking for something beautiful, dog friendly, and easily accomplished in 2-3 days, and Alice Lake met all the qualifications.
In fact, this area of the Sawtooth Mountains absolutely took our breath away.
I'm so glad that our first introduction to the Sawtooth Range was the Alice Lake area, because it is hands-down one of the most beautiful trails I've ever been on (and I've been on a LOT of beautiful trails).
We decided to do the full Alice-Toxaway Loop during our trip (which, btw is SO WORTH IT), but this guide will cover both the Alice Lake hike which is easily accomplished in a day or extended as a backpacking trip for a chill weekend.
Plus I'll also share the details about the Alice-Toxaway Loop if you are looking for a bit more of a challenge and extra-epic scenery and viewpoints to boot.
Let's get started shall we?
P.S. Be sure to check out my video of the full Alice-Toxaway Loop if you want to see just how freaking beautiful this trail is. You'll find it in Section 9!
New to Outdoor Backpacking?
Join me and one badass group of women on a transformational adventure, where you will learn how to confidently go on your first ever (or perhaps your first solo) outdoor backpacking trip without the constant fear of getting lost, the crippling worry of being unprepared, and the lurking feeling that you lack the "know-how" and skills required to stay safe on the trails. Click below to learn more about my one-of-a-kind backpacking program, Become an Outdoor Backpacking Badass!
WHAT WE WILL COVER IN THIS GUIDE:
If you're new to my site, well then let me tell you one thing: I like to write EPIC trail guides. Like one-stop-shop trail guides.
I want you to find anything and everything you need for your adventures into the mountains so you can feel fully ready and prepared for any trip you embark on.
Plus, I'm told organization and planning are some of my biggest super-power's, so I might as well put them to good use here for you.
So with that said, there is a lot of information in this post, if you are looking for something specific, feel free to skip ahead to one of the below categories. My below Alice Lake trail guide will cover the following:
1. Alice Lake Hiking Trail Specifics – Stats baby! All the juicy data for the trail. How many miles, elevation gain, & more.
2. Alice Lake Hike Reservations and Permits – We cover the kind of permits you need to hike this trail.
3. Alice Lake Trail Map & GPX File – I love maps and outdoor navigation, so I've created a map detailing the whole trail that you can explore. You can also download this file as a GPX file to upload into your own personal GPS device.
4. Best time to visit Alice Lake (When to Go) – Details about the best time to hike Alice Lake Sawtooth Mountains and typical weather to expect on your trip.
5. How to Get to Alice Lake in Idaho – Where is Alice Lake located and how do you get there? (Hint: near Petite Lake, Idaho)
6. Alice Lake Camping– Details on the camping situation in and around Alice Lake.
7. Hazards & Challenges of Hiking the Alice Lake Trail – ashort list of the top hazards and challenges you might face along this trail.
8. What to Bring – What are the essential items you should bring on your Alice Lake hiking trip?
9. Itinerary for hiking the Alice Lake Trail – I'll walk you through an ideal itinerary for your Alice Lake hiking or backpacking trip.
10. Looking for a Challenge? Backpack the entire Alice-Toxaway Loop. – If you're up for a bigger adventure/challenge in Idaho's Sawtooth Mountains, then I want to share the Alice-Toxaway Loop Itinerary and Map with you, I think you'll love it!.
Plus, be sure to check out the bottom of this post to find more ultimate hiking trail guides in the US and other additional hiking, camping and backpacking resources!
GRAB MY ULTIMATE OUTDOOR ADVENTURE STARTER KIT
I created an awesome Outdoor Adventure Starter Kit for you (for FREE). It's filled with 15 pages of hiking, backpacking and rock climbing tips, techniques and inspiration to help you hone your outdoor adventure skills and become the ultimate outdoor badass. You can get immediate access to it below. What are you waiting for?
1. Alice Lake Hiking Trail Specifics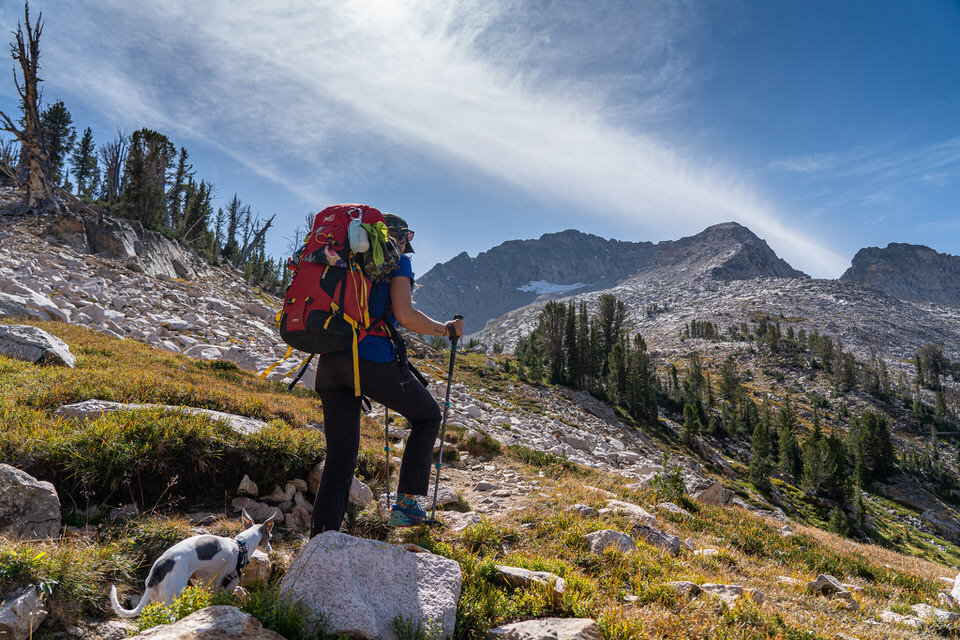 To say the Alice lake hike is a "beautiful" hike just doesn't seem to do it justice. It's jaw-dropping, exciting, surrounded by tall, jagged peaks commonly called the "Dragon's Back", and is a hike filled with so many opportunities of side adventures and extensions.
You can't go wrong choosing to hike on the Alice Lake trail.
A Few Quick Facts About the Alice Lake Hike:
Trail to Alice Lake: Starts at Tin Cup Trailhead (near Petite Lake) and heads toward Alice Lake

Type of Trail: Out and Back (if only hiking Alice Lake), can be connected into a loop commonly called the Alice-Toxaway Loop

How many miles is the hike to Alice Lake: ~12 miles round trip, but you can extend the trip to Twin Lakes if you want to hike a bit further (~2 miles extra round trip), OR backpack the entire loop (see section 10 for more details on the Alice Loop)

Total Elevation Gain: ~2000 feet total elevation gain to Alice Lake and back

Alice Lake Hike Trailhead: Tin Cup Trailhead (at Petite Lake Campground)

Trailhead Elevation: 7,048 feet

How long does it take to hike Alice Lake? Plan a full day for hiking to Alice Lake, especially if you plan to spend time relaxing and enjoying the area. The day hike could take anywhere from 5 to 8 hours, depending on your pace.

Alice Lake Crowds: The hike to Alice Lake is a pretty popular hike in the Sawtooth Mountains, especially if you go during the summer and on the weekends. Expect to share the trail, particularly for the day hike with other hiking parties.

Do you need a permit to hike to Alice Lake? Yes, you'll need a backcountry permit (no fee). See my permit section below for more details.

How difficult is the Alice Lake hike? While there is 2,000 feet of elevation gain on this trail, we found it to be nice and steady (not too steep) and well spread out over the hike. If you're new to hiking, expect that this will be a physical challenge since the hike is mostly uphill on the way to Alice Lake, but you'll get a nice consistent downhill for your return back to the car. I'd rate it as a "moderate" day hike, but do consider your own abilities and experience before attempting the trail.

Is there drinking water available along the Alice Lake trail? Yes. There are two big lakes (Petite Lake and Alice Lake), plus a number of river crossings where you can fill up on water. If you're day hiking, you may be able to get by with 3 liters of water, but it's always smart to pack a water filter just in case you need to fill up. Check out my packing list below for my recommended water-filters.

Is hiking Alice Lake dog friendly? Yes! Dogs are allowed to hike with you (on leash) in the Sawtooth Mountains in Idaho. In fact, there are signs in the backcountry on the Alice Lake Trail that showed dogs were even allowed "off-leash" after Labor Day (I'm guessing because the crowds are less).

What kind of fish can I find at Alice Lake? Brook Trout are the most common type of fish you'll find in Alice Lake.
2. Alice Lake Hike Reservations and Permits
Compared to many of my adventures in California, getting a permit to hike in this area of the Sawtooth mountains was a breeze.
Is a permit required? A permit is required, but it is essentially a "walk-up" permit.
Where do I get my permit to hike the Alice Lake Trail? At about 1.2 miles into your hike you'll run into free permit box (located at the Wilderness Boundary). It's a wooden stand along the trail, you won't miss it.
Do I still need a permit if I'm not backpacking or camping overnight? Even if you're only day-hiking you still need to fill this out. So, take a moment, fill out the slip of paper, and then continue onwards with your hike.
Other useful Permit Information and Regulations:
Groups of 8 or more (or any overnight stock use) must obtain their permits from a Forest Service Office

Groups may not exceed 12 people and 14 heads of stock from May 1-November 30

Camp at least 100 feet from trails, lakes, and streams (this is a key leave no trace principle)

There are strict rules about campfires, i.e. Campfires must be on a fire pan or fire blanket, and are not allowed in certain areas of the Sawtooths (educate yourself before going if you want to have a campfire)
3. Alice Lake Trail Map & GPX File
The trail to Alice Lake is pretty straight forward and easy to follow. The main thing you need to watch for is that when you're at the Tin-Cup Trailhead, hike clockwise to head toward Alice Lake.
Your hike will skirt along Petite Lake as you get started. If you start hiking away from Petite Lake, then you're going counter-clockwise (which by the way, is an awesome option for the Alice-Toxaway Loop, if you're doing that).
Below is my Alice Lake Trail map. It details all the key milestones of the hike including the trailhead start.
You can find the "GPX tracks" for this hike to load into your own GPS below.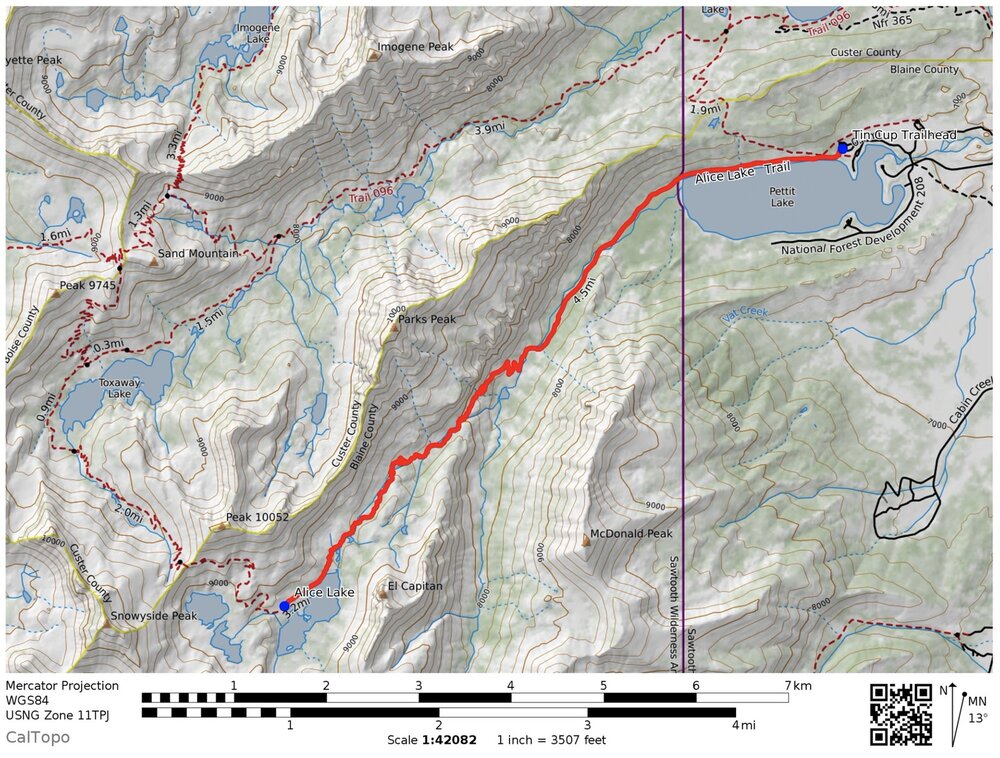 DOWNLOAD THE GPX FILE FOR THIS TRAIL!
Knowledge is power my friend, and I'm a girl who loves data. Get access to this trails GPX file PLUS my library of GPX files with tracks and waypoints for all the trails loaded onto the She Dreams of Alpine blog.
Load this puppy into your trusted GPS and rest easy knowing you have tracks to follow on your next hike or backpacking trip.
DON'T HAVE A GPS? YOU SHOULD.
Look, I believe every hiker and backpacker should be self-sufficient, and that includes knowing how to practice smart navigational skills in the outdoors.
This is something I teach in my backpacking program, but I want to give you a couple GPS options to get started. Don't ever risk getting lost, and don't rely on other people for your safety outdoors.
Be empowered and take 100% ownership for yourself my friend.
(Please note the below links may contain affiliate links)
Here's what I recommend:
1) GAIA GPS Phone App: At a bare minimum, consider getting a premium subscription to GAIA GPS App. This App allows you to download maps in advance and take them offline into the backcountry. You can record your tracks, upload tracks from online to follow (like the one I have above), and so much more with this phone app, and GAIA is offering a special discount to those who subscribe online through my link above, 20% off their normal prices. But even if you don't use my link… please, at a minimum get a GPS phone app to help you navigate outdoors!
2) Handheld GPS: If you hike often or go backpacking, then I highly recommend you investing in a handheld GPS. I own a Garmin 64st and LOVE this device.
3) Handheld GPS with Satellite Communicator: However, if you have a little bit more money to spend, if I were starting over, I'd get the Garmin inReach Explorer+ which provides not only GPS tracking capabilities, but also an SOS satellite search and rescue communicator. I own the Garmin inReach mini now and I pair it with my Garmin 64st, but you can save weight by getting this all-in-one solution.
4. Best time to visit Alice Lake (When to Go)
While I'm sure the Alice Lake area is beautiful year round, there are some more optimal times to visit… especially if you're hoping to avoid snow and experience good weather.
So when's the best time to go? July, August and September will prove to be the best conditions for hiking or backpacking the Alice Lake trail.
Check out the Alice Lake area weather average temperature map below for reference.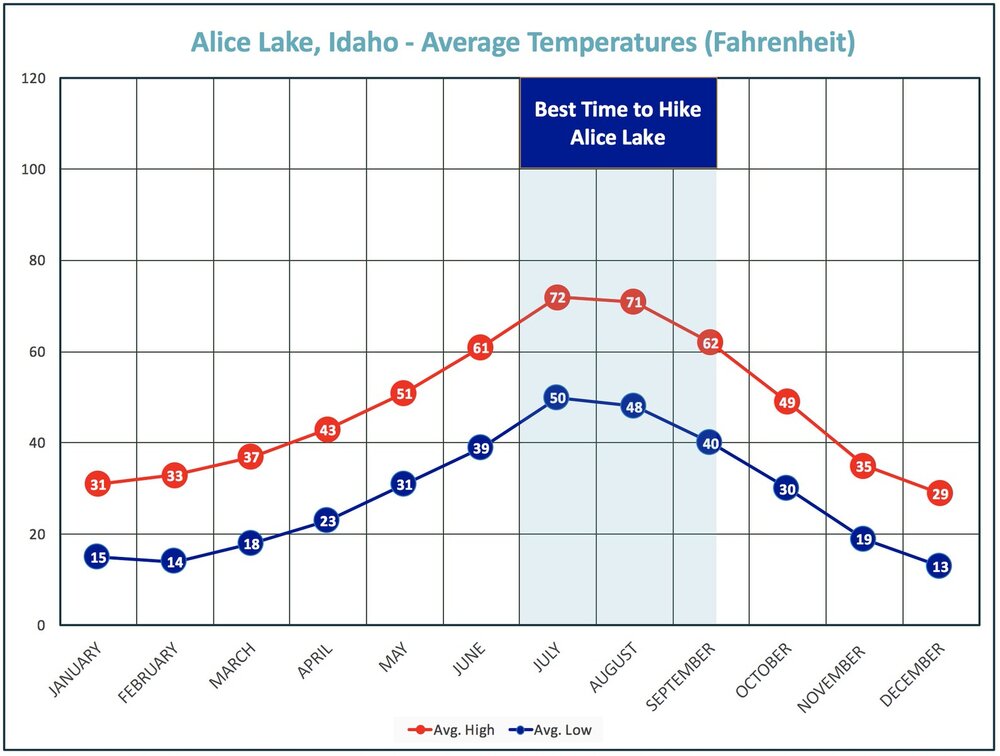 Be prepared before you go. Just like I teach my students in my backpacking program, it's important that you always research your weather conditions before you go, weeks AND days before your trip.
You never know when weather can change, and it can't often happen unexpectedly.
You can check the weather conditions at one of the following resources:
Mountain Forecast – One of my favorite sources for mountain weather forecasts when checking a few days before a trip
Important Notes: This trail has it's challenges in the Spring time and up to early June due to snow melt and snow accumulation. There are quite a few river crossing along this trail, and earlier in the season will make those crossings trickier and potentially dangerous.
5. How to Get to Alice Lake in Idaho
Getting to Alice Lake is also not too complicated.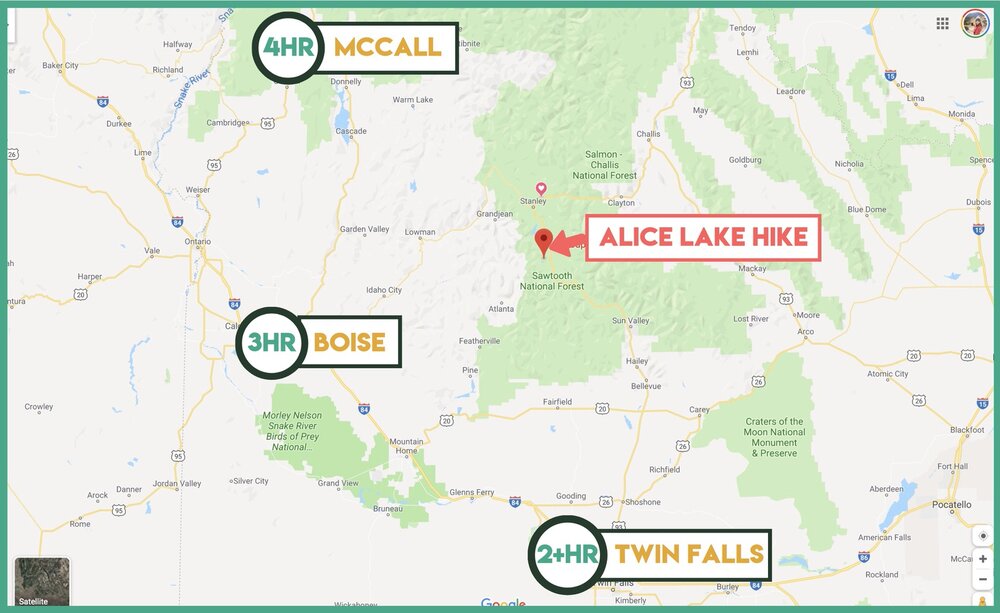 As always, driving times will vary depending where you are coming from, but here's a couple estimates from big cities nearby:
Twin Falls, Idaho to Tin Cup Trailhead: ~2.5 Hours

Boise, Idaho to Tin Cup Trailhead: ~3 Hours

McCall, Idaho to Tin Cup Trailhead: ~4 Hours
Getting to the trailhead
If you're using google maps, a quick search of "Tin Cup Hiker Trailhead Idaho" or "Petite Lake Campground Idaho" will get you where you need to go.
The cell service isn't great out there though, so be sure to download your map to your device in advance, or print out instructions to get there.
In General, the trail is only about 30 minutes South of Stanley, Idaho.
If you're in Stanley, continue South along Highway 75 for about 18 miles. Turn right at onto Forest Rd 208 (look for signs for Petite Lake) and follow a gravel road for about 2 miles and turn toward Tin Cup Trailhead when you come to an intersection with several options.
Parking: When we went (mid September), we had no issues parking in the Tin-Cup Trailhead parking area. However, I could easily see this area filling up quickly on the weekends in peak-season. If you want to grab a spot at the closest parking area, be sure to get there early.
There are, however, plenty of places to park in and around the Petite Lake area, you just may have to walk a little further depending where you end up.
6. Alice Lake Camping INFORMATION
You've got a few options when it comes to camping at and around the Alice Lake area.
CAMPING NEAR THE TRAILHEAD (PRE-HIKE)
The Petite Lake Campground
There is an established Campground right at the Tin-Cup Trailhead near Petite Lake called, the Petite Lake Campground, but all the sites are first-come first-serve and the campground fills up fast.
Camp spots range from $16 to $32 a night, no hookups, and runs from June to September.
It's a great little spot, and super convenient for the hiking trail, but again, this place will fill up quick on the weekends in the peak season.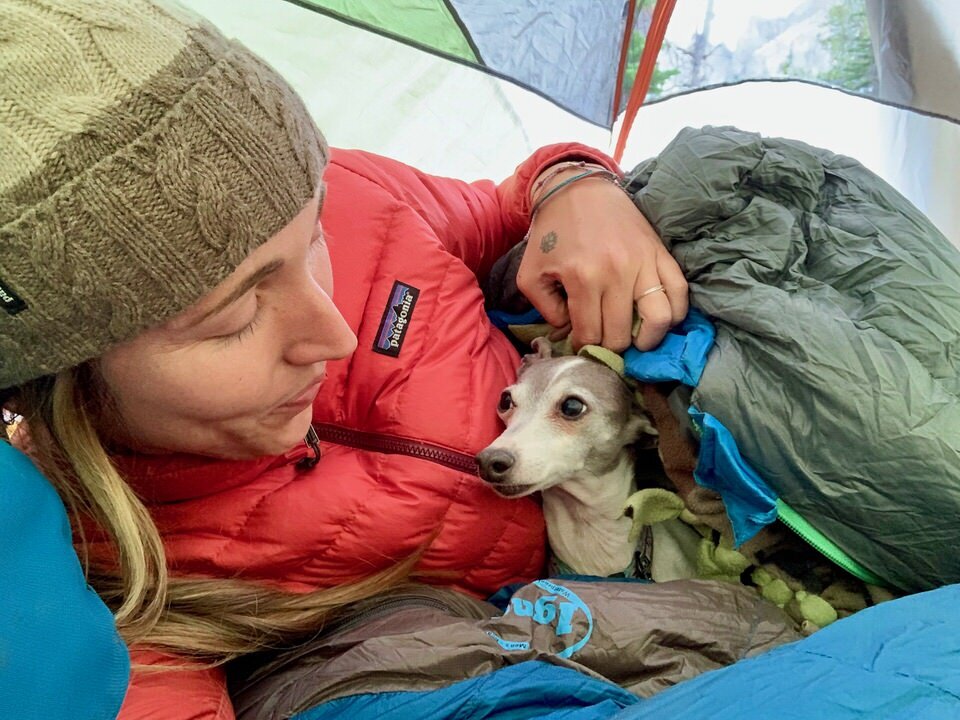 Free Camping
Since the Sawtooth area is a National Forest, there are also ample opportunities, pullouts, and camping spots that make for great "free-camping" alternatives to the established campground nearby.
We saw several alternative dirt pullouts on our drive into the Tin-Cup Trailhead area.
As always, if you choose to "free-camp" in the area the night before your hike, please maintain Leave-no-Trace Principles, and respect the land you're camping in. We want to keep these places beautiful, and respect the land we are in.
CAMPING ALONG THE Alice Lake TRAIL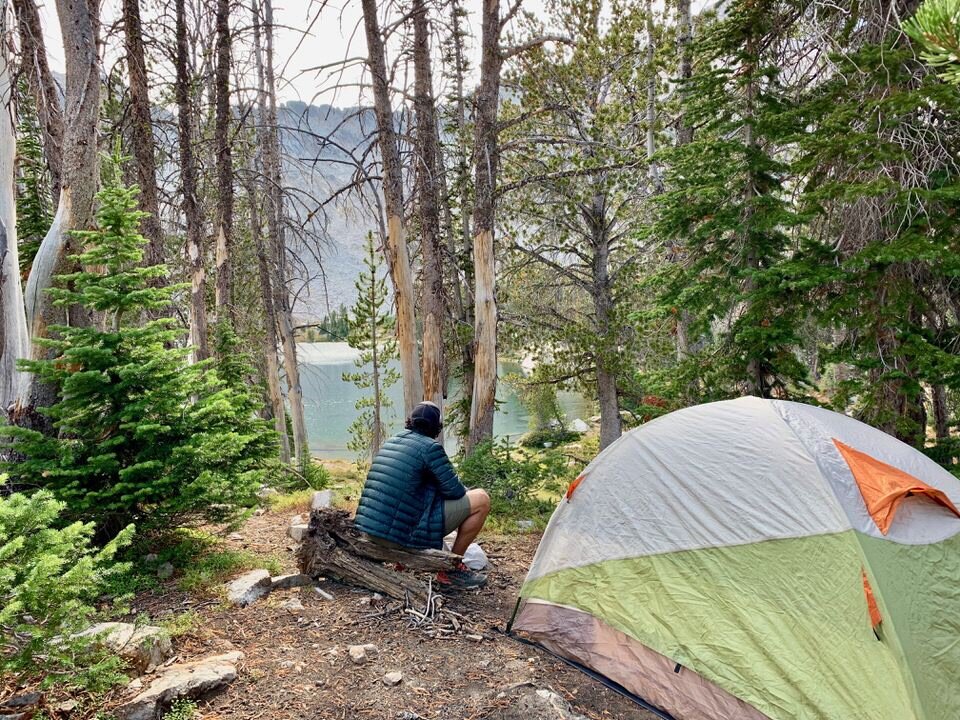 If you decide to backpack the Alice Lake trail, then there are some really fantastic spots to camp all around Alice Lake.
If you want to get away from the crowds a bit, head a little bit further past Alice Lake towards Twin Lakes and camp around there.
Since Michael and I did the full Alice Toxaway Loop (in 2 days), we opted to camp at Twin Lakes, and we loved it.
REMEMBER: Leave No Trace website recommends that you camp at least 200 feet (about 70 adult steps) away from water sources to allow access for wildlife to the water.
The rules of the Sawtooth National Forest at the trailhead recommend camping at least 100 feet (roughly 35 adult steps) away from lakes, rivers, and trails.
7. HAZARDS & CHALLENGES OF HIKING THE ALICE LAKE TRAIL
Besides the natural and inherent dangers and challenges that come with backpacking or hiking in the great outdoors, sometimes trails have "specific" challenges or hazards that are good to be aware of.
River-crossings
As I mentioned in the "When to Go" section above, hiking to Alice Lake can be challenging in the Spring time due to snow run-off which causes river crossing to become more technical and potentially dangerous depending on the water levels.
There are 4 primary river crossings to get to Alice Lake.
When we hiked the trail in mid-September we were always able to avoid the water by rock hopping or tree-crossing across the water.
However, you may find yourself having to take off your shoes (in order to keep your shoes dry), earlier in the season.
Please just be prepared that this challenge exists, and complexity depends on the time of year and snow-run off into the rivers.
To be extra safe, stop by one of the Sawtooth National Forest Ranger Stations along highway 75 to get updates on current trail conditions and water levels for the river crossings.
Wildlife in the sawtooth mountains
There is all kinds of amazing wildlife in the Sawtooth Mountains like deer, moose, mountain goats, mountain lions, gray wolves, and black bears.
Grizzly bears used to inhabit the Sawtooth range, but are now locally extinct.
As always, be bear aware in the backcountry and practice preventing encounters by keeping your food in bear cans or hanging them from trees if you're overnight camping in the area, and always, always, pack out anything you pack in.
Learning how to prevent and properly respond to animal encounters in the wild is an absolutely essential skill to learn in the backcountry, and one of many key skills we teach in my backpacking program, Become an Outdoor Backpacking Badass.
Bees
This may or may not be an issue for you when you hit the trails to hike Alice Lake, but we ran into quite a few bees during our time in Idaho. Maybe it was a particularly high time for bees when we visited, but they were obvious, buzzing, and not shy to explore.
They seemed particularly interested in hanging out around the hood of our car when we were getting our backpacking stuff ready.
Just be prepared, and if you're allergic to bees, take extra precautions to avoid them (or find another trail).
Also, avoid wearing dark colors and red, these colors may be seen as a "threat" to bees and can make them more aggressive (of course my backpack was bright red, so I was just all sorts of the wrong color for not attracting bees).
Again, maybe this isn't the norm for the area, but just what we experienced. We never got stung, but I was definitely on edge around the parking lot where they were congregating. We ran into less on the trail.
8. What to Bring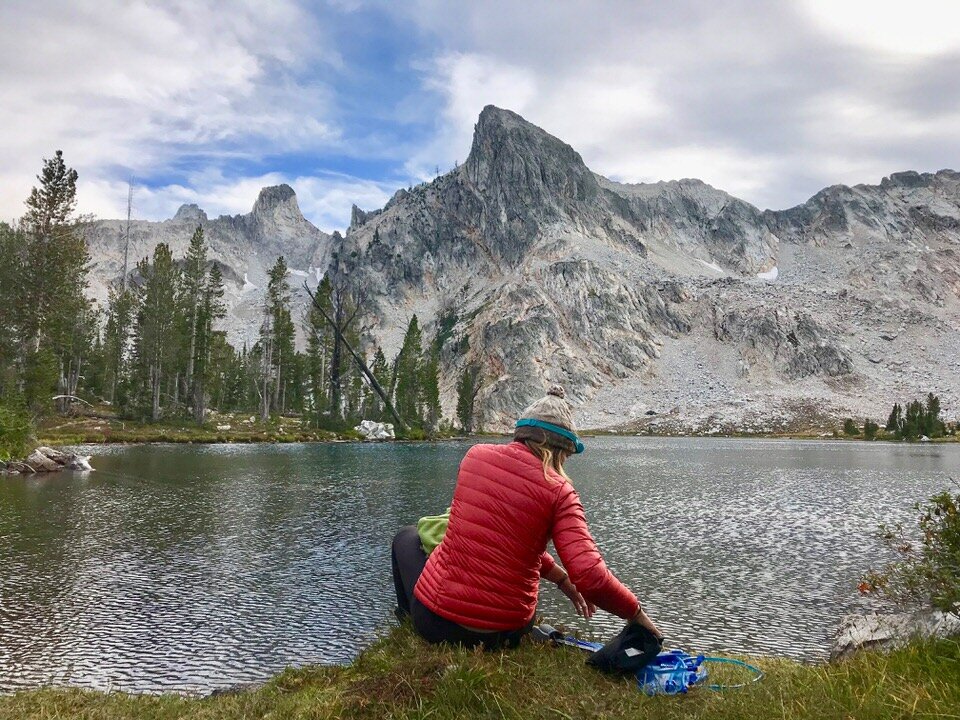 Please Note: The below links may contain affiliate links.
Depending on whether you day-hike Alice Lake or go backpacking will greatly vary what you need to bring with you.
For a look at what we recommend for day-hikes, check out our full Day Hiking Gear Packing List.
If you are going backpacking however, here's a quick look at what we recommend:
1) Backpacking Backpack (Like the Deuter Act Lite 45 + 10L Backpack)
: Deuter makes some of the best backpacking backpacks out there.
2) Tent
3) Sleeping Bag and Sleeping Pad
: Essential to a good nights sleep!
4) Headlamp (Like the Petzl Actik Core)
: Petzl is one of the best brands for top-quality headlamps, and my go to for a lot of outdoor gear.
5) Water Bottles and/or Camelbak Hydration Pack
6) Water Filter Like the Sawyer Squeeze or the Katadyn Hiker Pro
If you are new to backpacking, the Sawyer squeeze is an affordable first water filter, however I do prefer my Katydn in most scenarios.
7) Portable Backpacking Stove Like the MSR Reactor Stove System
: MSR is another one of my go-to brands.
8) Spork for Eating Your Camp Food
9) A Map of Your Trail:
Always bring a map of sorts with you
10) Sunglasses
: Goodr Sunglasses are essentially my go-to sunglasses for hiking and backpacking because they don't slip!
11) Food and Snacks
according to what you like!
12) Trekking Poles
: These puppies will save your knees! I always bring my Black Diamond Trekking Poles with me!
13) Your favorite Sunscreen and SPF Lipbalm
: These are really important to bring! Don't forget!
14) Camera Gear: Check out what Photography Gear we recommend for Outdoor Photography here!
16) Small Packable Towel
: Microfiber Towels will be perfect for this trip since they don't take up too much space in your backpack!
17) Season-Appropriate Hiking Clothing: Check out My Essential Hiking Gear List
for my recommendations on hiking clothing and layering! Don't forget to pack rain gear!
A GPS IS NICE TO HAVE: Check out the GAIA App for Your Phone.
So far my favorite phone GPS app solution is the premium version of the GAIA GPS, which allows you to download maps in advance and take them offline into the backcountry (perfect for the Lost Coast Hike!).
DONT FORGET A BEAR CAN OR A BEAR SACK
: To put your food away from bears at night
For my full backpacking gear list check out the link below:
WANT TO PRINT out MY FULL BACKPACKING PACKING CHECKLIST?

Don't leave anything behind on your Alice Lake backpacking trip. Grab my Packing Checklist below! In this freebie, you'll get access to:
A Full Backpacking Gear Checklist for 2-5 Day Backpacking Trips

A Visual Backpacking Gear Checklist

Layering Essentials Tip-Sheet

25+ Backpacking Food Ideas for your upcoming Alice Lake Hike
9. Itinerary for hiking the Alice Lake Trail
If I were planning a day hike to Alice Lake here's what things would look like for me.
A TYPICAL Alice Lake hike ITINERARY
I would drive in the night before my hike and camp either at the Petite Lake Campground or in nearby Forest Land.
Then morning of my hike, I'd arrive early at the Tin-Cup Trailhead and start my hike with the cool of the morning (remember, your hike is mostly uphill on the way to Alice Lake).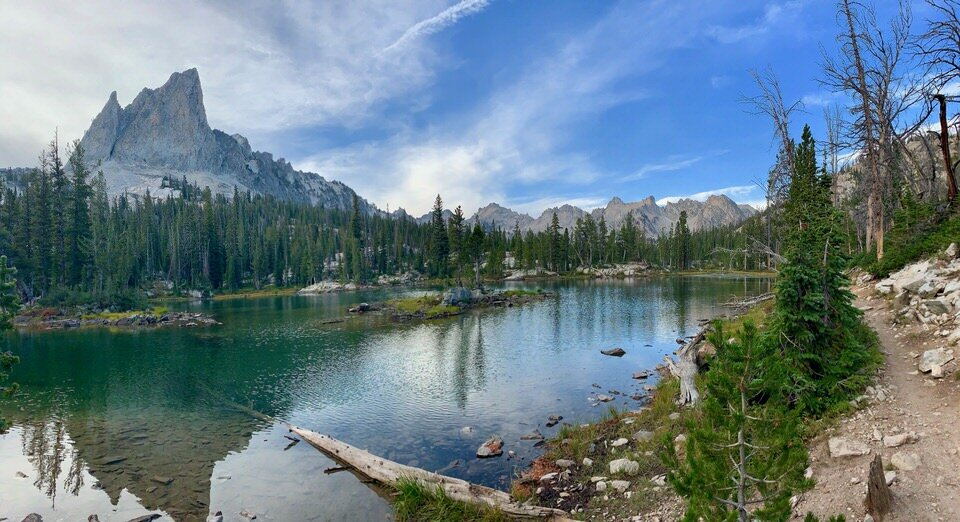 Take your time up the trail, tackle the river crossings on your way up, and enjoy the scenery on your challenging but doable uphill journey to Alice Lake.
When you get to Alice Lake look off to the towering peak opposite of Alice Lake, this peak is Idaho's "El Capitan" and is a really unique feature around the lake.
Enjoy some lunch at Alice, and if you have some extra energy and time in your schedule, I highly recommend continuing your journey onwards to twin lakes. This will add a couple miles to your trip though, so be aware.
The Twin Lakes area is beautiful though, and well worth the extra push if you can swing it.
Descend the trail the same way you came, but enjoy the ease of downhill on your way back to the trailhead.
End your day with some warm food and a hot-springs dip in Stanley, Idaho. A little bit of research, and you'll find some excellent spots to take a dip nearby.
Alice toxaway loop video
Coming soon! Just putting the finishing touches up on the video!
10. Looking for a Challenge? Backpack the entire Alice-Toxaway Loop.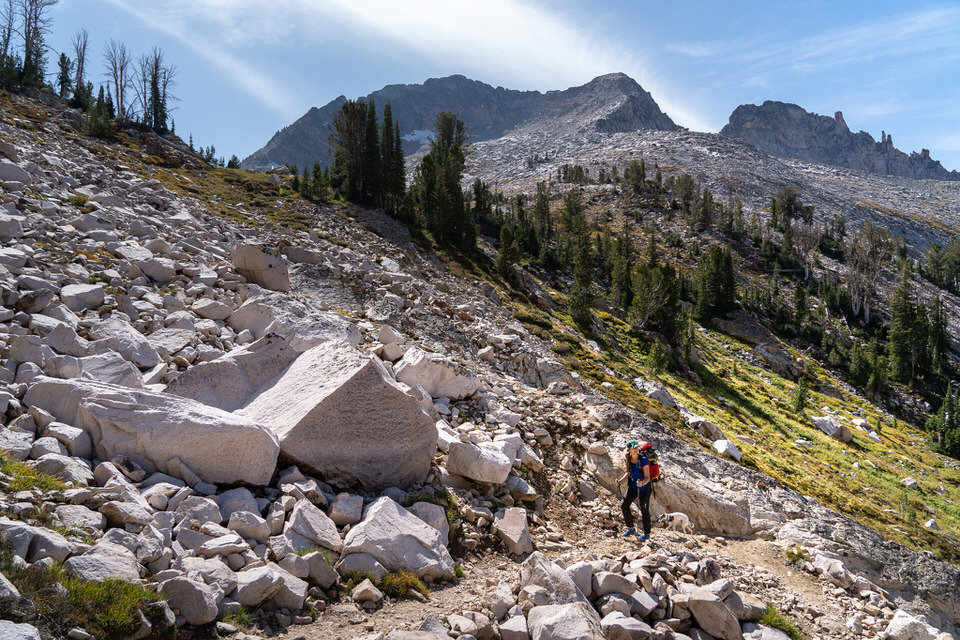 If you're up for an extra challenge, I highly recommend considering the Alice-Toxaway Loop.
The Alice-Toxaway Loop is roughly 19 miles long with about 3,500 feet of total elevation gain. This loop can be tackled in a day (if you're in really good shape), but is very enjoyable as a 2-3 day backpacking trip.
Below is a look at the Alice-Toxaway Loop Map (and you can also grab the GPX tracks for this if you join my GPS Tracks Library in Section 3).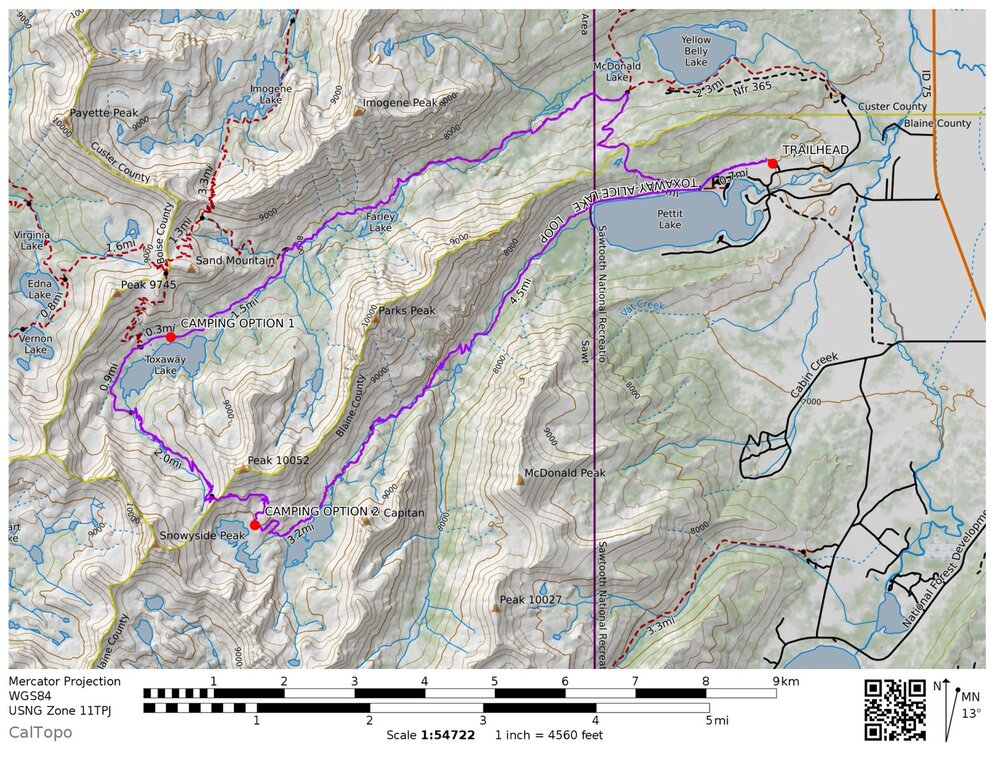 Other Notes about the Alice-Toxaway Loop: Hiking the trail counter clockwise is actually more gradual of an uphill than hiking it clockwise, and you get to save the best views for last. This is what we did.
You can see the elevation gain profile below (This is Counter Clockwise from left to right from Tin Cup Trailhead):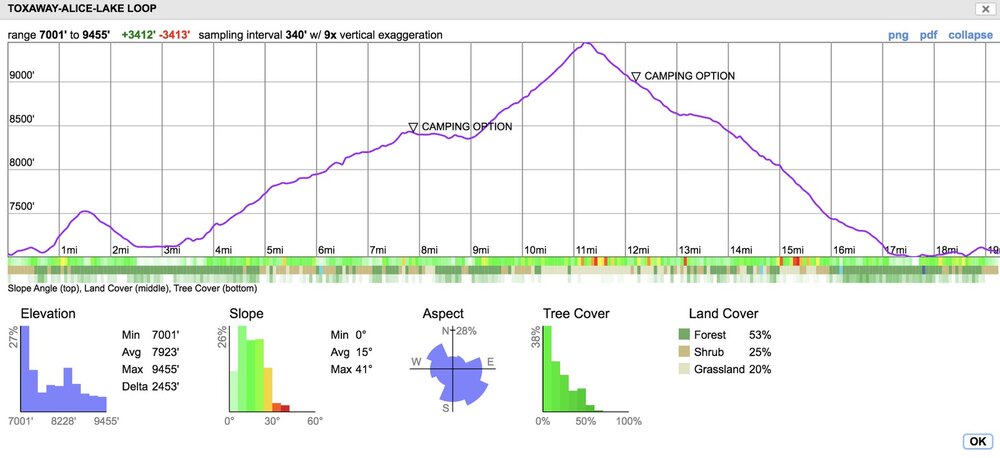 Here are a couple of itinerary options: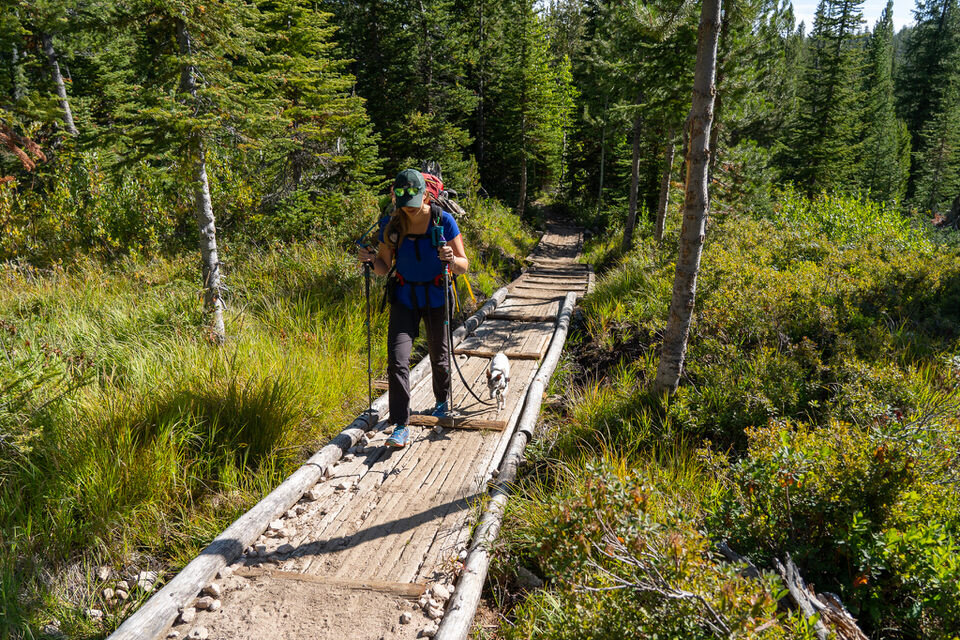 2-days on the Alice-Toxaway Loop:
Day 1: Start at Tin Cup Trailhead. This will be your "biggest" day. Hike counter-clockwise toward Toxaway Lake. You'll be hiking uphill most of the day until you make it to the Pass that overlooks Twin Lakes (most epic view ever), then hike downhill to camp at Twin Lakes for the night. While challenging due to the length and mostly uphill, we found this very enjoyable regardless. Roughly 12 miles and 3,500 feet of gain.

Day 2: Descend from Twin Lakes all the way back to Tin Cup Trailhead. You'll pass by Alice Lake on your way down. Easy, downhill day. Roughly 7 miles, all descent.
3-days on the Alice Toxaway Loop:
Day 1: Start at Tin Cup Trailhead. Hike counter-clockwise toward Toxaway Lake. Camp night 1 at Toxaway Lake. There aren't a ton of obvious campsites around Toxaway, but you can certainly find some. Roughly 8 miles, 2,100 feet of gain.

Day 2: Hike from Toxaway to Twin Lakes. The hike to the pass will be uphill, but then you'll be downhill the rest of the way to Twin Lakes. Camp at Twin Lakes. Roughly 4 miles and 1,400 feet of gain. Another option would be to continue your hike to Alice Lake and camp there.

Day 3: Descend from Twin Lakes all the way back to Tin Cup Trailhead. You'll pass by Alice Lake on your way down. Easy, downhill day. Roughly 7 miles, all descent.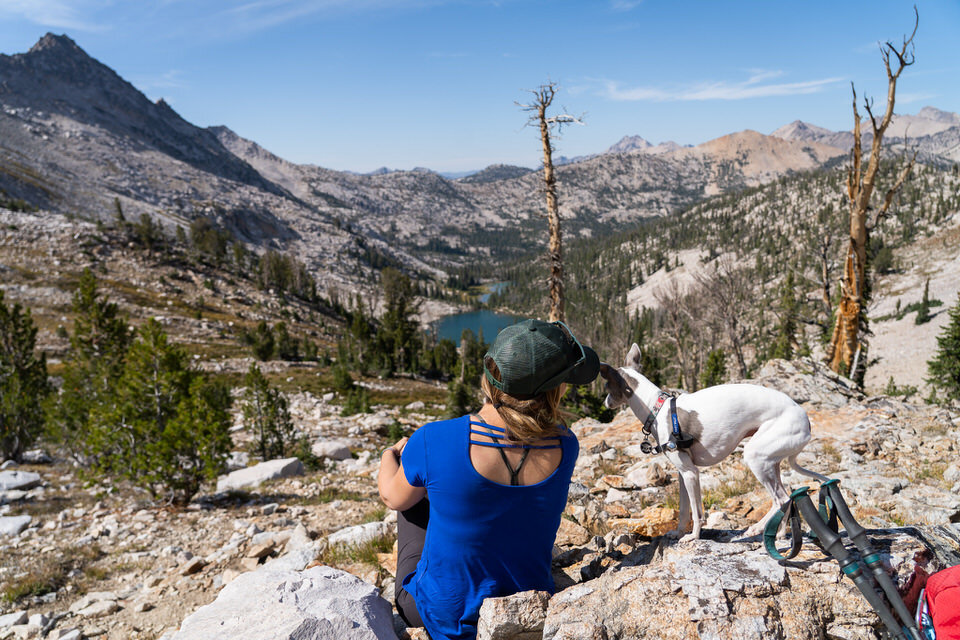 Want to extend it even further? There are so many hiking options around this area to create an even longer backpacking trip. Just pull up a map, you can extend your hike up to Edith Lake even and back around. The options are limitless out here!
LOOKING FOR MORE hiking & backpacking ADVENTURES?
If you are looking for additional hiking & backpacking bucket-list adventures, check out our resources below: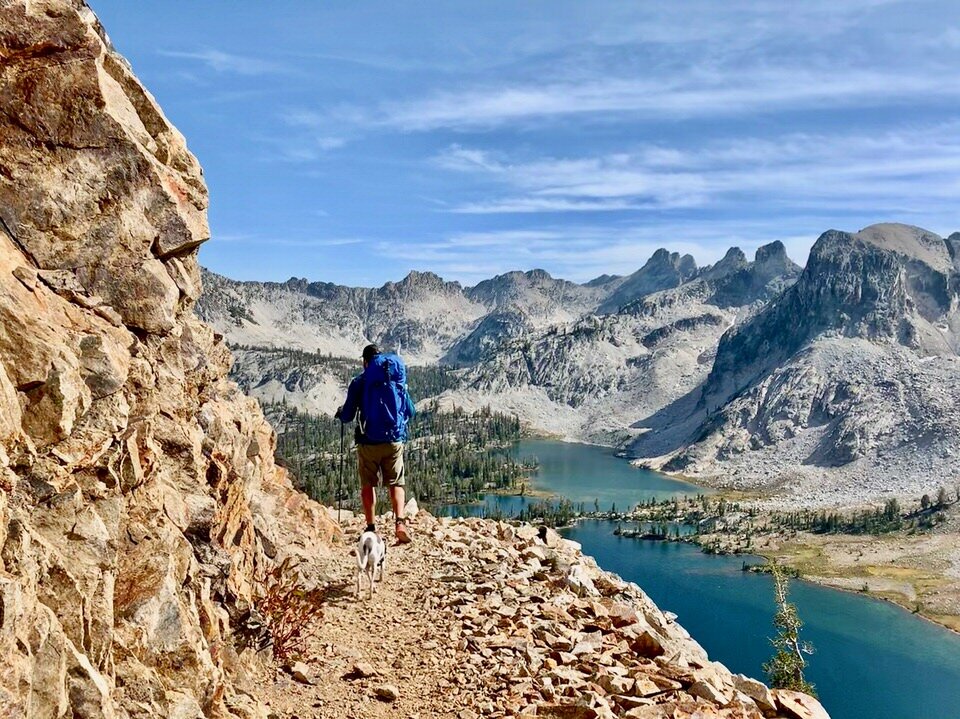 ESSENTIAL HIKING & BACKPACKING RESOURCES
Also be sure to check out these essential hiking resources!
I hope you enjoyed this epic Trail Guide to the Sawtooth Mountains Alice Lake Trail in Idaho.
If you enjoyed the overview or have any questions, leave us a comment below! We'd love to hear from you. Happy Hiking!
Cheers,
Allison – She Dreams of Alpine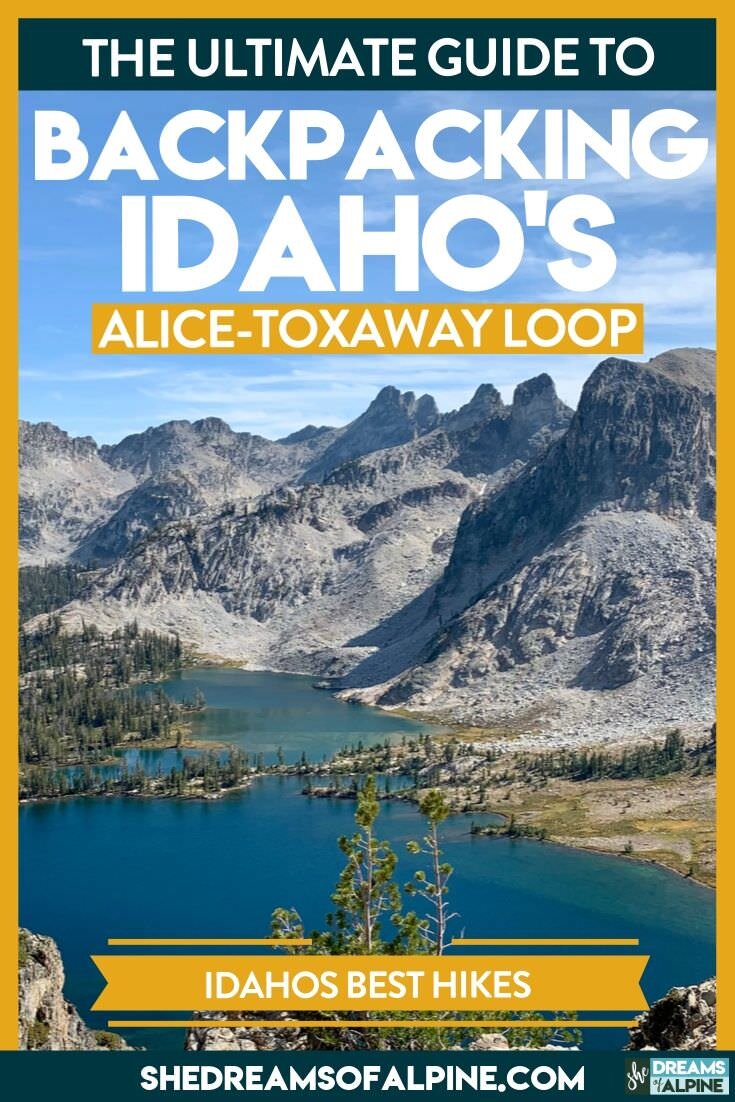 Related Posts: