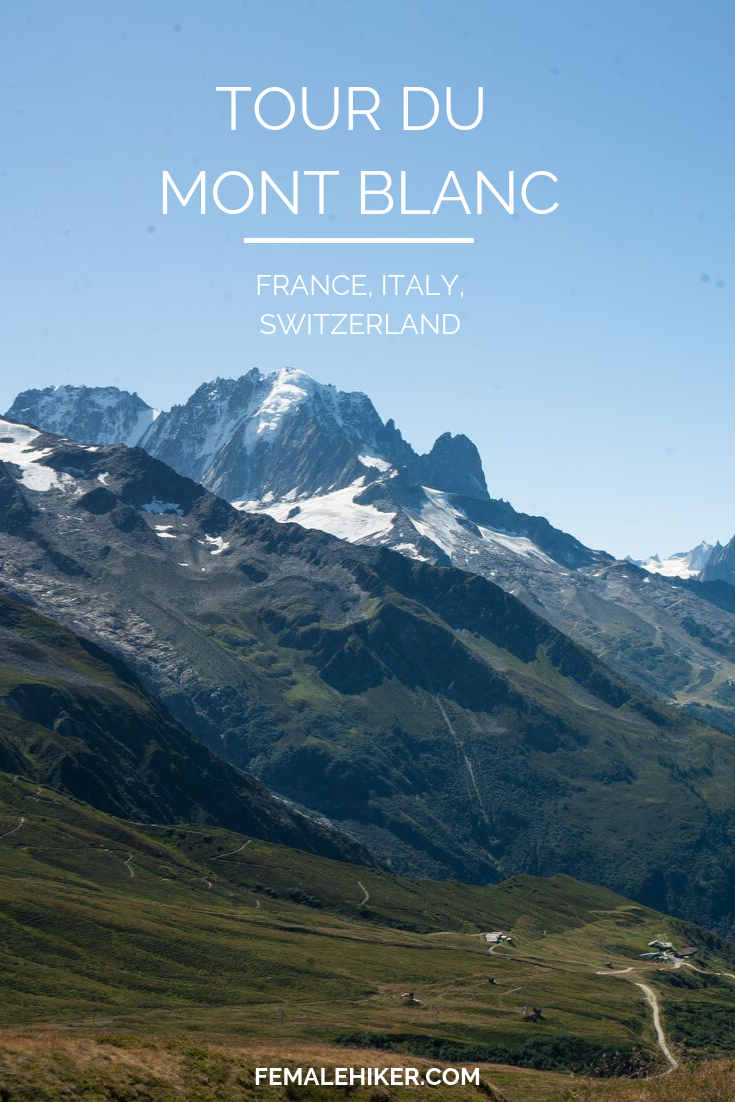 The Tour du Mont Blanc is one of the most epic backpacking trips I have ever been on. With a great hut system and passing through small towns, the TMB is also a perfect option for luxury backpacking.
When I started planning my trip to the TMB over a year ago, I found information online to be completely overwhelming. The first few pages of Google searches are mostly SUPER expensive group tours (REI's goes for $6,000…) or large families hiking. I couldn't really find a good, comprehensive resource and probably spent over 20 hours planning this trip. Hopefully my guide below helps and cuts down your planning time!
Trip Planning
Decide on your route direction
There are two main ways to hike the TMB, counter-clockwise or clockwise. The counter-clockwise route is by the far the most popular according to books and the internet, so this is what we decided on.
Most people will also start in Chamonix, transport over to Les Houches to start the TMB, and then end up in Chamonix. Chamonix is super convenient for getting picked up/dropped off from the Geneva Airport which is also why it is recommended.
Lastly, you can do some route cutting by taking taxis or shuttles between the towns (e.g., Chamonix to Courmayeur is a 35 minute drive but around 18 hours of hiking)
Light or heavy hiking days?
The typical TMB is broken up into 11 days with 4-5 hours of hiking each day. We didn't like this approach and wanted to have longer hiking days with rest days in between. This meant hiking 11-12 hours each day and having a free day in between.
Luckily because there are so many huts and towns along the TMB, it's easy to consolidate your route into shorter days if you'd like.
Figure out your travel and lodging logistics
The next thing we did was figure out exactly how to get to the TMB. From America, the best route is to fly into Geneva Airport and pay for a shuttle to Chamonix (we used Mountain Dropoffs).
In Chamonix, there are two main options for a more luxury stay: Hameau Albert 1er and the Hotel Mont Blanc. Hameau Albert 1er has a more ski-resort/village type feel, with a separate building for their spa and outdoor pool, and their famous Michelin star restaurant. Hotel Mont Blanc has a more Ritz-Carlton type approach if you're looking for that type of luxury. Both are great options and it really just depends on personal preference. Hotel Mont Blanc did have a little better WiFi connection.
Having a cell phone/SIM card is definitely recommended. Note that it was super hard to find a SIM in Chamonix, and somewhat inconvenient at the Geneva Airport to get a SIM for Switzerland, Italy, AND France, so you may want to purchase one beforehand.
Do some day-off research
The main towns along the TMB are Chamonix, Les Contamines, Courmayeur, and Champex. If you're going in August, it might be worth doing a little research before to make reservations for anything you must do. See some of our favorite activities in our hike report below.
Must-buy items and items to skip
When we were researching what to buy, everyone told us to get Kev Reynold's The Tour of Mont Blanc book. After completing the hike, this is definitely a must-buy. Even though we were super prepared for the hike, we often made ad hoc decisions if we were tired, the weather was poor, etc. and this book was a perfect guide to make those decisions.
Another must-purchase in my opinion are Injini toe liner socks. These toe lines saved my feet from long, long days of hiking. For only $12, these are a STEAL compared to how much you would pay to not have a blister while you are on the trail.
For things to keep at home, we bought a 1:50,000 Topo Map and we never used it once. The one we bought wasn't granular enough to help us find trailheads. The only times we were "lost" was when we couldn't find where the trail started and had to wander around for 20 minutes searching. This topo map will not help you with that.
Another thing you can probably leave at home if you're an experienced hiker? Your GPS and/or compass. The route is SO well-marked, the TMB is fairly crowded in the summer, and as long as you are hiking during the day, getting lost should not be an issue.
A few additional items:
Our Actual Hike
Day 1: Chamonix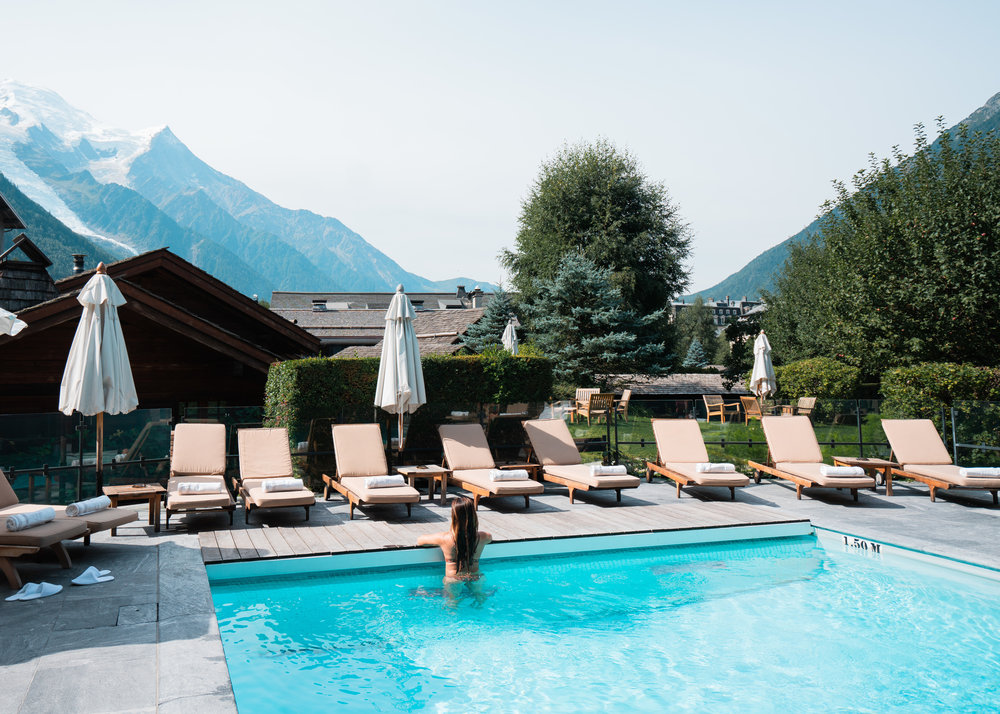 Hameau Albert 1er's outdoor pool
We arrived in Chamonix after a long flight and wanted to relax this day. There are a LOT of options here on your off-day, some of our favorites were:
A spa day at the Hameau Albert 1er, followed by the pool

Going up the Aiguille du Midi cable car

Taking the Montenvers train to the ice cave and glacier

Eating! The Michelin star restaurant at Albert 1er, La Fine Bouche for fondue, La Remise for more fondue, Tanpopo for ramen when you're sick of fondue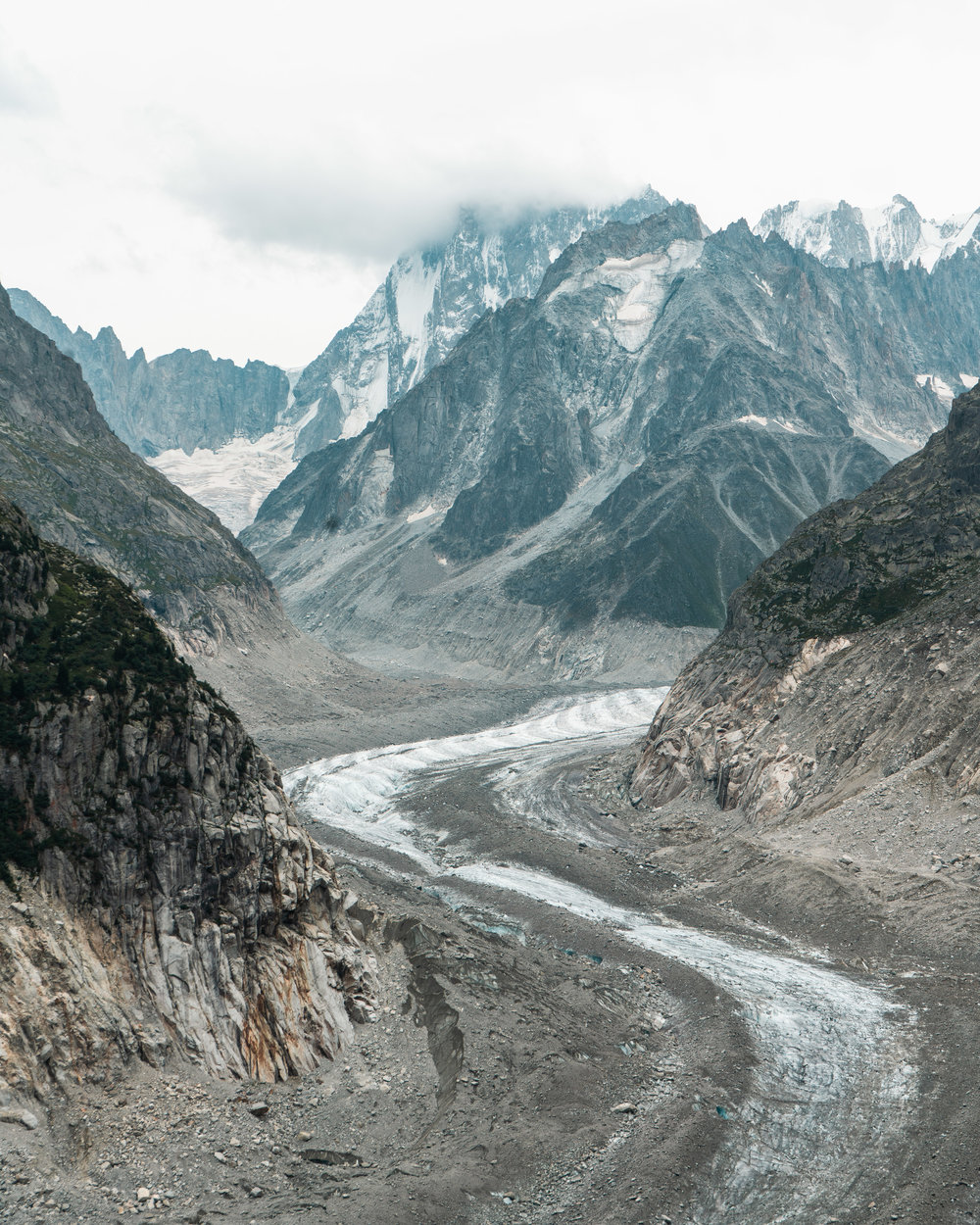 The Mer de Glace is the largest glacier in France, 7km long and 200m deep
Day 2: Chamonix to Les Contamines (5 hours, 10 miles)
Chamonix – Bellevue Cable Car (in Les Houches) – Col de Tricot – Ref de Miage – Les Contamines
On our first real hiking day, we had the hotel drop us off at the Les Houches at the Bellevue Cable Car and hitched a ride up. A one-way ticket is 5 mins and 15 EUR, saving you a good 1.5 hours of "boring" hiking (because there are no view).
Once you finish your cable car ride, you'll see a bunch of sign posts. Head for the one that takes you to Col de Tricot, 2 hr and 15 min away. This portion of the hike is a fun one, scrambling down rocky paths and crossing a wobbly bridge.
Your last climb to Col de Tricot will be a steep one, but the views are stunning. The UTMB runners were going in the opposite direction so we had a lot of runners resting at the top. On your way down, you will go through what feels like endless switchbacks until you reach Refuge de Miage. We were way ahead of schedule so we decided to sit down for a nice lunch and beer.
After our lunch break, the path heads up for around 40 minutes before you reach Auberge du Truc. We didn't stop here because it was so close to Les Contamines. Your hike will turn into a road and then down to a car park at La Frasse, before following signs to Les Contamines.
We stayed at Hotel Le Gail Soleil, which was a cute chalet with amazing food (we chose fondue). Highly recommended for the area.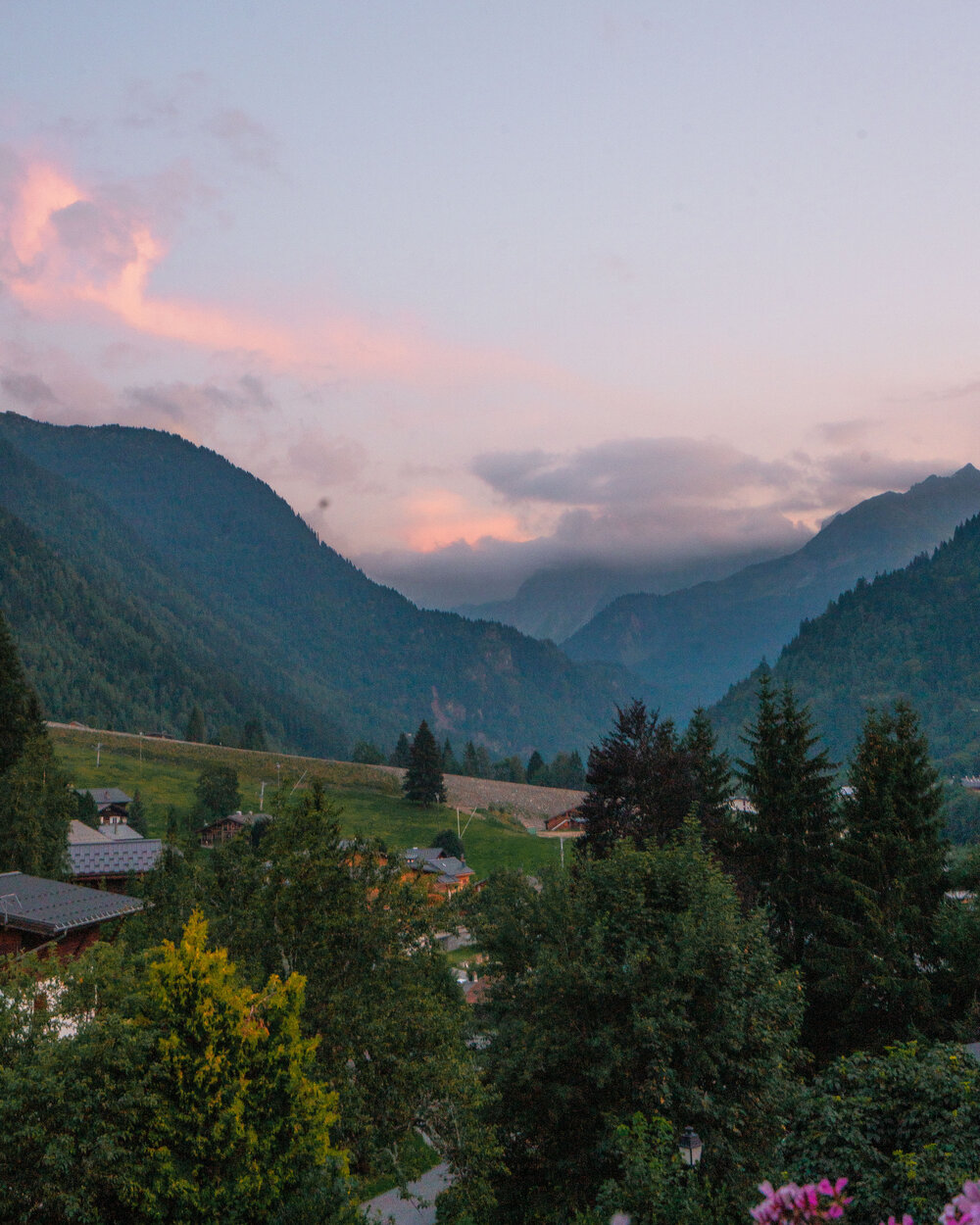 Day 3: Les Contamines to Courmayeur (14 hours, 23 miles, 7500 ft ascent, 5700 ft descent)
Taxi to Notre Dame – Col de la Crois – Col des Fours – Ref des Mottes – Col de la Seigne – Ref Elisabetta – Lac Combal – La Visaille – bus to Courmayeur
We started super early on this day to get a taxi to Notre Dame. The taxi could only pick us up at 6AM, although we wanted to start at 5. Once we arrived at Notre Dame, it took us a while to find where the trailhead is. Go to the parking lot of Notre Dame and face a wooden sign explaining the area – take a left until you hit a dead end and see the trail heading steeply up.
The trail is shaded for the first 45 min as you make your way up. Once you make your way above the trees, turn back around and check out the view with the sun rising! You won't regret it. From here, you have 3.5 hours on continued elevation until you reach the peak of your day. The views are beautiful all the way up – soon you'll reach Col de la Croix where you want to take the split towards Col des Fours. This gives you a shortcut a saves you 1.5 hours.
Col des Fours is a nice spot for a snack before you head down to a few refugios and Hawaii-like landscape. The descent here is fairly steep and our feet were hurting a bit. We were happy to hang out at Ref des Mottes for a bit to gather our energy! You will start a fairly steep climb up to Col de la Seigne after this, where you get views of both Frane and Italy. We faced really strong winds at the top so unfortunately we didn't get to stay too long up there.
The landscape turns fairly quickly to pastures as you make your way down to Ref Elisabetta. We decided to take an alternative route to Lac Combal and then to La Visaille, where we would catch a bus to Courmayeur. The last bus is at 7:40PM and we made it by 10 minutes! Definitely a bit of a rush at the end there, but a great day.
Day 4: Rest day at Courmayeur
We were fairly tired on our rest day, and super happy to be in Italy. We stayed at the beautiful Hotel Grand Batia, where we opted for the rooms with a private hot tub. Courmayeur rained every night after around 4pm, so we also opted for some room service.
We ate at La Terrazzain town and also had some gelato before watching UTMB runners. The town is bigger than Les Contamines but not as busy as Chamonix.
Day 5: Courmayeur to Lac Champex (8 hours, 12.5 miles, 4000 ft ascent, 4000 ft descent)
Bus from Courmayeur to Bivio Rif Bonatti – Chalet Val Ferret – Rif Elena – Grand Col Ferret – La Peule – Ferret – Transport to Lac Champex
It's hard for me to answer the question "what was the best part about the TMB," but the morning after Courmayeur might be a top contender. We took a bus from Courmayeur to Bivio rif. Bonatti (see the bus schedule here). We had debated the alternate route via Col Sapin, but ended up going with the more straightforward route.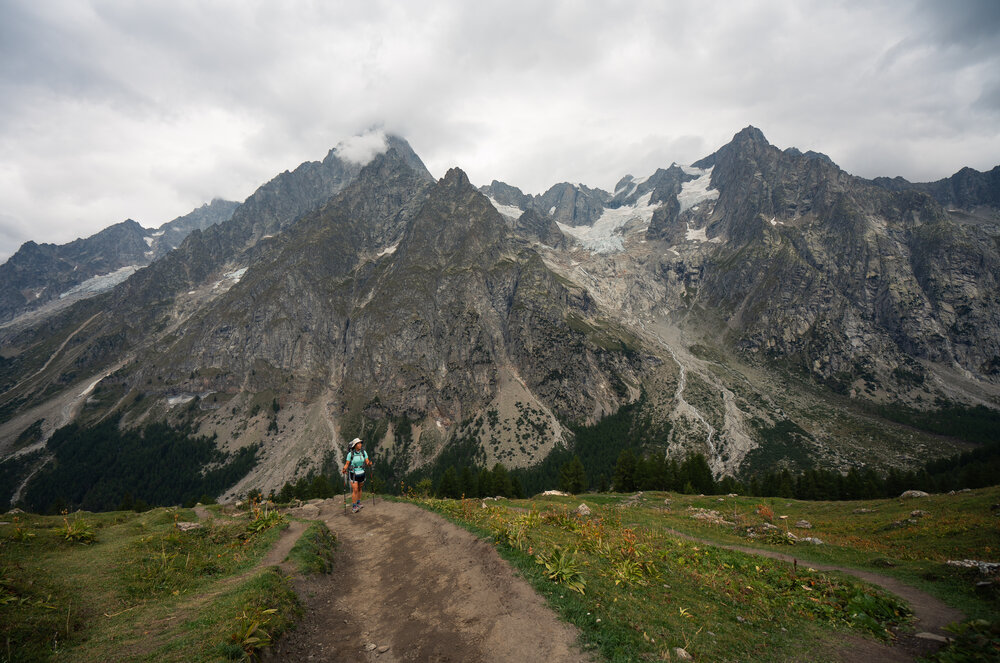 Once you get off the bus stop, the trail head is fairly obvious. You'll climb up to Rif Bonatti in a short while. We stopped so many times to take photos here because it was absolutely stunning (and my camera doesn't do it justice). After the refugio, you'll have an hour so with flat trails (!!!) before descending to Chalet Val Ferret (note that you can also drive up to Chalet Val Ferret and skip the morning portion of your hike). We had a snack here before making the steep 1 hour ascent up to Rif Elena.
Because you can drive to the trailhead and Rif Elena offers stunning views for a short day hike, this trail was incredibly popular among local tourists. This section was particularly difficult for us, maybe because we were exhausted from the prior days. Once we made it up to Rif Elena, the extra 1.5 hours up to Grand Col Ferret were relaxing.
We stayed at the top of Grand col Ferret for a little bit before making the easy descent down to La Peule. This section of the hike was not super exciting but because it was all a gradual descent, it was nice to zone out. We grabbed a snack at La Peule, which was one of the more isolated refugios on the TMB, before making the additional 1 hour trek down to Ferret to catch a ride to Lac Champex.
In order to get to Lac Champex, you need to organize a ride. It cost us ~110 CHF – I'd recommend asking your hotel ahead of time for an operator so they can organize everything for you. It is a little tricky because you don't know what time exactly you'll be at Ferret, so having cell service is recommended too.
Day 6: Lac Champex
When we arrived at Lac Champex, the weather was fairly cold and drizzly (think Seattle in October). We were 3 days out of peak season, and surprisingly the entire town was completely empty! There were maybe 10 tourists around the lake and only a handful at the restaurants in town.
We stayed at Le Belvedere which had some of the BEST food of the trip! We bought the room & board package which included dinner.
For our free day, we went to the Barry Foundation to see the Saint Bernard Museum. From July to August, they allow visitors to accompany the hospice dogs on a 1½ hour hike tour. Unfortunately we missed the season by two days, but we had a great time cuddling with the cute pups anyway! To get there, take a bus and train – it was fairly easy to navigate.
Day 7: Lac Champex to Chamonix (11 hours, 18 miles, 6500 ft ascent, 7400 ft descent)
On our last hiking day, we set out of Lac Champex at 7AM, hitching a ride to Col de la Forclaz. The trailhead from there is fairly straightforward – it starts out in front of Hotel du Col de la Forclaz. Once you get across a footbridge, make sure you bear left on a track down to Trient and south of Refuge Du Peuty, hang a right for the sign to Col de Balme. We did get a little lost here because there were UTMB arrows that took us the wrong way to Trient.
After Le Peuty, the trail is much more straightforward as you head up a steady incline for the next 2.5 hours. The view is magnificent as you see layers of mountains behind you. Once you reach Col de Balme, you'll have views of both Switzerland and France. It was again windy up here, but we grabbed a snack, took some photos, and then headed down towards Tre Le Champ via Aig des Posettes. You won't want to miss this section, our jaws dropped as we left Col de Balme and we kept stopping to snap photos.
Once we reached Tre Le Champ, we took a detour to Lac Blanc. As of the 2019 season, there was construction on the La Flegere ski lift which made the traditional routes much longer because of the detour. As yes, this is the location of the famous ladders!
We were wondering if the extra 4 hours to Lac Blanc was worth it – the answer is yes, kind of. The Lake is beautiful but not THAT beautiful. The water isn't the blue that you see in Banff or parts of Seattle, but it is a nice spot. I can see why it's an amazing day hike spot if you're staying in Chamonix, but if you've been all around the TMB it won't be the highlight of your tour.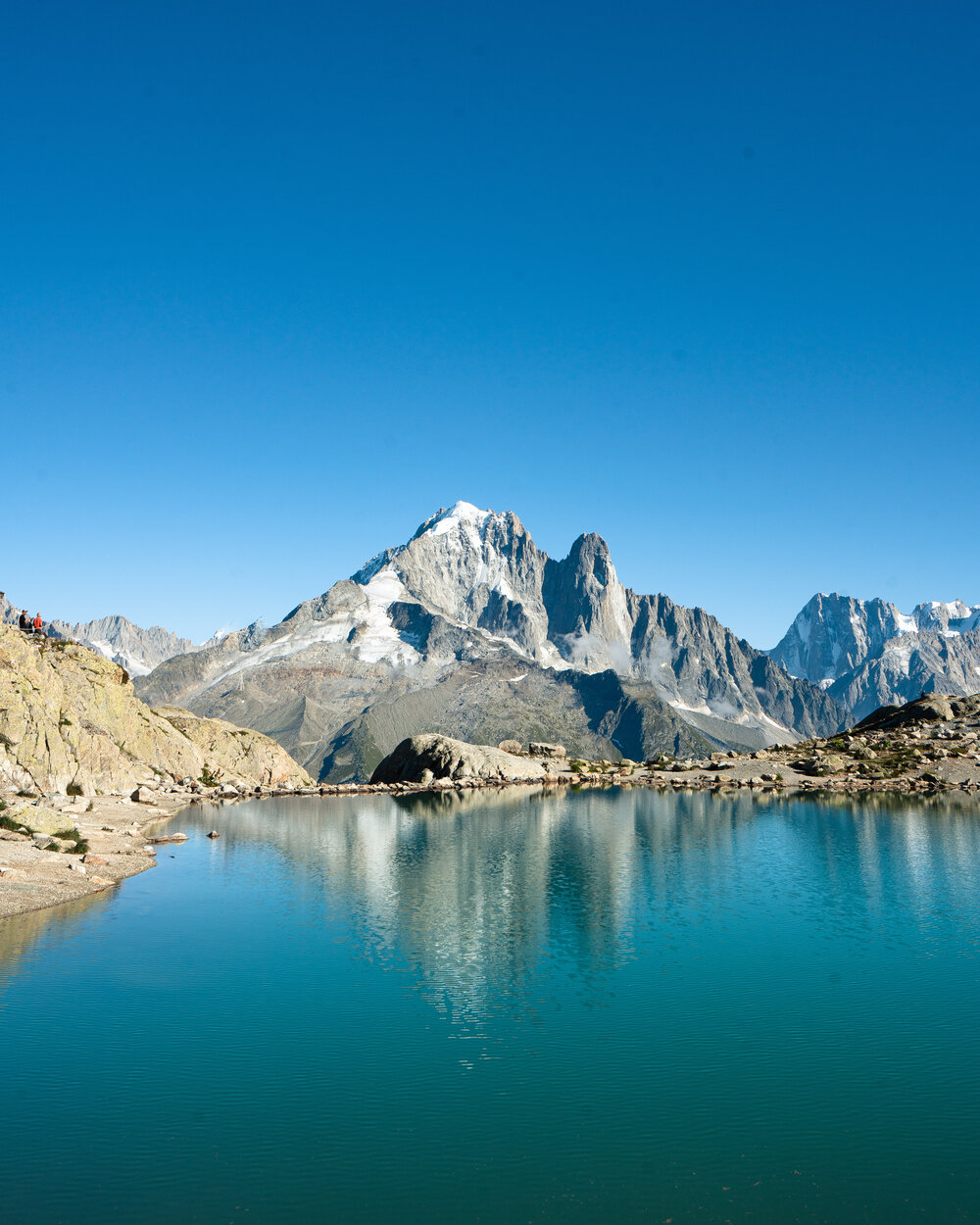 It was another 2 hours before we got into Les Praz, where our hotel picked us up to Chamonix. For our last day, we stayed at the Hotel Mont Blanc.
Day 8: Geneva
Before heading to the airport, we hung out in Geneva for the day. We stayed at the Hotel d'Angleterre, which is conveniently by Lake Geneva. For breakfast, we headed to Birdie Food & Coffee. I was excited to find some LA-esque coffee and avocado toast after 7 days on the road 🙂 We then hung around Old Town before getting an amazing seafood pasta lunch at Chez Marino. For dinner, we went to the Michelin starred La Bottega and once again got too full to even finish the last two courses.
Still have questions how to plan your trip to Chamonix and the Tour du Mont Blanc? Hit up the comment box below!