Nothing puts a damper on an excellent backpacking trip quite like a rainy forecast. However, a little rain doesn't have to stop you from getting outside. In fact, backpacking in the rain can (sometimes) even be fun, especially if you go into it prepared for anything. Even the best formulated adventure plans can go awry, so be prepared with how to backpack in rainy weather with these 11 pro tips.
1. Evaluate the Weather Conditions for the Area You're Backpacking In
One of the first things I teach the students in my backpacking program, Become an Outdoor Backpacking Badass, is to never set out on a backpacking trip without checking the weather. If you're traveling in the United States, use a reliable source such as Weather.gov or Mountain Forecasts, where you can get pinpoint weather for virtually any area in the US. Simply type in a notable landmark and check the map to make sure you have the correct area. You can get all kinds of great info, such as an hourly chart with all the weather details, forecast overview, and more for the exact location you're traveling in.
The next important step after checking the forecast is to decide if it's still worth it to go on your backpacking trip. Sometimes it's simply better to say "no" and opt for a Netflix and chill kind of weekend, especially if the rainy weather will inhibit safety.
Here are some things to think about when considering whether to stay or go:
Flood potential. Is it raining so much there is a chance for flooding? This is extremely important for big water crossings, desert canyon travel (or any desert trail that goes down a dirt road), and the high alpine.

Lightening potential. Violent storms sweep mountainous regions without warning. Be sure to fully understand climate trends in mountainous areas. The last thing you want is to get caught above treeline during a thunderstorm. It's dangerous. Also, make sure you DO know how to properly respond to thunderstorm weather. Some areas (like Colorado) are notorious for consistent afternoon thunderstorms.

Misery factor. in reality, it's not the most fun to be constantly be dripping wet on a backpacking trip, particularly if it's a longer trip. If a huge storm system is moving through and dumping tons of moisture, you might just want to stay home. Don't be stubborn and compromise your safety.
For more essential backpacking tips, be sure to check out these 15 Rookie Mistakes To Avoid Your First Time Backpacking.
STOKED ON BACKPACKING, BUT LOOKING FOR SOME EXTRA SUPPORT TO GET STARTED?
Join me (and your peers) on a transformational adventure, where you will learn how to confidently go on your first ever (or perhaps your first solo) outdoor backpacking trip without the constant fear of getting lost, the crippling worry of being unprepared, and the lurking feeling that you lack the "know-how" and skills required to stay safe on the trails. Click below to be the first to know when my one-of-a-kind backpacking program re-opens again for enrollment!
Learn more!
2. Waterproof Your Backpacking Gear
If there's rain in the forecast or you're traveling in a wet climate, but sure to have the correct rain gear for backpacking. First, you'll want a way to keep the contents of your bag dry. You can use a rainfly cover (some packs come with these, or you can buy a separate one). Rainfly covers are awesome because you can remove the cover and still have a dry backpacking bag.
However, if that's not in your budget, you can always line your pack with a trash bag, and place all items you want to stay dry in the main compartment. This is a free option, but your bag and the contents in exterior pockets will get soaked.
I personally like to do a combo for my backpacking rain gear. If I know it's going to rain I will put my sleeping bag inside of a trash-bag, and my clothes inside of a trash-bag. Then I'll cover my backpacking with a rain-cover.
Also be sure to pack electronics or any important papers and maps inside of waterproof ziplock bags. I typically like to do this regardless, just so I'm always covered if I get stuck in some rain.
3. Take Cover From Hiking in the Rain
Sometimes rain can strike when the forecast calls for sunshine and rainbows. If you find yourself in a hiking in the rain during a downpour, try to seek some shelter for a minute and take a break if possible. Look for an overhanging boulder, sheltered tree, or simply take out your tent fly and make a fort. Wait out the worst of the rain, and hit the trail again after the storm has calmed down a bit.
At the very minimum, stop for a second to put your rain-cover on your pack and your rain jacket or poncho on so that you'll stay dry when hiking through the rain.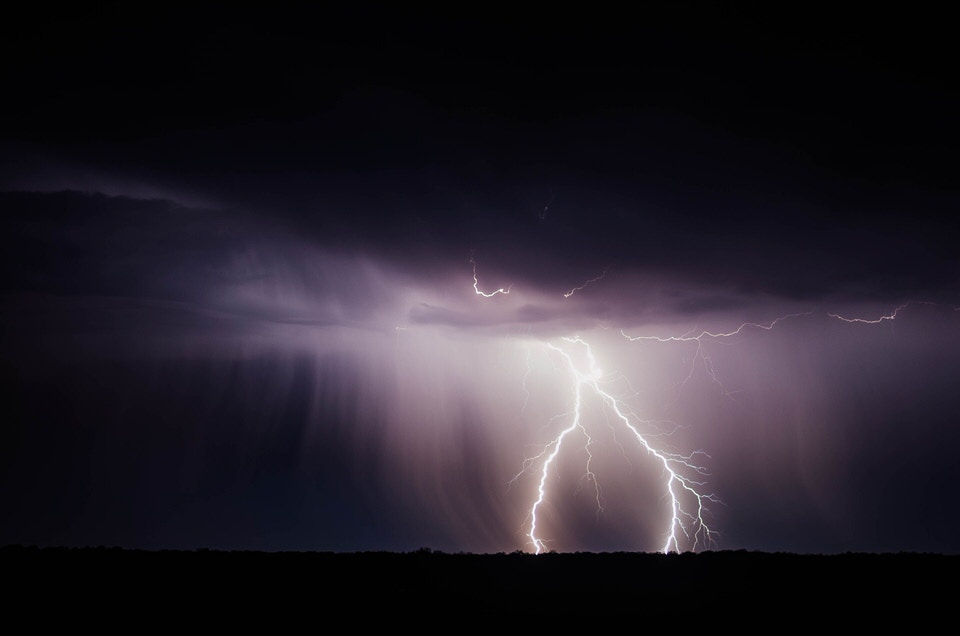 4. Get Educated on What to do in Thunder and Lightning Storms
We've touched a little bit on what to do in a thunder or lightning storm, but it's worth emphasizing here that it's vital that you treat these storms with respect. Lightning is no joke my friend, and being outdoors caught in a storm can be one of the worst places to be.
We discuss how to properly handle lightning and thunderstorms as an essential skill in my signature backpacking program, but here are a few of the key takeaways:
Take shelter if you are out in the open

Avoid tall lone objects (like trees that are by themselves), instead look for groups of trees

Get off peaks as quickly and safely as possible

Know how to read the clouds for forming thunderstorms

DO NOT be near water

Abandon anything metal (this may mean temporarily ditching the poles and your backpacking gear until a thunderstorm passes

It's likely safer outside your tent than inside

If you feel tingling or hear a buzz… move immediately!

Avoid shallow caves, deeper caves may be OK.
Again, we go over weather danger and how to handle it extensively in the Become an Outdoor Backpacking Badass program, but these are some quick tips to get you started!
5. Setting up Camp in the Rain
How do you set up a tent while it's raining without getting wet? Well, it's a bit of a smash-and-grab process, but before you pitch your tent, you'll want to try and set up camp in the best place possible. Here are a few quick camping in the rain tips:
Avoid low/lying areas, especially in the desert. Sandy washes may be inviting, but these drainages turn into violent rivers quickly in the desert, even with light rain.

Keep camp at least 200 feet (70 adult steps) from water sources. This isn't just for LNT, but for flooding too.

If you are above tree-line, try and find a lower, sheltered area. Stay off of summits, ridge-lines, and small clusters of trees. This makes you a target for lightning strikes.

Keep low, but not too low. You don't want to be in a ditch, but you don't want to be up high either. If you're in a forest, look for mid-sized, healthy trees to camp under. Never camp under taller trees or dead trees.

Keep the tent vents open (unless there is a gnarly wind blowing rain into the tent). This helps with condensation build up, where you'll have a damp, icky tent!
When it comes to setting up your tent, work as quickly as possible. If you can, it sometimes helps to place your tent fly over your tent body as you work. This means you'll likely be diving under your tent fly to hammer in stakes and fit poles, but it helps to alleviate your mesh-lined tent from getting rained on. The key is to be quick and efficient to avoid getting too wet.
You'll also likely be dealing with packing a wet tent after your rainy camping adventure, and my best advice here is to pack extra trash bags to stuff your tent into so it doesn't get everything else in your bag wet while backpacking. If you'll be backpacking for a longer duration (4+ days), it's worth stopping when you get some sunshine in order to dry your tent and wet gear/clothing out.
GRAB MY ULTIMATE OUTDOOR ADVENTURE STARTER KIT
I created an awesome Outdoor Adventure Starter Kit for you (for FREE). It's filled with 14 pages of hiking, backpacking and rock climbing tips, techniques and inspiration to help you hone your outdoor adventure skills and become the ultimate outdoor badass. You can get immediate access to it below. What are you waiting for?
6. Drying Your Backpacking Gear on the Go
Unfortunately, if you're in for a wet, cloudy weekend backpacking trip, drying your stuff isn't much of an option. However, take advantage of any sunny moments, by laying your quick drying stuff out in the sun (rocks work really well). Avoid hanging things in trees, since the trees will continue to shed water well after a storm has passed.
You can also attach clothing to the outside of your bag to dry as you walk (a tactic I always like to do with my socks to switch them out when hiking in order to prevent blisters). Try not to put soaking wet clothes near your dry clothes or down sleeping bag. Down is useless when wet, so you really want to protect your sleep system. Consider carrying sleep clothes or socks in a plastic baggie or trash bag like I discussed above so they stay dry and don't get wet inside your sleeping bag.
7. Taking Care of Your Feet
Wet feet can be the source of a painful, rainy backpacking experience! Your feet need to dry out and breathe to stay healthy and happy. Otherwise, you may develop blisters, Trench Foot, and other icky infections.
Do your best to let wet feet dry. Take off your socks and allow your feet to breathe for as long as possible. If it's rainy outside, do this in your tent. Pack a small microfiber, quick dry towel to dry wet tootsies. The key is to have dry feet while at camp and before you go to bed.
Also, it doesn't hurt to pack a lot more extra socks if you know the forecast will be rainy.
Read more Essential Backpacking Hygiene Tips & Feminine Care in the Outdoors here!
8. How to Deal with Mud
Rain leads to muddy trails, which can really put a damper on your backpacking adventure. If you know it's going to be rainy, be sure to wear GTX or waterproof footwear, preferably boots. This not only helps keep your feet dry, but it keeps the mud out too.
Also consider wearing gators, a velcro, waterproof protector that goes either above your ankles or up to your knees. These clasp on to your boots so you can walk in muddy terrain without having to worry about mud or water coming up over your boots or soaking your clothes.
Finally, stick to the trail, even if it's muddy. When you hike in the mud, you have much more of an impact on the environment. Veering off trail to avoid mud or puddles causes erosion and other problems. If you're prepared for mud, sticking to the trail won't be too cumbersome in wet conditions.
9. Bring Games or Books
Rainy days don't mean you can't have fun. Consider bringing lightweight, play anywhere games like Banana Grams, cards, UNO, or other travel games. Books are a handy way to pass the time. If you use an e-reader or your phone, be sure to load the books first and bring a battery charger as a backup.
Get creative with games and other activities. Plan on bringing a few extra snacks or plan a nice meal if it's rainy. Sometimes a little treat-yo-self boost goes a long way to bring up morale on a rainy backpacking trip.
10. Cooking in the Rain
There is nothing less fun than cooking in the rain. If the rain is terrible and you aren't in grizzly country, consider cooking in the vestibule of your tent. Please notice, the warning about being in grizzly country. Typically my advice is to avoid cooking or eating in your tent area 100% of the time no matter where you are, but we can possible make some exceptions if you are aware of the area you are in. Just be sure to open the flaps so noxious carbon monoxide can escape.
NEVER cook in the interior of your tent. It's extremely dangerous and leaves you susceptible to carbon monoxide poisoning. Only cook in well-vented areas, such as a vestibule with the flap wide open, under the shelter of a tree, or in the open.
Alternatively, you can use a pack cover and a few hiking poles to rig a small sheltered area to cook in. Be sure to angle the hiking poles outward, not straight up and down, for the most stable structure. Have a friend watch the structure (so it doesn't accidentally fall over and burn) while you cook.
Or.. potentially go stove-less with your backpacking food. This solves the need for any cooking or backpacking cooking gear in the first place. One of my favorite stoveless backpacking foods is the Maya Kaimal Everyday Dals.
Rainy Camping and Hiiking
Note: Some links below may contain affiliate links.
11. What to Pack for a Rainy Camping and Backpacking Weekend
Even if you don't think you'll encounter rain, it's always a good idea to bring the essential emergency rain gear, which I discuss fully in my Ultimate 3-5 Day Backpacking Packing List. Hiking rain gear does double duty and helps manage wind as well as provide an additional layer to keep you warm. Since rain gear is so versatile, you should take it with you, even with a sunny forecast. Here is a list of rain gear items that should come with you on every trip, regardless of the forecast:
1) Rain Jacket [Recommended Brand: Patagonia]: (like a hardshell) It is smart to pack a rain jacket or poncho for bad weather (even if you don't expect bad weather you should always at minimum bring an emergency poncho). Try to select a jacket that has pit zips, so you don't choke and overheat while traveling through the rain.
2) Rain Pants [Recommended Brand: Patagonia]: I typically only bring rain pants or hardshell pants wiith me if I know tthere is the potential for a lot of rain (or snow). In California this is less of an issue and more of an "optional" feature, but in some areas this could be a critical piece of your backpacking gear.
3) Extra Wool Socks [Recommended Brand: Darn Tough]: (at minimum 2 pairs!) Always at minimum bring 2 pairs of socks, and I highly recommend getting wool socks. When there's rain in the forecast, bring even more! Dry feet are happy feet.
4) Hiking Boots [Recommended Brand: Ahnu]: You'll be surprised to know that I don't actually feel passionate one way or another about a particular brand of boots or hiking shoe, but for rainy weather opt for a water-proof shoe to keep your feet dry.
5) Rain Backpack Cover: Definitely pack one of these if there is rain in your forecast!
6) Emergency Fire Starter: I like the Light My Fire fire starter, but you could also get some storm proof matches.
7) Trekking Poles [Recommended Brand: Black Diamond] (snap lock, not twist lock): I love the black diamond trail pro shock trekking poles. Michael and I both have these. They have a set for women (blue) and men (red). I've owned a pair of cheaper trekking poles in the past and they break fairly easily. These are almost indestructible and I believe are essential when the weather forecast is rainy (I bring them rain or shine though). Trekking poles will help you keep your footing when the terrain gets slippery.
8) Other Option Items to Consider: Dry bag for your food, Gators to protect your legs, de-fogging spray if you wear glasses,
9) The Bare Minimum Emergency Rain Gear: If the rain forecast looks light or non-existent, be sure to at minimum bring the following iitems: an emergency poncho, a pack cover (or you could bring some trash bags), some storm proof matches, and ziplocks for electrnoics.
Before you go on any outdoor backpacking trip, I recommend that you download and print off my backpacking checklist for quick reference. Just keep it close to your gear, and then you'll always have it handy to review when packing for a trip. My backpacking checklist below is a full detailed list of what you should consider bringing with you on any backpacking trip (particularly trips in the 3-5 day range). However, I also gave you a few extras, My download includes not only a backpacking packing list, but also a tip-sheet on layering outdoors, and 25+ backpacking food ideas!
In the end, the point of this post is to encourage you that a little rain doesn't have to ruin your backpacking trip, but it's important to be prepared to deal with less-than-ideal, rainy conditions when backpacking and know exactly what to do when the weather hit's you on the trails. These tips will help you backpack more efficiently in dreary weather.
Looking for more Backpacking & Hiking Tips and Goodness? Check Out these articles!
Cheers,
Allison – She Dreams of Alpine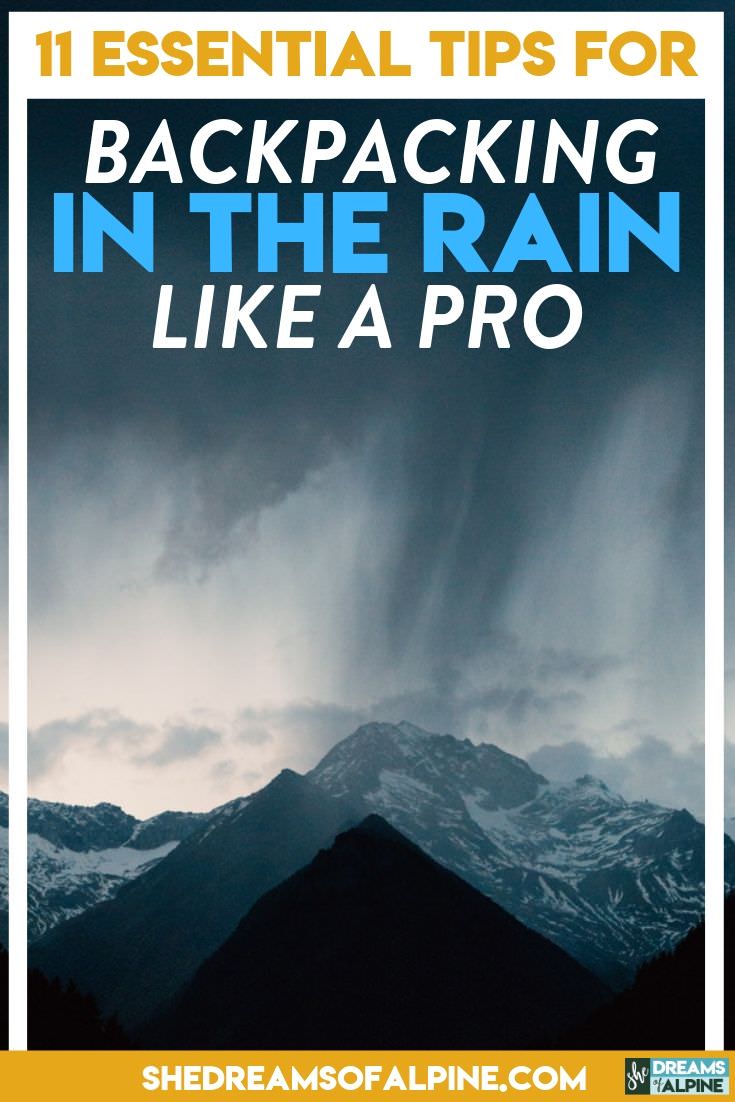 Related Posts: