Climbing Mount Shasta was on my list of goals since I first discovered a love for mountaineering and set a high goal to one day eventually climb all of the California Fourteeners. Unlike some of the other California 14ers that I've summited before, like Mount Whitney and Mount Langley, the Mount Shasta climb would be a bit more technical to plan and require me to utilize my mountaineering skills. My best friend was also interested in tackling Mount Shasta as her first mountaineering objective too. We decided we were up for the challenge!
There are many Mt Shasta climbing routes, but this particular guide below goes into depth on the logistics of planning your climb up Mount Shasta's Avalanche Gulch route plus what to do if you are a beginner and need to learn mountaineering skills. Mount Shasta's Avalanche Gulch route is a great beginner route to learn mountaineering on, but if you are a beginner this is best done with a guide (as we will describe below). Even though this route is "beginner", please be aware that it is still a very physically challenging route! If you are looking for more information on hiking 14er peaks, be sure to check out our additional resource that details 7 crucial tips to hiking and summiting a 14er peak plus I will link to some other California 14er reports at the bottom of this post.
Climbing Mount Shasta quick info:
As I mentioned above, if you are skilled in mountaineering, climbing Mount Shasta via Avalanche Gulch is a great peak to add to your mountaineering peak-bagging list. However, if you are new to mountaineering, be sure to seek out a professional guide. You should learn the proper skills for mountaineering from a trained guide or experienced mentor before ever attempting one on your own.
Read more on How to Get Into Mountaineering.
I learned how to mountaineer from a climbing club I joined back in 2014. During my time in that club, I climbed Mount Whitney's Mountaineer route, and I summited Mount Rainier via Kautz Glacier Route. I've also done some other peaks in Utah and Colorado with that group. For a good 2 years I did a lot of mountaineering.
When my friend approached me about mountaineering Mount Shasta it had probably been a good year since I had done any solid mountaineering though, so I decided it would be best for us to sign up for a guided trip. This way she could learn good techniques and form from the Shasta guides that do this every weekend and have even led up mountains like Denali. Ultimately, I wanted her to get a good idea if this was something she would really like doing in the future, because we could have a lot of fun up in the Sierras if she did. But, just like I did, I wanted her to learn from people who had years more experience than I do, and being guided up Shasta is more affordable than some peaks (plus, it was on my bucket list). We signed up for the 2-day alpine ascent up Avalanche Gulch.
There are many routes up Mount Shasta, and there is a great book, The Mt. Shasta Book, with a list of all of the different routes up the mountain. This guide below will only really go into depth on climbing Mount Shasta via Avalanche Gulch Route.
In the guide below we will go over:
Climbing Mt Shasta Climb Quick Facts

Where is Mount Shasta + Driving Directions to Mount Shasta

Mount Shasta Avalanche Gulch Route Trail Map, Itinerary, & GPX Files

Best Time to Visit Mount Shasta – Mount Shasta Summit Weather

Mt Shasta Camping Information

Mount Shasta Permit Information

Climbing Mount Shasta Gear List

Mt Shasta Avalanche Gulch Trip Report (with more details about the trail and pictures)
Plus, at the end we include some additional resources and guides for hiking and training for fourteeners. Let's get started…
GRAB MY ULTIMATE OUTDOOR ADVENTURE STARTER KIT
I created an awesome Outdoor Adventure Starter Kit for you (for FREE). It's filled with 14 pages of hiking, backpacking and rock climbing tips, techniques and inspiration to help you hone your outdoor adventure skills and become the ultimate outdoor badass. You can get immediate access to it below. What are you waiting for?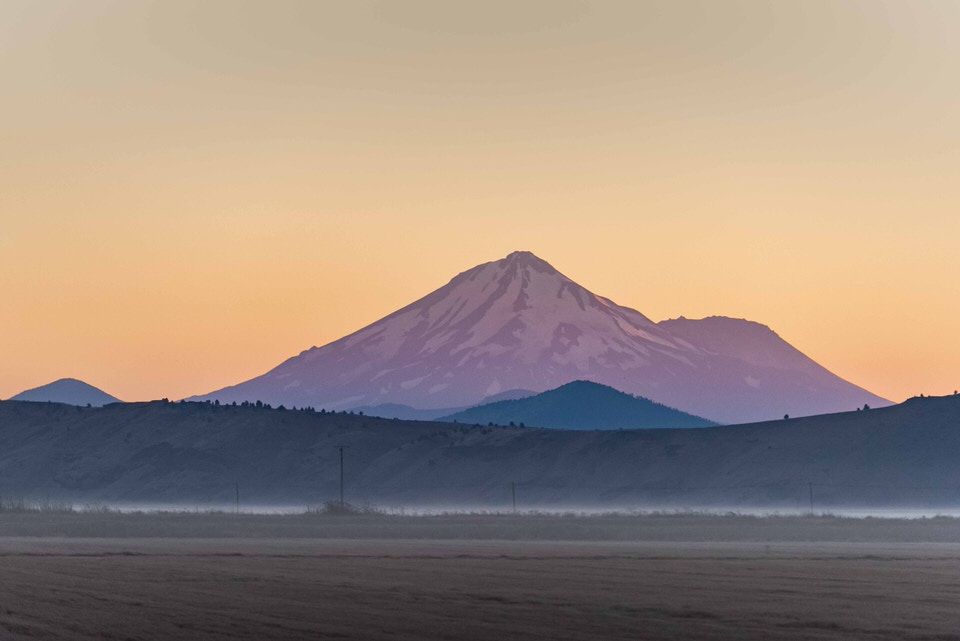 Climbing Mt Shasta Facts:
A Few Quick Facts About Climbing Mount Shasta:
Mt Shasta Elevation: 14,179 feet

Trail to Summit: There are many routes up Mount Shasta. In this post we will discuss the Avalanche Gulch Route. Avalanche Gulch is the 2nd technically easiest route up Mount Shasta

Type of Trail: Out and Back

How long is the route up Avalanche Gulch: ~11 miles (that's right… 5.5 miles with 7,300' gain!)

Total Elevation Gain: ~7,300 feet total elevation gain

Mount Shasta Avalanche Gulch Trailhead: Bunny Flat Trailhead

Trailhead Elevation: 6,950 feet

How long does it take to climb Mt Shasta? The Avalanche Gulch route can be climbed anywhere from 1 day to 3 days. We decided to tackle the peak in 2 days. The time required really will depend on your physical fitness and your mountaineering skills. Guided trips usually range from 2-4 days up the route.

Do you need a permit to climb Mount Shasta? Yes. See my permit section below.

How difficult is climbing Mount Shasta? Strenuous and Difficult! This is a technical trail. Do not attempt unless you are comfortable with mountaineering. There is also a lot of elevation gain in this route, so don't be fooled by people calling it an "Easy" route up Mount Shasta, especially if you are a beginner mountaineer. Again, opt to get guided if you have never mountaineered before, or aren't comfortable with this climbing skill.

How dangerous is climbing Mt Shasta? This answer varies depending on the route you choose. Mountaineering is always a potentially dangerous sport due to avalanche risk, rock fall, weather change, and other technical dangers in the mountains.

Can you hike to the top of Mount Shasta? As I've mentioned before, Mount Shasta should really only be attempted if you have mountaineering skills or you are willing to go with a guide. The route is technical, and even in the Summer months when snow is starting to melt, the mountain poses its own unique dangers. There is no path to the top like there is with other mountains like the Mount Whitney Trail.

How do you train to climb Mount Shasta? Mount Shasta is a serious peak and you'll have the best summit attempt if you dedicate a few months in advance to training.

Can I go climbing Mt. Shasta without a guide? Yes, of course, but only if you know mountaineering well and are confident in your mountaineering skills & knowledge. Otherwise, hire a guide. Shasta Mountain guides are well trained to give you a great experience up the mountain and will also teach you about mountaineering along the way.

Is Mount Shasta going to erupt? When did Shasta last erupt? It's not likely that Mount Shasta will erupt in our lifetime. According to the records, it only erupts about every 600-800 years and it last erupted about 200 years ago.

How far can you drive up Mount Shasta? You can't drive to the top of Mount Shasta, most people drive up to Bunny Flat Trailhead, which is at around 6,950 feet, or the Old Ski Bowl Trailhead at 7,800 feet.

Water Available? For water, you will melt snow on this trail if camping on the mountain overnight.

Is Mount Shasta dog friendly? Unfortunately, dogs are not allowed in the Mount Shasta Wilderness.
Where is Mount Shasta + Driving Directions to Mount Shasta
Unlike the rest of California's tall 14,000 foot peaks, Mount Shasta is located in Northern California near the border of California and Oregon.
If you are flying into California to climb Mount Shasta, you have a few options, but all involve a bit of driving. Here are a few of the "close" bigger airports: Oakland, San Francisco, Redding, Sacramento.
Driving times will vary depending where you are coming from, but here's a couple estimates from big California cities:
Los Angeles to Mount Shasta: ~10 Hours

San Francisco to Mount Shasta: ~ 5 Hours

Sacramento to Mount Shasta: ~4 Hours

Redding to Mount Shasta: ~1 Hour and 40 Minutes
Getting to the trailhead to start your hike up Avalanche Gulch is pretty straight forward. Set your GPS to take you to "Bunny Flat Trailhead", and from Mt Shasta Town Center you'll take the Everitt Memorial Highway all the way to the trailhead.
There are also some alternative trailheads to Bunny Flat Trailhead which include: Sand Flat Trailhead starting at 6,800 feet, and the Old Ski Bowl Trailhead starting at 7,800 feet. The Bunny Flat Trailhead and Sand Flat Trailhead both lead you to Horse camp where you can refill on drinking water (without having to melt snow).
Mount Shasta Avalanche Gulchroute Trail Map, Itinerary, & GPX Files
Below I have two photos of the Avalanche Gulch Route.
First is a map I made from CalTOPO, that shows you a shaded relief map, the Avalanche Gulch trail (in red), and a few of the key "trail markers" along the path up to the summit.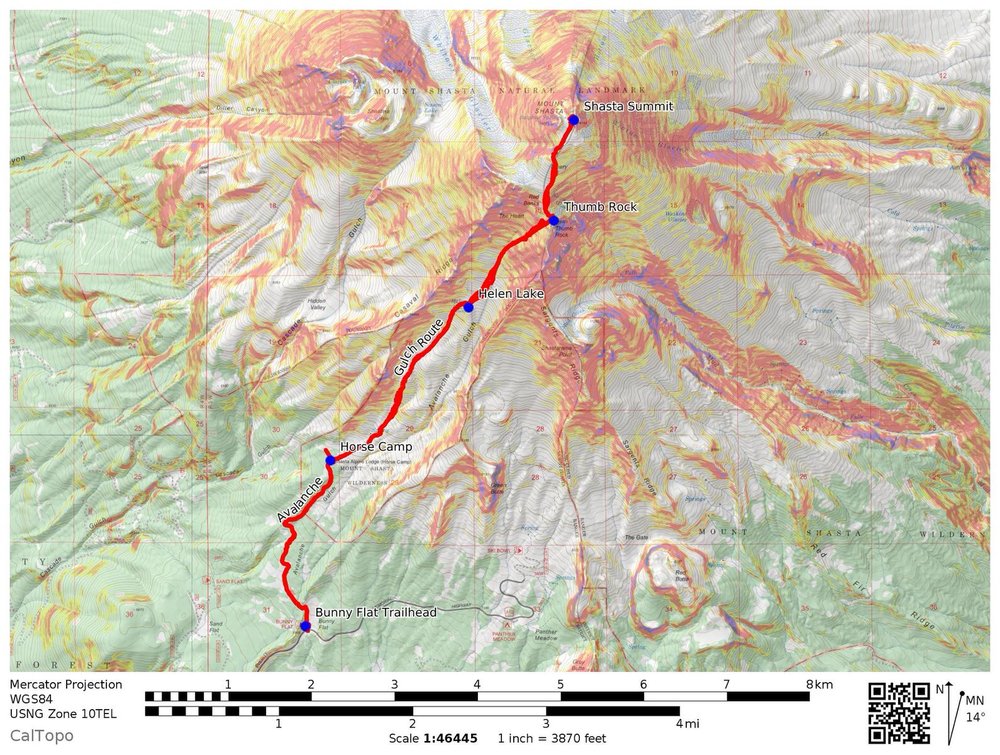 DOWNLOAD THE GPX FILE FOR THIS TRAIL!
Knowledge is power my friend, and I'm a girl who loves data. Get access to this trails GPX file PLUS my library of GPX files with tracks and waypoints for all the trails loaded onto the She Dreams of Alpine blog.
Load this puppy into your trusted GPS and rest easy knowing you have tracks to follow on your next hike or backpacking trip.
DON'T HAVE A GPS? YOU SHOULD.
Look, I believe every hiker and backpacker should be self-sufficient, and that includes knowing how to practice smart navigational skills in the outdoors. This is something I teach in my backpacking program, but I want to give you a couple GPS options to get started. Don't ever risk getting lost, and don't rely on other people for your safety. Be empowered, take 100% ownership for yourself my friend. Here's what I recommend:
1) GAIA GPS Phone App: At a bare minimum, consider getting a premium subscription to GAIA GPS App. This App allows you to download maps in advance and take them offline into the backcountry. You can record your tracks, upload tracks from online to follow (like the one I have above), and so much more with this phone app, and GAIA is offering a special discount to those who subscribe online through my link above, 20% off their normal prices. But even if you don't use my link… please, at a minimum get a GPS phone app to help you navigate outdoors!
2) Handheld GPS: If you hike often or go backpacking, then I highly recommend you investing in a handheld GPS. I own a Garmin 64st and LOVE this device.
3) Handheld GPS with Satellite Communicator: However, if you have a little bit more money to spend, if I were starting over, I'd get the Garmin inReach Explorer+ which provides not only GPS tracking capabilities, but also an SOS satellite search and rescue communicator. I own the Garmin inReach mini now and I pair it with my Garmin 64st, but you can save weight by getting this all-in-one solution.
And for an even more "visual" photo of the Avalanche Gulch route, I really like this photo below from the website, Timberline Trails.
I think he did an excellent job detailing this route visually, and our group essentially followed this same blue route except with one caveat, Ashima and I and our guide actually ended up going over Red Banks instead of over the bergschrund (which is near the Thumb). I talk about this in more detail in the trip report below.
A TYPICAL MOUNT SHASTA AVALANCHE GULCH ITINERARY
As I mentioned above, Ashima and I signed up for a 2-day ascent of Mount Shasta via Avalanche Gulch. Most people typically hike this trail in one to three days, depending on their physical fitness levels.
Recall that Mount Shasta via Avalanche Gulch is roughly 11 miles round trip with over 7,300 feet of elevation gain.
2-Day Avalanche Gulch Itinerary
This is the itinerary we followed for our 2-day Avalanche Gulch climb.
Day One – Start at Bunny Flat Trailhead – Stop at Horse Camp for Water – Climb to Helen Lake and set up Base Camp. (Fairly easy day)

Day Two – Wake up at Midnight – Start ascent up Avalanche Gulch Trail – Summit Mount Shasta – Descend back to base camp (and pack up) – Descend to Bunny Flat Trailhead (Very difficult day)
If you opted to do this in three days, you could spend your second night back at Helen Lake, and then descend the third day. Also, some groups even stop at Horse Camp on their way up, but that doesn't really feel worth it to me.
Make sure before you hit the trails that you grab a map of Mount Shasta area to bring with you. You can download the USGS Mt Shasta map, but you may also need the USGS Hotlum map for the west, the USGS McCloud map for the south, and thee USGS Ash Creek Butte map to the east. Or buy the Mt. Shasta Wilderness Recreation Map on Amazon.
Best Time to Visit Mount Shasta – Mount Shasta Weather:
Most people attempt the Avalanche Gulch route on Mount Shasta between mid-May and mid-July. This is the best time to do this route because you typically get "optimal" Mt Shasta weather conditions and snow pack coverage during this time of year.
If you wait until too late in the summer, the snow melts and there is a lot of loose scree, which causes the hike to be more challenging, plus more dangerous because there is a higher chance of rock fall in the Gulch.
Despite when you visit Shasta, always be prepared for rapid weather change (this means, also coming prepared with extra rain gear and layers). Mount Shasta can jump from optimal conditions to stormy conditions at any time of the year, and sometimes it can happen in the span of only a few hours. Also anticipate for winds to be greater the higher you ascend the mountain.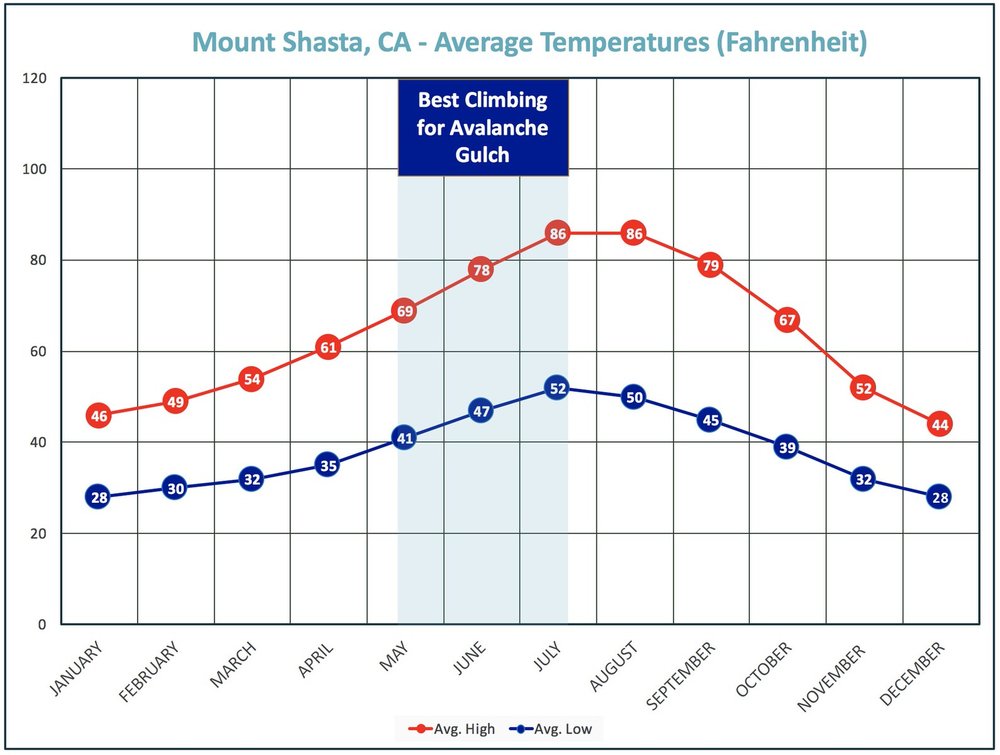 Be prepared before you go. Just like I teach my students in my backpacking program. It's important that you research your weather conditions before you go, weeks and days before your trip. You can check the weather conditions at one of the following resources:
Winter at Mount Shasta: The Winter months at Mount Shasta are known for their high winds, stormy weather, and deep snow. Only the most experienced mountaineers should ever attempt a winter ascent of Mt. Shasta.
Mt Shasta Camping Information:
There are a few camping options on Mount Shasta when attempting the Avalanche Gulch Route. Below are the most popular ones:
Horse Camp – 7,900 feet
Owned and maintained by the Sierra Club Foundation

Drinking water available here

Toilet Facilities

Cost: $5 per tent, or $3 per solo bivy per night
Helen Lake – 10,400 feet
A typically dry/snow-filled lake (we never saw a "lake" here when we camped)

Most climbers make a base camp here before summiting Shasta via Avalanche Gulch

Will need to be prepared to melt snow for water here. Take plenty of fuel.

This area can be prone to strong winds and cold temps, so come prepared

No Reservations required
Some people also camp at Upper Ski Bowl, but you'll have to hike over the ridge towards Lake Helen in order to get back on the right trail for Avalanche Gulch.
Mount Shasta Permit Information:
While you are required to get a permit for entry in the Mount Shasta Wilderness area (year-round), there is currently (at the time of writing this) no quota-system or advanced reservations required. Meaning you can show up and grab your permits the day of or before your attempt of Mount Shasta. However, there are a few special regulations that apply.
Where to get your permits: You can grab your permits at the Mt. Shasta Ranger District Office or McCloud Ranger District Office during business hours, or you may "self-issue" a permit outside the front door of the offices after business hours. You can also self-issue yourself a permit at the trailheads.
What permits do you need for Mount Shasta? You need both a Wilderness Permit and a Summit Pass before climbing Mount Shasta.
Wilderness Permits – Every person attempting the Mt Shasta summit will need to fill out his or her own free wilderness permit.

Summit Pass – If you climb above 10,000 feet (which if you are attempting a summit of Mount Shasta, then you will be), then you also need a Summit Pass. The fee for a Mount Shasta Summit Pass is $25 per person. Again, you can "self-issue" both permits, but please come with the exact change in cash or personal check if you self-issue a permit. If you live in the area and plan to summit Mount Shasta often, you can also grab an Annual Summit Pass from one of the Ranger Stations mentioned above for $30. This pass will be valid until December 31st of the calendar year you bought the pass in.
Please note: Groups are limited to 10 people or less, and camping is restricted to 7 nights within a 30 day window.
Disposal of Human Waste (AKA, pack out your poo): Much like Mount Whitney, Mount Shasta is a highly trafficked peak. In order to preserve the beauty and health of the Mount Shasta environment, the Mt Shasta Wilderness Rangers and climbers have developed a Waste Disposal System (much like the mandatory "WAG-BAG" system at Mt. Whitney). To put it plain, plan to do your "part" in helping keep Shasta beautiful, and pick up "packout bags" at one of the Ranger Stations or Bunny Flat Trailhead, and poop into the packout bags and carry it out at the end of your trip. Grab a few. If I can do it (and many other mountaineers) so can you my friend. Think of it as a right of passage.
Climbing Mount Shasta Gear List:
Below is a real high level list of the Mount Shasta mountaineering gear you should consider bringing on your trip up Avalanche Gulch. I'm keeping it short here just to highlight a few essential items, but to get a full list of mountaineering gear needed the please download our printable below.
The Bigger Items:
1) Backpacking Backpack [Recommended Brand: Deuter 45+] (40-50L): Deuter's 45+ Liter backpacks make great backpacks. If you plan to do more mountaineering, opt for a more "simplistic" and streamlined alpine backpack. My Mountaineering Alpine Bag is 80 Liters but compresses down very small. However, if you are looking for a good all-around bag, this one will do well for many kinds of trips, and if you go guided you might not neeed as big of a bag as the 80 Liter bag I have. Depends on your situation.
2) Sleeping Pad [Recommended Brand: Therm-a-Rest] (inflatable or foam): My favorite pad for mountaineering is the Therm-A-Rest NeoAir XTherm sleeping pad. It's light weight and easy to pack. It's super comfortable (no body parts touch the ground), and it's warm! However, its "Best Practice" in mountaineering to always have a back-up foam pad in addition to your inflatable pad just in case you pucture a hole into your inflatable pad with your crampons or technical gear.
3) Sleeping Bag [Recommended Brand: Big Agnes] (0-15 degree F): For mountaineering I recommend getting a 0 to 15 degree rated bag.
5) Tent (or Bivvy) [Recommended Brand: ALPS Mountaineering Tasmanian 2-person] (go for 1-2 person) For mountaineering, you typically want a 4-season tent. Depending on the weather you may be able to get by with a 3-season tent.
Special Technical Gear:
4) Headlamp [Recommended Brand: Petzl]: (PLUS extra batteries!) a headlamp is a MUST for climbing Mount Shasta, don't forget one PLUS extra batteries.
5) Sunscreen & Lipbalm [Recommended Brand: Joshua Tree]: I realize this is that special, but in mountaineering it is absolutely essential you bring sunscreen, and don't forget to put sunscreen on the bottom of your nose and ears! The snow reflects the sun back up onto your face.
6) Sunglasses (With Side Protection): Likewise, its crucial to have sunglasses when mountaineering or else you risk going "snow blind". Make sure the sunglasses you bring have side protection on them as well, or opt for shaded goggles.
7) Trekking Poles [Recommended Brand: Black Diamond] (snap lock, not twist lock): trekking poles are essential in mountaineering.
8) Mountaineering Boots: Backpacking and hiking boots are not sufficient for this kind of peak. I own the Women's La Sportiva Nepal EVOs, and I love them. I've linked to the men's version above. Boots can also be rented.
9) Harness: A simple harness like the Black Diamond Alpine Bod will do just fine.
10) Crampons: Again, this can be rented, but the important part is to make sure they fit the mountaineering boot that you own. There are many styles of crampons out there.
11) Climbing Helmet: We love our lightweight Black Diamond Vector helmets for everything from sport-climbing to mountaineering.
12) Ice Axe: An Ice Axe is a must for mountaineering, not only for ascending, but also self-arresting if you fell. Again, if you are a beginner, these are all skills you will learn by going with a guided group.
Clothing Considerations:
You must plan appropriately and test your layering systems before attempting a mountaineering trip. Do not wear cotton, and instead opt for moisture wicking materials like Capilene, Polypro, or Wool. Here's a high level look at what you'll want:
A set of base-layers (upper and lower body). I like wool for my base layers.

A mid-layer for a bit of extra warmth. Think Synthetic or fleece.

A bigger insulated "down-jacket" for the evenings and when you stop moving.

Wool socks (multiple)

Shell pants and Shell Jacket Layer (for snow and rain and wind)

Gaiters

Beanie

Buff

Light-weight Gloves & Water-proof mountaineering styled gloves
Other Special Notes:
Again, this is NOT a comprehensive list. If attempting the peak yourself (assuming you have the technical skills needed) there is more technical gear likely needed). The gear above just gives you a glimpse at what you may need to invest in/rent for attempting climbing Shasta via the Avalanche Gulch Route.

Rope and other climbing gear – Many people rope up for the Avalanche Gulch route, and some people don't. In our guided group, we did rope up, although it didn't really seem necessary most of the time. There is minimal crevasse crossing on this route, but again, do not attempt to do this peak without a guide unless you know what you are doing.

Bring extra fuel for boiling snow for water

Don't pack a "Camel-bak" as the straw will just freeze over. Instead, opt for 3-4 one-liter sturdy water bottles (like Nalgenes)

Always take 100% responsibility for your safety and bring a GPS/Compass/Map (as discussed in the Trail Map Section above).

Don't forget your permits and packout bags (see permit section above)
If you'd like a complete list of recommended basic mountaineering gear, then download and print off my Mount Shasta Mountaineering Gear List below. Please note that if you plan to go with a guided group, you may not need everything on this list, also if you are doing more technical mountaineering routes, then you may need additional technical climbing and safety gear.
Mt Shasta Avalanche Gulch Trip Report:
The Drive Up to Mount Shasta:
My friend and I left after work on Thursday night from central California and drove up to the Bay Area to stay with her parents and meet up with another friend, Jimmy, who was also going to be joining us on the Mount Shasta climbing trip.
On Friday morning we left for Mount Shasta. We made it to Mt. Shasta in the late afternoon and picked up Jimmy and Ashima's rental boots and crampons from The Fifth Season shop. I had my own mountaineering gear, so I didn't pick up any rentals.
I wanted to sleep at elevation that night so that hopefully we would be better acclimated for Mount Shasta on Saturday and Sunday, so on Friday night we slept at the Bunny Flat Trailhead which lies at about 7,000 feet elevation. It ended up being perfect, and we all just slept in our cars that night at the trailhead.
Day One – Meet the Guides, Bunny Flat Trailhead to Helen Lake Base Camp:
In the morning we met our Mount Shasta guides, Nicole, Parker and Skyler at the Shasta Mountain Guides shop where we made sure everyone had the appropriate gear and that we split some of the group weight. My pack weighed about 32lbs and Ashima's weighed about 25lbs. Not too shabby.
We got hiking with the group around 11:00am from the Bunny Flat Trailhead, and it was pretty easy-going to our base camp near Helen Lake.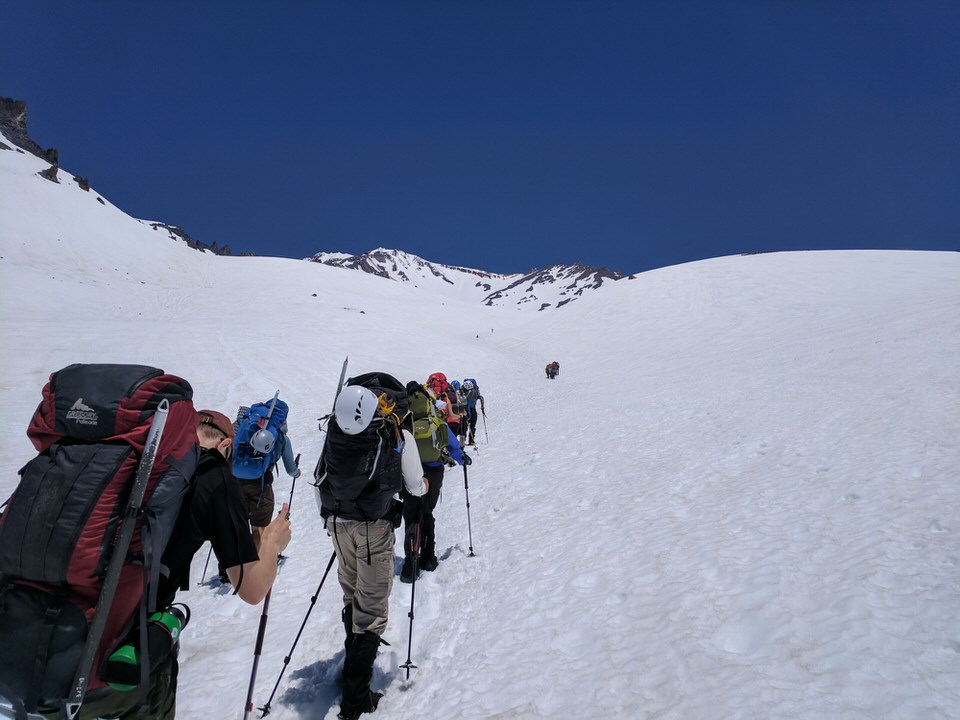 That Saturday almost felt too easy, in my opinion, and in reality we had only gone a couple miles and 2,000 ft. of elevation gain… meaning that we would have about 5,300 ft. left for summit day along with the total 7,300 ft for descent. Sunday was going to be a long day.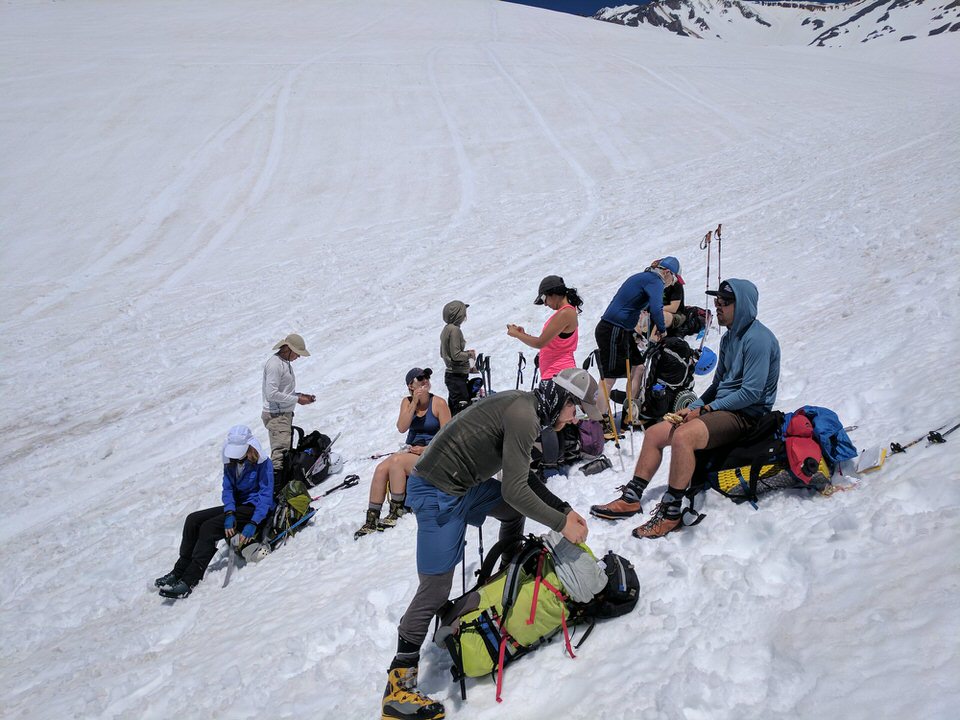 Most groups camp at Lake Helen, but we camped just south of the lake (about 900 feet below), for a little more privacy (since there were many groups already at the proper Helen Lake base camp). There are a lot of people that come to hike Shasta every year, many of which attempt it via the Avalanche Gulch route, so it's fair to say this wasn't quite the typical lone mountaineering experience. We were not alone on the mountain by any means.
But i guess one upside to the lower base camp was that we wouldn't have to carry our heavier packs up 900 more feet, we would take lighter packs on summit day. The downside though… 900 feet of extra climbing on summit day.
So we set up our tents and began to kick back and enjoy the Mt. Shasta views.
While one of the guides cooked dinner for the group, the other guides took us to a "steep" hill to practice a few common mountaineering techniques: self-arresting, the French step, the American step, and glissading. All which were good refreshers, and it's always fun to play in the snow.
Then we rested and fueled up the rest of the evening, because we would be getting up very, very early the next morning for summit Shasta day.
12:30 AM in fact.
Day Two – Base Camp to Summit to Bunny Flat Trailhead:
Our group had to get a particularly early start since we were lower on the mountain than most groups that camped at Helen Lake, and it's important to get an early start on the mountain so we can be safe and avoid rockfall from melting snow and rock.
Headlights in action, and we began the long… long trudge toward the summit.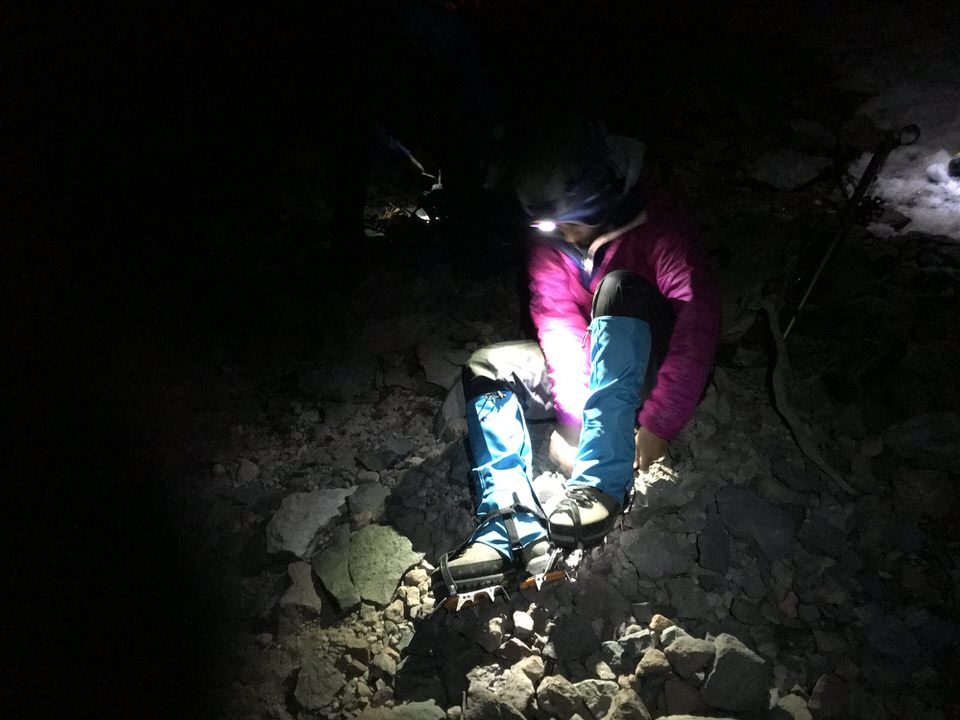 I was feeling the nausea from the altitude a bit on our initial ascent, but still felt pretty good, and when the sun finally rose, we were greeted with an epic mountain view. Shadow of Shasta in all of her glory. It was awesome!
Due to the extreme mass of climbers going up the mountain, the climbing up avalanche gulch was like ascending a very long staircase of steps crafted from snow and ice, and a big game of follow-the-leader toward the bergschrund and onward to the summit.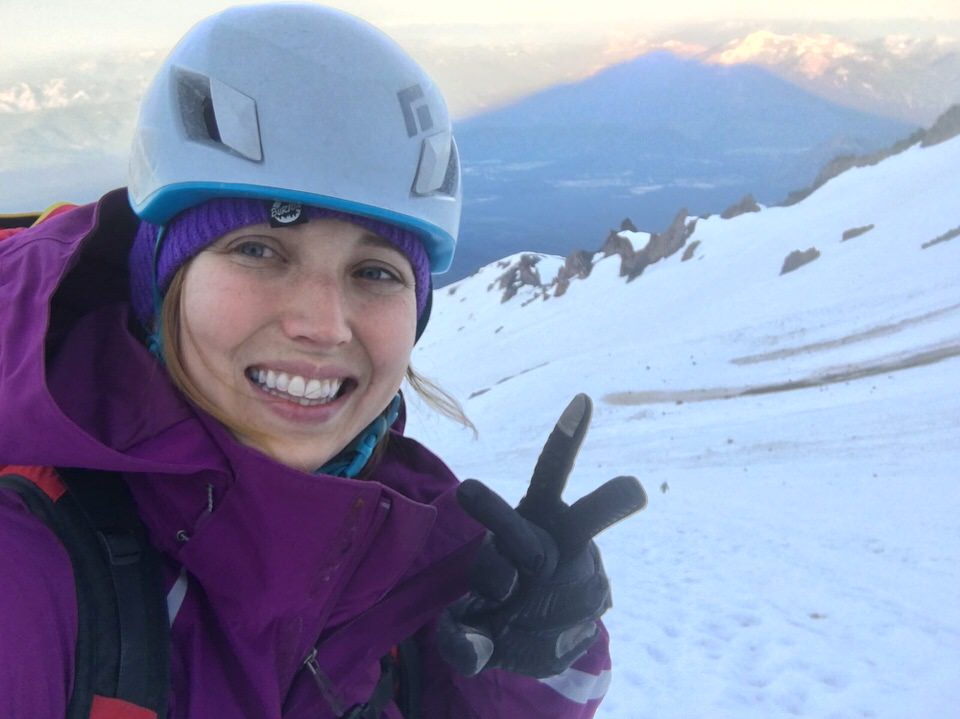 Our guides, however, had us rope up on the slopes, which really didn't seem necessary since there weren't any crevasses below us until the bergschrund at the top, but I guess they wanted to give the appearance of more "safety" to their clients. I was teamed up with Ashima and a guide named Parker, and we were "the middle group". Not quite as fast as the "fast group" and not quite the slowest group… sounds about right.
As we neared the top of "the heart" (see map in the Mount Shasta Map section), Parker got a call on the radio from another SMG guide that said the bergschrund looked "dangerous" and the snow bridge melted, and so he decided that we would go left up the Red Banks instead. Not many other groups that day were ascending the Red Banks and so the terrain was a bit of different climbing compared to the stair steps we had been following previously.
We found ourselves French stepping on very steep snow/ice to the top of red banks, and it was much more strenuous than what we had been previously doing. On top of that, I don't think we had stopped to take a break in a couple of hours, so Ashima and I were very thirsty and needing fuel. Normally (had I not been roped up) I would've taken a 1-minute stop here or there to stuff a bar into my mouth and drink some water, but it seemed our guide was on a diehard mission.
I mean, I get it, our diversion toward red banks made our route a bit longer and he didn't want to stop on the steep slopes, but I also don't think he recognized that we mortals (who don't climb Shasta every weekend) might need a little more re-fueling than him.
I had fun, for the most part, going up Red Banks, but for Ashima's first time on steep slopes, it was quite the challenge. At one point her crampon even came loose and I had to hunker down and fix it back onto her foot on the 30+degree slope. For our own reasons, we were all excited to reach the top of Red Banks to take a rest. Ashima and I were exhausted.
The route to the summit from there was theoretically simple, but mentally still a big challenge for us. We were feeling the altitude, the dehydration, and the exhaustion, but we were still hopeful for the summit.
It was funny because Ashima and I seemed to exchange energies the entire way up the mountain. When I would be at a low, she would be encouraging me to keep the goal and vision in mind, and when she was at her low, I kept egging her on. Our guide also did a great job and reminding us the summit was so close and achievable.
And so we trudged onward and upwards, over several more false summits.
It was slow going, with many "micro" breaks, and counting to keep myself going.
When we finally got to the point where we could see the actual summit, I felt like I couldn't give any more. In that moment, the summit looked incredibly far away. People would come by and say "You're almost there! Keep Going!" and I would look at the path and think, "There's no way… I'm satisfied…" But then, a few more sips of electrolyte water and a bite of butterfingers later, we were convincing ourselves we could do it. But it sort of felt like a lie.
In the back of my mind though, I was thinking, "I need to summit this, so I don't have to come back". Ha! How's that for motivation? It's funny writing about this now because I feel like, sure I'd go back and climb this route again, but I was definitely feeling a bit different at the time of the climb.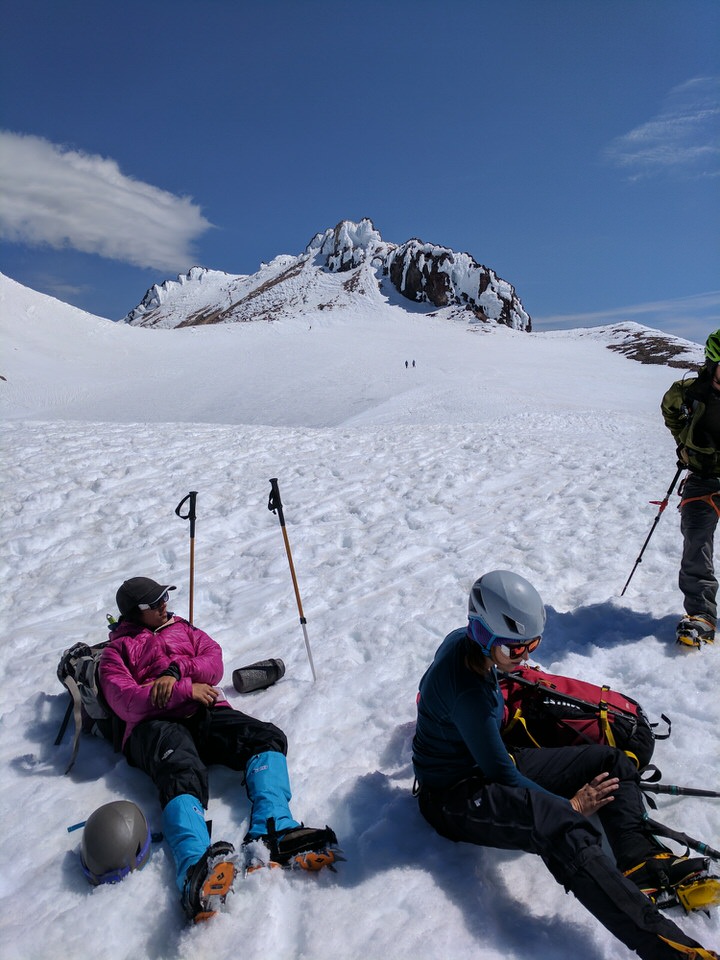 The final summit push is almost a blur, and I felt like I got a 2nd wind.. or may more like a 30th wind.
But we freaking MADE IT. Signed the register AND got the Mt Shasta summit picture. Plus, not to mention, that great summit feeling… that cloud 9 feeling… that I'm a badass feeling. That… oh wait, I still have 7,300 feet left to descend feeling.
The summit is only half way there folks.
Yup, the summit high was short lived. It was almost noon and we needed to get the hell off that mountain and find a way to get quickly and safely down the mountain toward the nearest Pizza Place to stuff our faces with victory pizza.
I'm not going to lie, going down sucked. Ashima and I were, (surprise) still tired, and it didn't change much on the down climb, which is even more brutal on your knees.
We got lucky though, super lucky actually. We found out that the bergschrund was actually just fine to cross, and that the snow was perfect conditions for glissading.
So we crossed the bergschrund via a snow bridge and then enjoyed the longest glissade I've ever done in my whole life. For those of you who don't know what glissading is, it's basically like sliding down the mountain on your butt, mountaineering axe in hand in case things get out of hand, but the snow was perfect. We butt-glided down those slopes basically all the way back to base camp, thousands of feet.
It was just insane, and fun, and such a relief to my mind (and knees). It would have been a very, VERY longer day had we descended by foot down that climbing route.
The ending is simple from there. When we got to base camp, we packed up the rest of our stuff and did a bit more glissading down the mountain until it got too flat and we had to walk the rest of the way to the trailhead.
Then it went like this: flip flops, clean clothes, drop off rental gear, and eat pizza.
That moment you've been waiting for… when you get to talk with your climbing friends about the craziness that you just survived and the summit achieved all in the presence of your own personal pizza and flip flops.
It's the little things.
I'm proud of my friends Jimmy and Ashima for kicking butt on their first mountaineering trip. It was a tough one, physically and mentally, but I'm happy to have shared this experience with them. It's one for the books.
Looking for even more hiking and backpacking related tips? Check out these articles on the site!
Cheers,
Allison – She Dreams of Alpine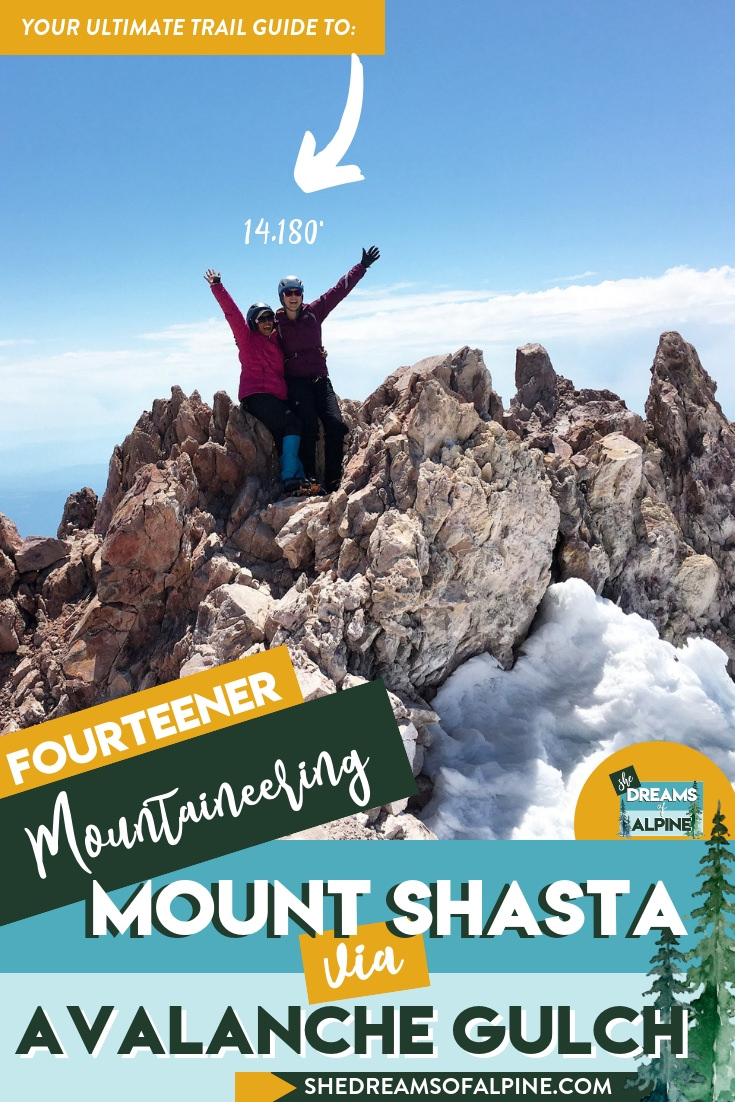 RELATED POSTS: