If you are wanting to go backpacking on the Lost Coast Trail, I should first start off with a warning. Be prepared to backpack along miles and miles of isolated, breathtaking California coastline. Be prepared to experience California in a way that most people never will. Brace yourself for jaw-dropping sunsets, and beach-side camping. There may be stretches of this hike where you will have an entire beach to yourself. This is not a trail for those seeking an average backpacking experience. The isolation and beauty of this trail are real. You've been warned.
In all seriousness though, The Lost Coast Trail is probably one of the most unique backpacking trips I've ever gone on. It is so complete different from the backpacking trips I've gone on in the Sierras (like backpacking Mt. Langley or backpacking in Tuolumne). The Lost Coast trail lies along one of California's most beautiful rugged coastlines and follows some of its most isolated and breathtaking beaches. It's stunning, to put it lightly, and I'm really excited to share this trail guide with you. It's been a long time coming.
There are a lot of resources out there for the Lost Coast hike and a lot of good trip reports, but I always do my best to give you everything you need and I kind of think this post as an awesome one-stop-shop for planning your Lost Coast backpacking trip. I'll help to make the process simple for you and cover everything you need to know about backpacking the Lost Coast Trail from getting a permit, trail details and GPX files, to what you should pack on your visit. Plus if you're planning to stick around California for a while, I've got a few great posts on other great hikes in California that you can check out at the bottom of this post under resources!
WHAT WE WILL COVER IN THIS GUIDE:
There is a lot of information in this post, if you are looking for something in particular, feel free to skip ahead to one of the below categories (they are ordered as shown below). My below Lost Coast Trail guide will cover the following:
About The Lost Coast Area– Get to know the area before you go!

The Lost Coast Hike Details – Stats baby! All the data for the trail. How many miles, elevation gain, & more. PLUS a video from my trip on the Lost Coast Trail.

How To Get a Lost Coast Trail Permit – Everything you need to know about getting a Lost Coast backpacking permit. It used to be really easy to get a permit, but now there are new reservation regulations in place, so be sure to read this section!

Where is It & How to Get to the Lost Coast Trail – Lost Coast trailhead details, options, and Lost Coast Shuttle information

The Lost Coast Trail Map & GPX File – I've created an interactive map in google detailing the most popular sections of the trail and. You can also download this file as a GPX file to upload into your own personal GPS device.

Best time to hike the Lost Coast Trail (When to Go) – Details about the best time to hike the Lost Coast and typical Lost Coast trail weather to expect on your trip.

Lost Coast Camping– Your options for Lost Coast campgrounds when backpacking this trail.

Hazards of the Lost Coast Trail– The key hazards you need to be aware of when backpacking the Lost Coast Trail.

What to Bring – What are the essential items you should bring to California's Lost Coast trail?

Itinerary for hiking the Lost Coast Trail in California – I'll walk you through my experience and suggested itinerary for backpacking the Lost Coast Trail.
Plus, be sure to check out the bottom of this post to find more hiking trail guides in California and other additional hiking, camping and backpacking resources!
GRAB MY ULTIMATE OUTDOOR ADVENTURE STARTER KIT
I created an awesome Outdoor Adventure Starter Kit for you (for FREE). It's filled with 14 pages of hiking, backpacking and rock climbing tips, techniques and inspiration to help you hone your outdoor adventure skills and become the ultimate outdoor badass. You can get immediate access to it below. What are you waiting for?
1) About The Lost Coast Area
The coastline of the Lost Coast Trail is rugged and remote. So rugged, in-fact, that the state of California was unable to continue the well-known Highway 1 (otherwise known as "The One" to Californians) along this stretch of California coastline, and instead they had to continue Highway One inland. Also unlike other areas of California, you won't find mansions or homes tucked away on the cliffs of the beach. The King Range Wilderness area is truly a remote gem, a rarity in California.
The only true way to experience the magic of this area is exploring it by foot. Thanks to the remoteness of this area, one can backpack this trail and watch the seals bobbing around in the ocean waves, sea-lions sunbathing along the coast, and the occasional star fish washed ashore all while hiking The Lost Coast Trail.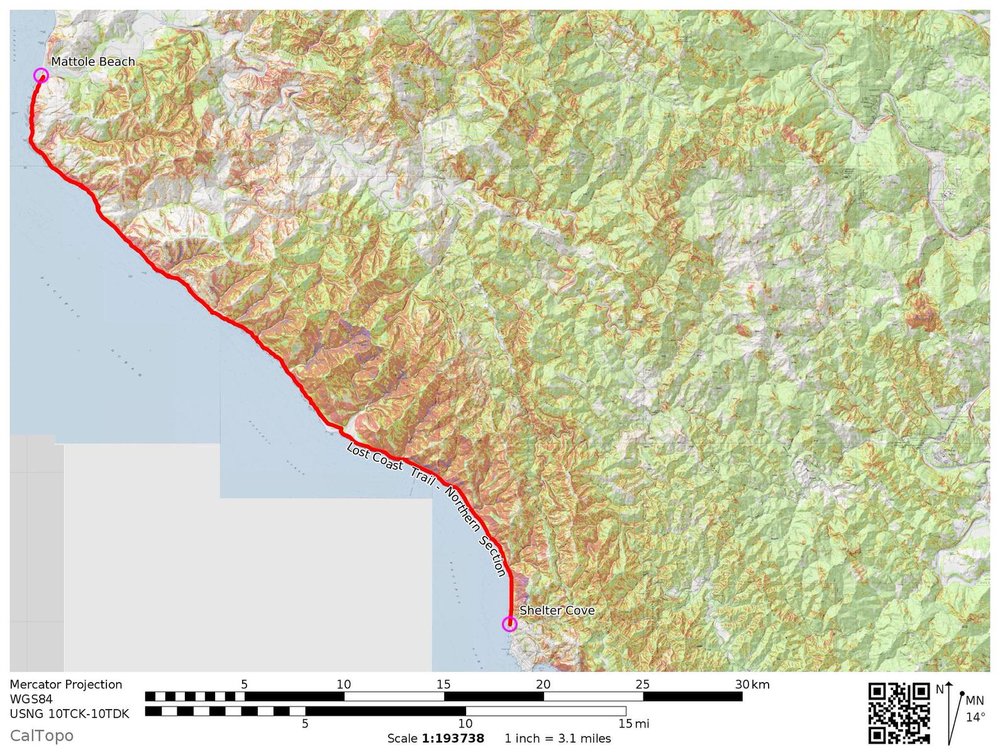 There are 2 primary sections to the Lost Coast Trail, but most people are primarily familiar with the Northern section, which is what will be covered in the below guide, but for clarity here are a few more details on the two sections of the trail:
The Northern Section: From Mattole beach to Black Sands Beach (near Shelter Cove), this is the most well known portion of the Lost Coast trail, and what will be covered in this trail guide.

The Southern Section: This portion of the Lost Coast goes deep into the Sinkyone Wilderness State Park from Black Sands Beach down to Usal Beach (roughly 32 miles). This trail is beautiful in its own right, but doesn't explore the coastline like the Northern Section of the trail. If you have a long time to spend ini Northern California, consider adding the Southern Section of this hike onto your trip. However be aware that the Sinkyone Wilderness State Park has stricter regulations on camping, and coordinating a shuttle may take a bit more planning in advance.
2) The Lost Coast Hike Details
Whenever I'm gearing up for a backpacking trip and doing research on a trail, I like to know the quick information right of the bat, like how many miles is my backpacking objective, what is the trailhead name, how many days should I set aside for it? So that's why I like to lead off with this section. In just a short few bullet points, you'll get a high-level overview of what to expect on your Lost Coast hiking adventure.
Note: To be clear, this trail guide covers the Northern (and most well-known) portion of the Lost Coast trail which runs between Mattole beach and Black Sands beach (near Shelter Cove).
Where is the Lost Coast Trail? The Trail is located in Northern California in the King Range National Conservation Area

Trail Name: The Lost Coast Trail (Northern Section)

Trailhead Name: Depending on whether you hike the trail from North-to-South or South-to-North. The Northern trailhead is called Mattole Beach Trailhead, and the Southern trailhead is called the Black Sands Beach Trailhead

Lost Coast Trailhead Elevation: Sea Level 🙂

Type of Trail: Most people hike this trail Point-to-point (which requires a shuttle), though you could hike it out-and-back styled

How long is the Lost Coast hike? Roughly 25 miles long if hiking point-to-point. Check out Section 4 'The Lost Coast Trail Map, Itinerary, & GPX File' for more details.

Total elevation gain? Negligible!

How many days to spend backpacking the Lost Coast Trail? Most people backpack this trail in 2-3 days. Check out Section 4 'The Lost Coast Trail Map, Itinerary, & GPX File' for more details.

Lost Coast Trail California Crowds: Medium. This trail has gotten more popular over the year, however a newly enforced permit system does keep the quotas down. Also due to the remoteness and planning required to do this trail, its not as popular as other California backpacking trails.

Lost Coast Trail hike difficulty: the biggest difficulty in backpacking this rugged California coastline is that hiking in the sand and among the rocks can be difficult on your knees. The terrain is uneven and can take a toll on your body even though the elevation gain and mileage is not too intense.

Is a permit required to hike California's Lost Coast? Yes. See the permit section below.

Is there drinking water available along the Lost Coast Trail? Freshwater streams are available frequently along the Lost Coast Trail, usually at most only a few miles apart. However, it's always smart to plan accordingly though, because there will be some stretches of coastline with no opportunities to fill up on water, and always filter your water in the backcountry. Skip to the Hazards section of this post to see what we found in one of the streams we filtered water at.

Can you bring dogs on the Lost Coast Trail? Technically they are allowed, but this trail isn't super dog friendly on their paws due to the sand and uneven pebble terrain. I'd advise to leave the dogs at home on this hike.

Is backpacking the Lost Coast Trail kid friendly? This trail isn't advised to younger children, but older children may be able to handle this trail if they are a confident and good hiker/backpacker. It's nice that there isn't a ton of elevation gain on this trail, but there are other dangers that I will discuss in the "Hazards" section of this post. As always, you should always consider you and your families hiking abilities before taking on any hiking or backpacking trip with your kids.

Other important notes: Your food is required to be contained in a bear can on this hike. Be sure that you pack away all food in an approved bear can.
lost coast surfing
When I backpacked the Lost Coast trail I definitely didn't do any surfing, but we saw a group of people (shown in the above photo) on the trail with not only backpacking backpacks strapped to their bodies, but also surf boards! While I can't really comment on the quality of the surfing on the Lost Coast Trail, an article from Teton Gravity mentions, "Scoring a perfect swell in Northern California is always unlikely. Because the coastline is so exposed, conditions are often too rough or too windy. But supposedly, there's a nameless break on the Lost Coast that lines up a few times a year." You can read more of their article here.
Lost Coast Trail Video
Check out this fun video we made of the Lost Coast Trail hike when we went back in 2015. This video will just give you a quick taste of what to expect on the trail and the kind of terrain (and wildlife!) to expect!
3) How To Get a Lost Coast Trail Permit
In the past you didn't have to reserve lost coast trail permits in advance and you could pick them up at the trailhead, but the rules have changed and now all backpacking reservations must be made in advance. These are are also know as King Range Wilderness Permits.
WHEN TO APPLY FOR LOST COAST BACKPACKING PERMIT:
Permits are required for overnight camping on this trail (day-hiking requires no permit).

The block of permits available for each year are released the prior year on October 1. So basically, if you are planning way far in advance, you'll have the best chances getting the exact date that you want if you look on October 1st of the prior year. However, if you don't know that far in advance, you can apply at anytime online.
HOW TO APPLY:
You can apply for you lost coast permits online at Recreation.gov. The permits are first-come, first-serve, and there are no lottery or walk-in permits available, so you must do this in advance.

There are daily quotas for entering the trail, and the quotas are as follows:

May 15 – September 15: 60 people allowed to enter the trail per day

September 16 – May 14: 30 people allowed to enter the trail per day
HOW MUCH DOES IT COST:
There is currently no recreation fee for hiking the Lost Coast Trail and getting a King Range Wilderness Permit. However, there is a non-refundable reservation fee that costs $6 per person.
OTHER USEFUL INFORMATION:
You may only have a group that is max of 15 people, however the reservation limit size is 5. So if you have a bigger group than 5, you'll have to grab multiple permits.

Permits are non-transferrable.
4) Where is it & How to Get to the Lost Coast Trail
The Lost Coast Trail is located in the King Range National Conservation Area in Northern California. It is part of one of the longest stretches of coastline of the US outside of the state of Alaska. This area is far removed from Californias big cities. Here are some drive times you can expect in order to get to the Southern-most trailhead (Black Sands Beach Trailhead).
San Francisco to Black Sands Beach Trailhead: 4 and 1/2 hours

Sacramento to Black Sands Beach Trailhead: 5 hours

Los Angeles to Black Sands Beach Trailhead: Over 10 hours
Options for Transportation Between Trailheads
If you hike this trail as an out-and-back styled trail, you're in for a much longer hike (about 50 miles), but you won't have to hassle with shuttle transportation. However, if you backpacking this trail as a point-to-point trail (as most do), you have a few options:
Arrange Shuttle Transportation: This is the most common option people opt for on the Lost Coast Trail, and you can read more details in the section below.

Plan to go with 2 Separate Hiking Parties: If you plan ahead and have 2 separate groups. One group could start at the Northern end of the trail and the other group could start on the Southern end of the trails. You could plan to swap car keys along the hike and drive home accordingly. This would take a lot of coordination and planning, but totally doable.

Park 2 cars, One at Each Trailhead: This is the least efficient option, but I'll still list it. If you did this, you should expect for some very long driving times. Each trailhead is roughly 2 hours from each other.
Lost coast trail Shuttle
On my backpacking trip of the Lost Coast Trail we decided to hike the trail from South-to-North, but only one way. This meant we had to leave our car at the Mattole beach trailhead (Northern Trailhead), and get shuttled to Black Sands Beach Trailhead, all of which had to be arranged in advance. The shuttle drive is long, about 2 hours, and covers about 50 miles of winding road in order to navigate the rugged land.
We opted to take our shuttle drive on the beginning portion of our backpacking trip so we could just head straight home after we finished our trip and not wait for a shuttle. So as I mentioned above, we parked at Mattole, took a shuttle from Mattole too Black Sands Beach Trailhead and began our hike from there.
You can arrange shuttle transportation with one of the below approved BLM Lost Coast Trail shuttle organizations:
Cost of Shuttle? Costs can vary depending on the size of the group (and may change at any time), but shuttles start around $85 per person. Check the websites above (or call) for more details from one of the above providers.
5) The Lost Coast Trail Map & GPX File
Backpacking the Lost Coast Trail would be pretty straight forward if you didn't have to make sure to plan your hike according to the low tides. The trail pretty much just follows the coastline. Below is a Lost Coast map detailing many of the important landmarks along the trail from Black Sands beach to Mattole Beach.
The important thing to note here are the 3 purple sections, which represent the general areas along the Lost Coast Trail that can become impassable during high-tide.
This Lost Coast Trail map below details all the key milestones of the hike including the 2 campsites we choose to camp at on our specific journey on the Lost Coast Trail. If you click on the image below (or click here) you will be taken to an interactive map that you can further explore.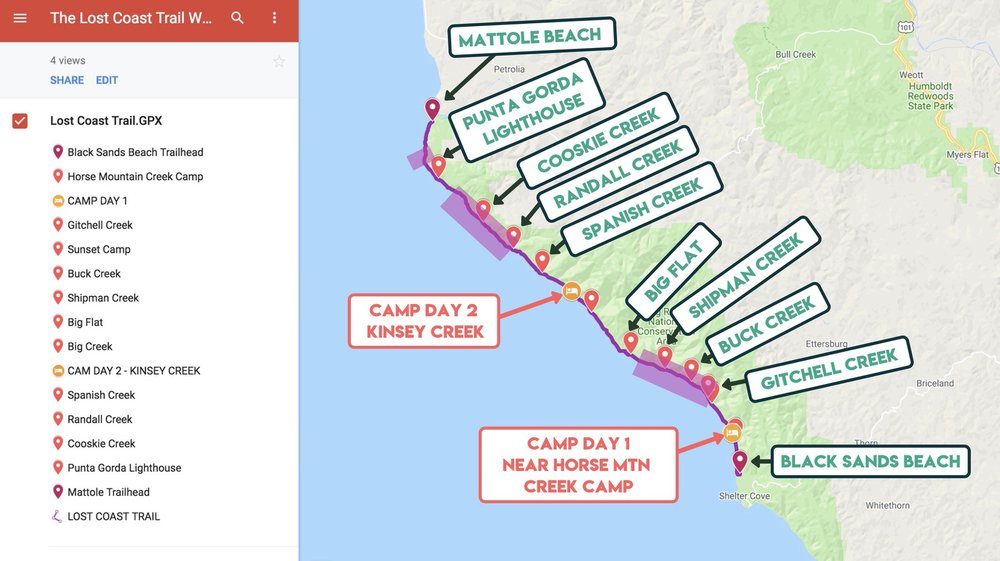 DOWNLOAD THE GPX FILE FOR THIS TRAIL!
Knowledge is power my friend, and I'm a girl who loves data. Get access to this trails GPX file PLUS my library of GPX files with tracks and waypoints for all the trails loaded onto the She Dreams of Alpine blog.
Load this puppy into your trusted GPS and rest easy knowing you have tracks to follow on your next hike or backpacking trip.
DON'T HAVE A GPS? YOU SHOULD.
Look, I believe every hiker and backpacker should be self-sufficient, and that includes knowing how to practice smart navigational skills in the outdoors. This is something I teach in my backpacking program, but I want to give you a couple GPS options to get started. Don't ever risk getting lost, and don't rely on other people for your safety. Be empowered, take 100% ownership for yourself my friend. Here's what I recommend:
1) GAIA GPS Phone App: At a bare minimum, consider getting a premium subscription to GAIA GPS App. This App allows you to download maps in advance and take them offline into the backcountry. You can record your tracks, upload tracks from online to follow (like the one I have above), and so much more with this phone app, and GAIA is offering a special discount to those who subscribe online through my link above, 20% off their normal prices. But even if you don't use my link… please, at a minimum get a GPS phone app to help you navigate outdoors!
2) Handheld GPS: If you hike often or go backpacking, then I highly recommend you investing in a handheld GPS. I own a Garmin 64st and LOVE this device.
3) Handheld GPS with Satellite Communicator: However, if you have a little bit more money to spend, if I were starting over, I'd get the Garmin inReach Explorer+ which provides not only GPS tracking capabilities, but also an SOS satellite search and rescue communicator. I own the Garmin inReach mini now and I pair it with my Garmin 64st, but you can save weight by getting this all-in-one solution.
>> Jump to Section 10 for a suggested lost coast trail itinerary.
6) Best time to hike the Lost Coast Trail (When to Go)
The beauty of the Lost Coast Trail hike is that it can be practically hiked year-round thanks to the fabulous nature of California coastal weather. However, there is a "more optimal" time to do this trail and that would be from around May to October due to the higher precipitation and colder weather experienced during the Winter and early Spring months. If you do dare to hike this trail in the Winter months, be prepared with extra rain gear and be prepared for some of the streams that enter into the ocean to be in full rage, which can make them somewhat difficult to cross! Check with the local BLM office before you set out on your hike for the most current weather conditions.
Check out the Lost Coast weather average temperature map below for reference.
Also, you will have to plan your hiking time accordingly in order to avoid high tide where parts of the trail will be completely impossible to cross at certain times of the day. Definitely grab a Lost Coast Trail tide chart before your hike, and make sure it is the current tide table as the high tide times change throughout the year.
7) Lost Coast Camping
camping near the trailheads (pre-hike)
If you come in a day before your hike, you have a few options for camping.
Camping at Mattole Trailhead Area: there is a car campground at Mattole that has several sites and potable water. You can also camp along the beach here.

Camping near Shelter Cove: the closest options too Shelter Cove are the BLM Wailaki Campground, the Nadelos Campground, or even a bit further out, the Tolkan Campground.
camping along the lost coast trail
Along the Lost Coast Trail there is not restricted campsites, however always practice leave no trace and try to minimize your impact on the environment by camping in areas that already appear to be existing campsites. Many of the primary campsites along the trail are located near the major streams that meet the ocean (As seen oon my map above). Any of the below sites would make great camping options (listed from South to North):
Horse Mountain Creek (where we camped on night 1)

Gitchell Creek

Buck Creek

Shipman Creek

Big Flat

Big Creek

Kinsey Creek (where we camped on night 2)

Spanish Creek

Randall Creek

Cooskie Creek
8) Hazards of the Lost Coast Trail
It's tempting to want to attempt this trail as a beginner backpacker, but even though the elevation gain is minimal, this trail has quite a few hazards that could definitely stress out a new backpacker. When planning your Lost Coast backpacking trip, pay particular attention to the below hazards and plan ahead for accordingly.
high-Tides
You must plan your backpacking trip along the Lost Coast trail a bit more strategically than other hikes because 2 times per day there are sections of the trail in which the beach will be completely covered by the high-tide. You do not want to find yourself stuck in these sections of the trail during high tide!
In particular, there are 3 stretches of the trail that are impassible during high-tide. Two of these sections are around 4 miles long, so you must plan ahead of time! Considering that on this rougher terrain you may only hike about 1.5 miles per hour, you need to plan your hiking accordingly.
Before your trip, look at the tide schedule and print out a tide table. Failing to plan accordingly could be deadly.
Sneaker Waves
Never turn your back to the sea, so to speak. Big rogue waves have been known to surprise hikers on the Lost Coast Trail, and conditions can change rapidly. There are powerful under-toes in the water, so be very aware of whats going on around you as you hike.
Uneven Terrain Hiking
This was one of the things I completely underestimated on this trail. The uneven terrain of hiking on sand (loose sand and packed sand) plus the long sections of trail that went on for miles hiking over uneven pebbled rocks took a serious toll on all of our knees. After hiking miles of shoreline where there are bigger smooth stones, you'll be relieved when you hit a stretch of firm sand.
If you know you have issues with your knees, this might not be the best trail for you. If you think you can manage, I highly (highly!) recommend that you bring trekking poles to help stabilize yourself on the rough terrain and bring some padded insoles for your hiking boots to take some of the force away from your feet. I detail my favorite recommendations for both in the "What to Bring" section of this post.
Also be aware that there are sections of the trail where the cliffside juts in toward the water. In order to avoid getting wet, you may find yourself at times, having to scramble over rocks.
Poison Oak
There is lots of poison oak along the leafier portions of the Lost Coast Trail. Make sure you understand what it looks like (remember, leaves of 3, let it be), and know how to treat it if you happen to brush up against Poison Oak. Of course, your best course of action will be to prevent it entirely, which is why wearing pants is advisable on this trail.
wildlife
There is all kinds of wildlife along the Lost Coast Trail! We saw deer, seals, sea lions, hawks, starfish, and even bear tracks in the sand. That being said, make sure you take a few precautions when hiking this trail to prevent any unwanted wildlife encounters.
Bears: Bear cans are required on the Lost Coast Trail (and can be rented ahead of time if you need them). Make sure to pack away anything that smells (including sunscreen and lipbalm, etc.) into your bear can at nights and store the bear can away from your tent.
Also be on the look out for rattlesnakes (rare) and possibly ticks.
Drinking Water (Always Filter!)
As we discussed in the hiking details, there are plenty of freshwater streams available along the Lost Coast Trail, usually at most only a few miles apart. However, I wanted to make an important reminder to why its super important that you always filter your water in the backcountry.
The photo above shows a dead whale we found in one of the streams we were considering filtering water at. We ended up not filtering water here because of the dead whale, but if you hadn't walked up further in this stream and instead filtered water at closer to the beach, you might have never noticed the dead whale. In fact on our way back we had to warn some hikers who were filtering water closer to the trail about the dead whale. Always filter your water folks. You never know what might be upstream.
9) What to Bring
1) Backpacking Backpack (Like the Deuter Act Lite 45 + 10L Backpack)
: Deuter makes some of the best backpacking backpacks out there.
2) Tent
3) Sleeping Bag and Sleeping Pad
: Essential to a good nights sleep!
4) Headlamp (Like the Petzl Actik Core)
: Petzl is one of the best brands for top-quality headlamps, and my go to for a lot of outdoor gear.
5) Water Bottles and/or Camelbak Hydration Pack
6) Water Filter Like the Sawyer Squeeze or the Katadyn Hiker Pro
If you are new to backpacking, the Sawyer squeeze is an affordable first water filter, however I do prefer my Katydn in most scenarios.
7) Portable Backpacking Stove Like the MSR Reactor Stove System
: MSR is another one of my go-to brands.
8) Spork for Eating Your Camp Food
9) Map of the Lost Coast Trail
10) Sunglasses
: Goodr Sunglasses are essentially my go-to sunglasses for hiking and backpacking because they don't slip!
11) Food and Snacks
according to what you like!
12) Trekking Poles
: These puppies will save your knees! I always bring my Black Diamond Trekking Poles with me!
13) Your favorite Sunscreen and SPF Lipbalm
: These are really important to bring! Don't forget!
14) Insoles
: for your hiking boots to help alleviate the abuse your feet will take hiking on rough terrain
15) Camera Gear: Check out what Photography Gear we recommend for Outdoor Photography here!
17) Small Packable Towel
: Microfiber Towels will be perfect for this trip since they don't take up too much space in your backpack!
18) Season-Appropriate Hiking Clothing: Check out My Essential Hiking Gear List
for my recommendations on hiking clothing and layering! Don't forget to pack rain gear!
A GPS IS NICE TO HAVE: Check out the GAIA App for Your Phone.
So far my favorite phone GPS app solution is the premium version of the GAIA GPS, which allows you to download maps in advance and take them offline into the backcountry (perfect for the Lost Coast Hike!).
DONT FORGET YOUR BEAR CAN
: These are required!
For my full backpacking gear list check out the link below:
WANT TO PRINT my full backpacking PACKING CHECKLIST?
Don't leave anything behind on your Lost Coast Trail backpacking trip. Grab my Packing Checklist below! In this freebie, you'll get access to:
A Full Backpacking Gear Checklist for 2-5 Day Backpacking Trips

A Visual Backpacking Gear Checklist

Layering Essentials Tip-Sheet

25+ Backpacking Food Ideas for your upcoming Lost Coast Trail Hike
10) Suggested Itinerary for Hiking the Lost Coast Trail in California
As I mentioned above, my group hiked this trail in 2 nights and 3 days. You could also choose to backpack this trail in 3 nights and 4 days. You will also want to decide whether to hike Northbound or Southbound. We choose Northbound. However hiking southbound has it's advantages because the wind tends to blow southbound, which could enhance your overall experience on the trail if it happens to be really wiindy.
The Lost Coast Hike is roughly 25 Miles Point to Point (From the Mattole Beach to Black Sands Beach). Here is how we split up our hike on the Lost Coast Trail into 2 nights and 3 days.
Day 1 – Shuttle day + a few miles on the lost coast trail
On our first day we parked a car at Mattole Beach Trailhead, and took a shuttle to Black Sands Beach Trailhead. We started our hike that evening, and hiked a couple miles away from Black Sands Beach and camped along side the trail (a little ways past Horse Mountain Creek Camp).
It was a long day in the sense that we did a lot of driving, but the backpacking was short and sweet and we were off to the races straight away on day one, even though we only hiked a couple miles total.
Day 2 – Hiked from Horse Mountain Creek Camp to Kinsey Creek Camp
The second day was one of our longer backpacking days, and the views were absolutely stunning. We even made a friend (whom we called "Henry the Seal") along our hike. I swear he followed us the entire way to Mattole beach.
At the end of day 2 we made camp at Kinsey Creek and had enough time to enjoy the beach, play in the waves and watch the sunset over the ocean.
Day 3 – Hiked from Kinsey Creek to Mattole Beach Trailhead
Day 3 had some rough terrain but again the hiking was beautiful and we saw so much wildlife on this section of the trail!
We eventually made it to the Punta Gorda Lighthouse, and then back to the Mattole Beach Trailhead where we started our long drive back home.
LOOKING FOR MORE CALIFORNIA ADVENTURES?
If you are looking for additional California hiking adventures, check out our resources below:
ESSENTIAL HIKING & backpacking RESOURCES
Also be sure to check out these essential hiking resources!
Cheers,
Allison – She Dreams of Alpine
Related Posts: