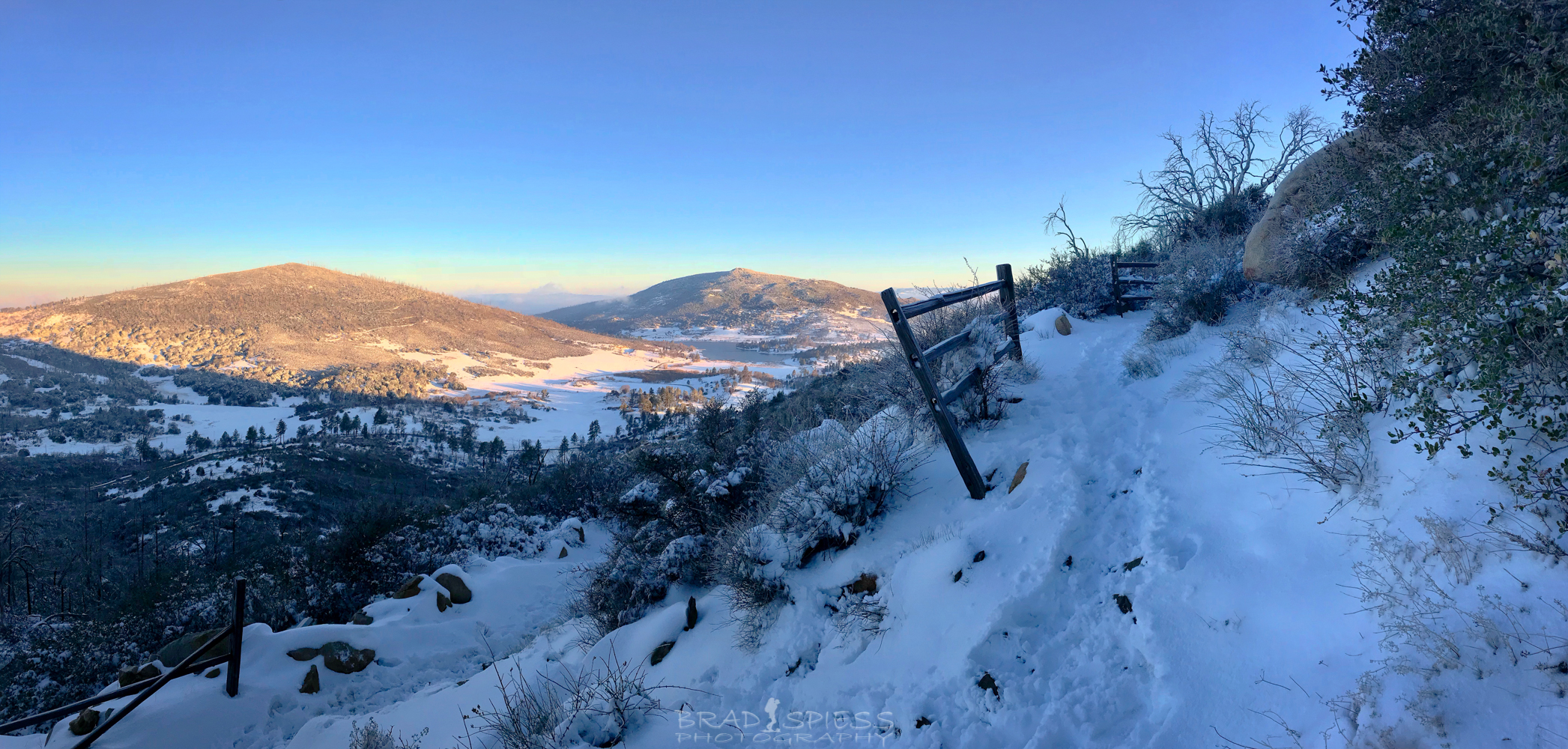 Hiking up Stonewall Peak trail in the Cuyamaca's during sunrise.
We don't get much of a winter here in San Diego, but when we do its a chance to get out and experience a little bit of winter hiking in the snow. Usually the snow level is not going to get really low here in San Diego, so when it snows the usual areas to grab a little hiking are going to be Mt Laguna, The Cuyamaca Mountians, and Palomar Mountain. Recently I got out to one of my favorite easy hikes for a little hiking in the snow : Stonewall Peak in the Cuyamaca Mountains.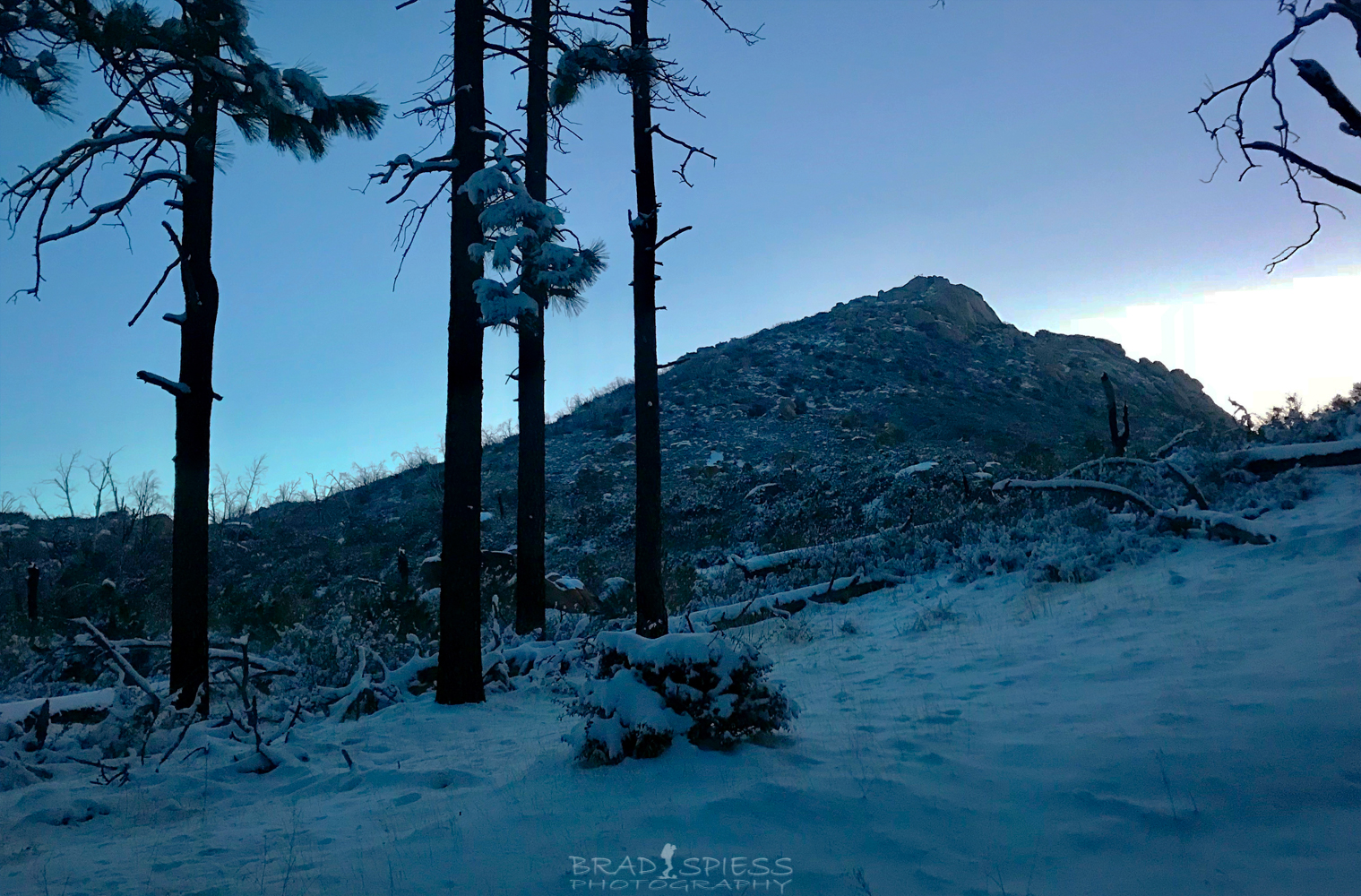 Looking up at the top of Stonewall Peak from the bottom of the trail after a recent snowfall
Some things to keep in mind when hiking in the snow are:
If you are just starting out you may want to try hiking on a trail you are familiar with so that you are not trying to find the trail in the snow.
More then likely you will not need micro spikes or gaiters, but depending on where you are hiking it may still be a good idea to bring them if you are hiking in deeper snow or icy conditions.
You don't want to necessarily put on the most insulated cloths, its better to layer so that you can add a layer if you need more heat and or take a layer off if you get to hot. I generally find that as I am hiking up hill I will produce more heat and therefore don't need as much insulation, but when I get to the top of a mountain or I am on a exposed area with a lot of wind I will need more insulation, also as you go downhill during the 2nd half of the hike you will generally not be producing as much heat.
A pair of Trekking Poles is a god send while you are hiking in the snow to help keep your balance and let you utilize your upper body as well to help you climb, and to help decelerate as you are going down.
Even though it is cold and you are not sweating as much you can still dehydrate and this can cause fatigue and cramping. I experienced some cramping after this hike even though I knew better and keep telling myself to stop and drink some water my other competitive mind keep telling me to just keep going and we would have some water once I got back to the car. I payed for it later with about 10 min of abdominal cramping as I was trying to get back into my car after enjoying breakfast and coffee in Julian. Keep drinking your water, your body will thank you.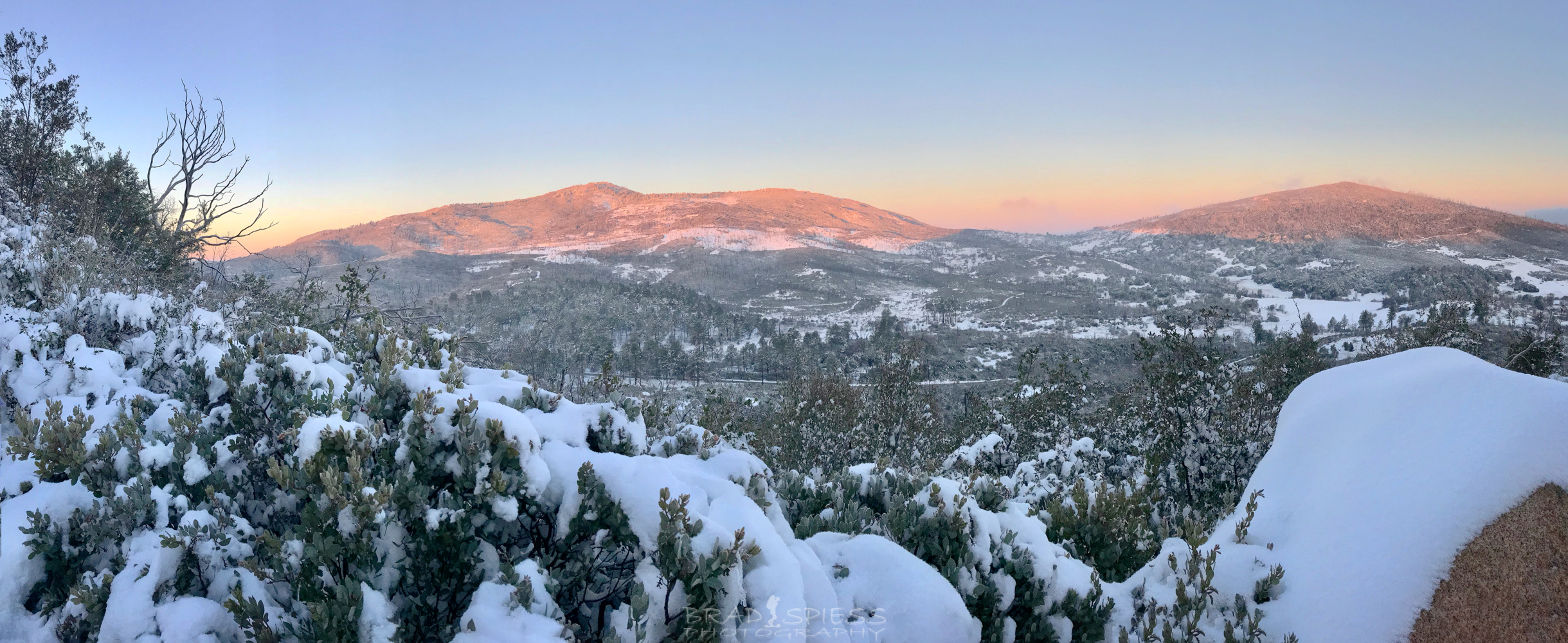 On the Stonewall Peak trail looking across the valley at Cuyamaca Peak lit up by sunrise.
Some areas to experience the snow around San Diego:
Other areas in Southern California for snow hiking ( these areas tend to be higher in elevation and my require more planning and equipment ) that are all about 2 hours away.

Looking down at Lake Cuyamaca during sunrise from the Stonewall Peak Trail
Getting up to the local mountains after it snows.
After it snows in our local mountains a lot of people can tend to head up there in order to enjoy the experience.
Make sure you have chains for your car, you may not even need them, but "its better to have them and not need them rather then need them and not have them". Make sure to buy chains when you have some spare time and not at the last minute. Make sure they fit your vehicle. If they are the older type of chains you may need to take them in and get them fitted for your car. A lot of newer vehicles need a different type of tire chains and you don't want to be running around like a mad man or women looking for them when everyone else that wants to go up as well. Better to just get them and have them sitting in your garage waiting for you to use them.
Bring some snacks for the drive, for yourself and or your kids. Beyond just bringing food for the hike, you may find that drive takes longer because of the snow and its much better to start the hike with energy then being drained when you get there.
Bring extra water ( and a thermos of hot coffee or hot chocolate ) for after the hike, it feels so good to get back to the car and have a hot drink, and along the earlier point you never know how long it may take you to get there.
Most defiantly bring a camera of some kind, your going to want to remember this.
Bring some patience if you are heading up during the weekend and or right after it snows. I remember watching the news one year where it seemed like everyone in San Diego decided to descend on to Julian after a snow fall and the traffic was a nightmare.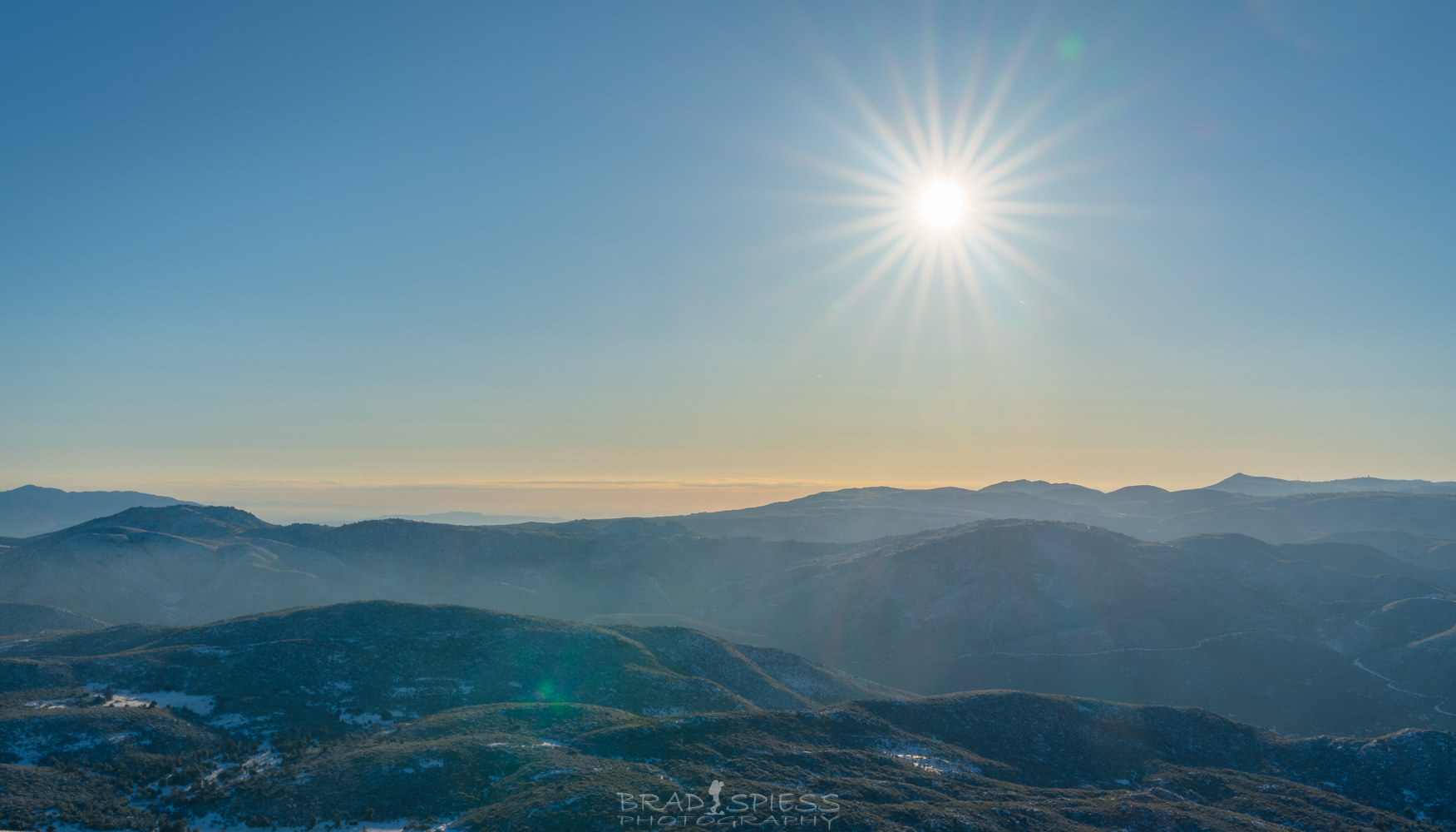 Looking east at the sun rising over Mount Laguna from the top of Stonewall Peak.
Looking north from the top of Stonewall Peak after a recent snowfall. Lake Cuyamaca can be seen on the left while the mountains are lit by the sun rising in the east from the right.
So remember that you can a little taste of winter here in San Diego once in a while, and it can be a lot of fun. Just keep your eye on the weather and be properly equipped so that you may enjoy the experience.
The post Winter Hiking in San Diego appeared first on I Hike San Diego.