I must admit, this is my favorite time of the year! Fortunately, I had a group of about 20 young men and women who wanted to go on a hike. I was happy to volunteer to go along as I haven't been on the trails much lately (I've been on my bike alot!)
I was ecstatic to find that the spring wildflower bloom is in full force along the hiking trails of the Columbia Basin. We chose to go up the Skyline Trail off of Dallas Road but you'll find similar beauty all over the area. Right away, I started spotting flowers like the Rosy Balsamroot huddled close to the ground.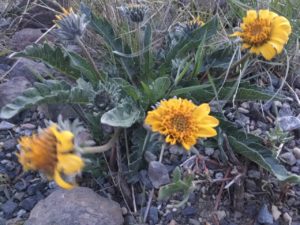 Rosy Balsramroot
I have a special place where I've seen a special flower every year and I don't see it anywhere else. I"m always on the lookout in my special place for the Robinsons Onion and I saw it in all its splendor looking the most beautiful ever! It is a rare find for me as I don't see it around much but, if I'm lucky, I spot it in my special place and this time did not disappoint!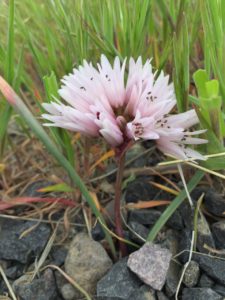 Robinsons Onion
I tried to encourage the members of our group to slow down and look closely down low along the trails for this little treasures. Of course, Carey's Balsamroot is really big, bold and vibrant in color.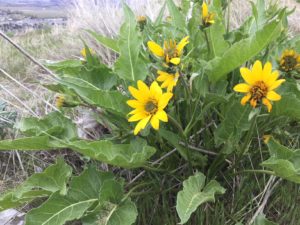 Carey's Balsamroot
But some of the most beautiful wildflowers kind of hide and you have to look closely to see their intricate beauty. Another bold yellow flower is the Fiddleneck Tarweed.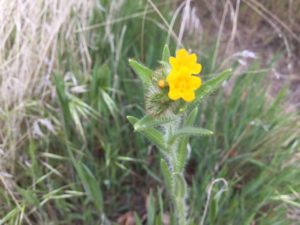 Fiddleneck Tarweed
And another one of my favorites is the fragile but spectacular purplish-blue Delphinium variegatum also called Larkspur. It is so beautiful and dainty. The problem is, if you don't take time to slow down and look, you'll miss it!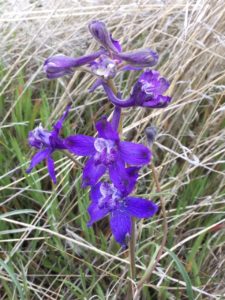 Delphineum variegatum – Larkspur
Another bold groundcover wildflower is Purse's Milk Vetch with its widely variant coloring from bold blue to vibrant purple.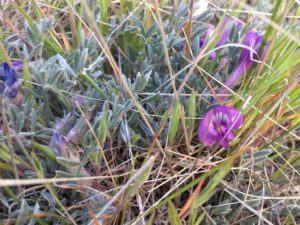 Purses Milk Vetch Astragalus glareosus
One of the most beautiful and prolific blue-purple color wildflowers is just coming on strong right now, Lupine. You can see a ton of Lupine around our area right now!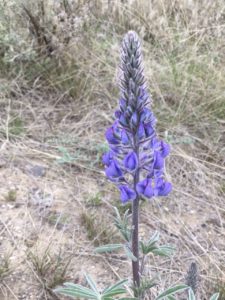 Lupine
And there is so much more! I encourage you to get out and enjoy the beauty that surrounds us! It is only here for a limited engagement before the heat of summer! Maybe I'll see you out there. I'll be hiking more as I'm going to start training for another trip up Mount Adams! Hope to see you out there! Paul