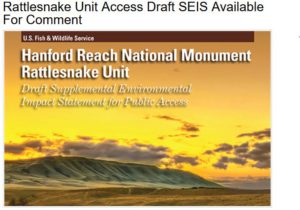 It is time to speak up about access to hiking areas in the Columbia Basin! There is an opportunity to hike the highest peak in the Columbia Basin, one which has been closed to the public for more than 70 years. Several years ago, Congressman Doc Hastings created legislation directing the opening of Rattlesnake Mountain to public access. Since then, there have been delays and token bus trips to the top for a very select few. Now, the Department of Fish and Wildlife are considering options for opening up the mountain to the public and we need to make sure our voices are heard. Please take a minute and look at the options on the DFW website. I would encourage you to support Alternative C as it allows the most access to bicycle and hiking use. Rattlesnake Mountain has been home to an observatory (which was recently torn down), and is also claimed to be a sacred site for Native American tribes. It has been largely untouched for over 60 years. It is home to multitudes of coyotes, elk, deer and other wildlife. It is also home to unique plant life which is adapted to survive the often brutal high winds which buffet the mountain. It is a unique habitat which deserves to be protected but, which also provides a unique opportunity for the public to witness and marvel at the amazing beauty that surrounds us in this desert area where we live. Please take a minute to read the report, or, at least send a brief email to hanfordreach@fws.gov. You can also send your comments to: U.S. Fish & Wildlife Service, Rattlesnake Unit Comments, 64 Maple Street, Burbank, Washington 99323
Please be respectful and civil as you send your comments on this issue. In addition, please practice good etiquette as you hike the other trails around the Columbia Basin as this will help reflect the behavior FWS can hope for on Rattlesnake Mountain. Here are a few key reminders about hiking etiquette:
Mind your own trash, don't litter. Pick up litter you may encounter
Curb your dog, keep on leash and pick up after them (don't leave waste bags along the trail, dispose of them properly)
Stay on the trail, shortcuts only tear up the areas we're there to see and they mar the natural beauty we have in our area
Smile and say hi to your fellow hikers
Yield to uphill traffic, step to the side of the trail to let uphill traffic pass (don't step off the trail)
12 Trail Manners Tips You Should Share with Everyone, Hiking Etiquette!