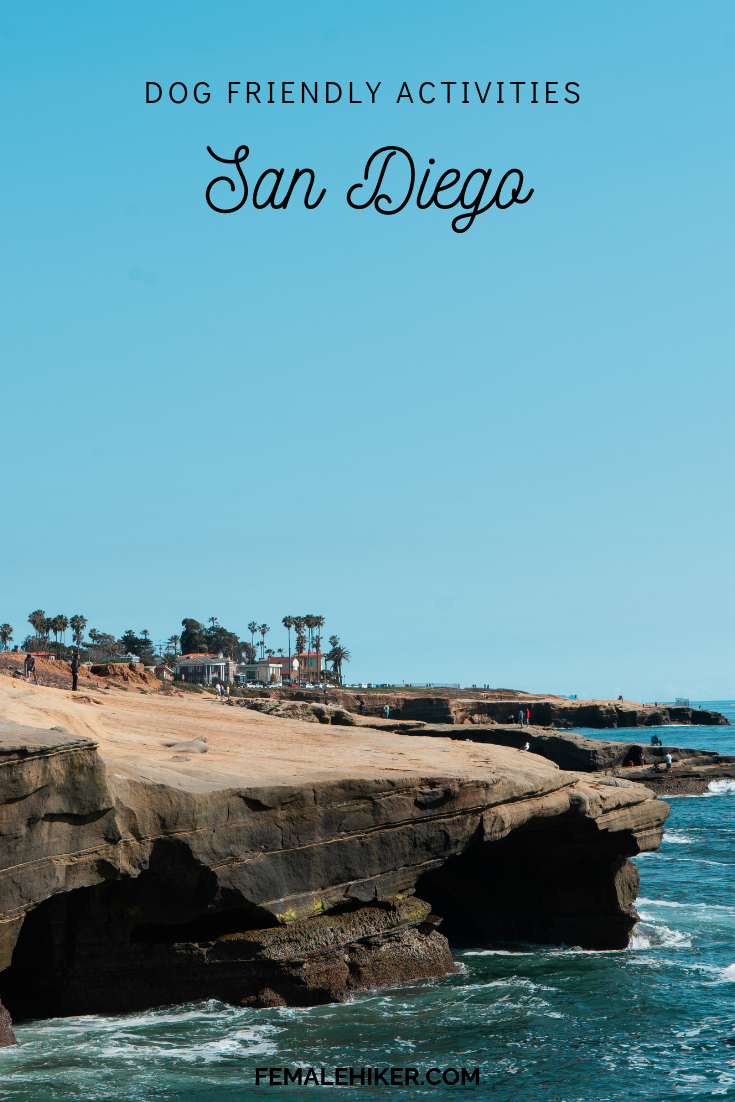 San Diego's chill beach vibes, outdoor restaurants, and nearby hikes make for a great weekend away with your pup.
We spent this past Memorial Day Weekend in San Diego. We wanted to eat good food and go hiking – there's no better place than San Diego to do that! I love that it's less busy than LA. We were able to get a seat at popular restaurants and book Airbnb's without issues. After hours and hours of research, this is what we landed on for an itinerary.
Saturday
From LA, drive to the trailhead for Potato Chip Rock (~2.5 hours). You'll want to start this hike early to beat the crowds! There are a few entrances to the hike, but we started near Lake Poway via the Mt Woodson Trail. The views itself were beautiful and the worst part was actually up at the rock (there was an hour-long line, insane!). It was also a bigger challenge than the hikes around Santa Monica, so it really was the best way to start the morning. Best of all, the hike is dog friendly.
From there, we went to eat ramen at Menya Ultra. The line was SO long, but luckily you can reserve ahead on Yelp. This shop has a bunch of accolades, and I was surprised that it lived up to the hype!
After lunch we went to Sunset Cliffs National Parkand enjoyed the beautiful ocean side views. It was super nice out and we walked all the way up to Luscomb's Point!
To end your night, I really recommend Trust Restaurant. We brought Ty there and he happily sat under our table while we ate dinner. They even brought out a bowl of water.
Sunday
On Sunday we started off at Nomad Donuts to try all of their vegan offerings. I expected something over-the-top hipster-y so I was pleasantly surprised when it felt like a real donut shop, minus the prices.
After our donuts we were supposed to head to Los Penasquitos Canyon Trail but it was pouring rain! We looked at a doppler map and found Cowles Mountain instead. At 3 miles, this hike isn't the longest, but you're going up 900 ft in elevation so it's a great workout. The views at the top of the mountain were beautiful too – you get a 360 view of the surrounding towns. And yes it's dog friendly!
For a little lunch snack we headed to La Perla Cocina Mexicana. You can't go to San Diego and not get a California burrito.. This is a nice little take out spot so we ordered our burritos to go.
Afterwards we went to the one dog-friendly spot in Cabrillo National Monument, Point Loma Tidepools. Make sure you check the tide when you go, and go at low tide. We had a fun time walking around the coast there and looking for creatures in the tidepools.
To end the day we headed to Ocean Park's Dog Beach. Ty had so much fun running around sniffing dogs. Although he was a little more interested in swimming than the pups. It's a fairly large beach and all the dog owners were great at picking up their pup's poop.
What are your favorite dog friendly places in San Diego? Comment below!