What's inside the Cairn outdoor subscription box for May 2019.
Considering getting a Cairn subscription or giving one as a gift? Here's a rundown of what this month's box offers.
Disclaimer: Cairn provided a complimentary box for review, but did not provide compensation or exercise control over the content of this post.

In this month's box

Total Value: $48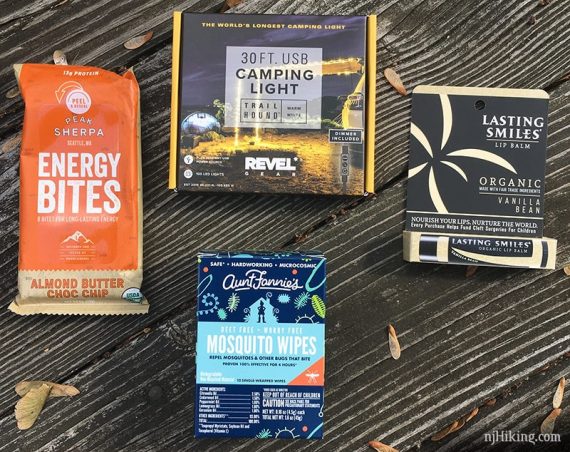 This month Cairn is "feeling festive" with outdoor lights, mosquito protection, lip balm, and some energy bites to kick back and enjoy the outdoors.
A small coil of flexible wire with usb-powered tiny LED lights.
I saw "30-ft" on the 4″ square box and wondered how that could be but it's really thin. Comes with a dimmer and blinking on/off/speed control.
I plugged it into the Power Practical power charger from the July 2018 Cairn Box which works great. We'll probably string it around our deck this summer.

Repel mosquitos and other biting insects with DEET-free wipes.
We tucked a few of these in our backpacks but haven't tried them yet. It's always easier carrying wipe packets than a bottle of spray while on hikes.
Update: Used these mid-hike after we had to remove a layer when it unexpectedly warmed up, so our arms weren't protected… just as we hit a low-lying buggy area (of course).
They performed well, instantly repelling all the flying nasties for the rest of the hike. We'd consider getting more when we run out.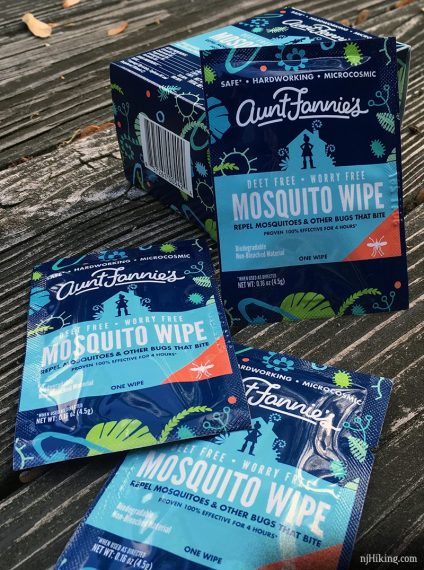 Moisturizing lip balm using organic and fair trade ingredients. The mild "flavor" reminds me of the instant oatmeal I have sometimes. It goes on smooth but it's not rated for sun protection… so minor ding there.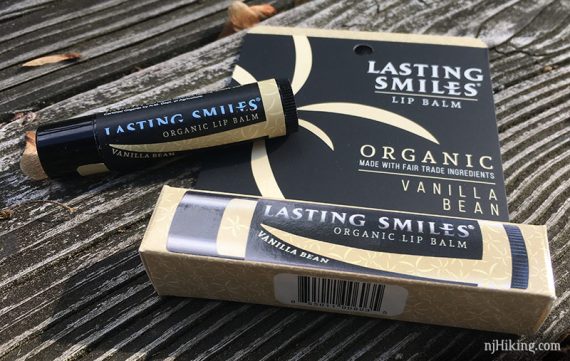 Eight tasty energy bites in a resealable package which is terrific if you want to space out your snacks… but as usual we polished them off in one sitting.
Tom scarfed one before I could even get a photo: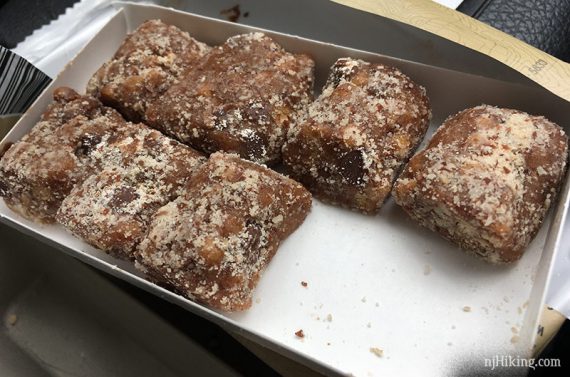 These had just the right amount of "chew" to be satisfying but not hard to eat… though we did taste test on warm day.
They are made with Tsampa, a "sprouted and roasted mountain barley" that Sherpas have eaten for ages apparently (this one is new to me and I eat a lot of odd healthy things).
Good flavor without being too sweet or strong, and there was a dusting of nuts or something on them which kept them from being sticky.
I really really liked these and would get again, while Tom was on the fence about them.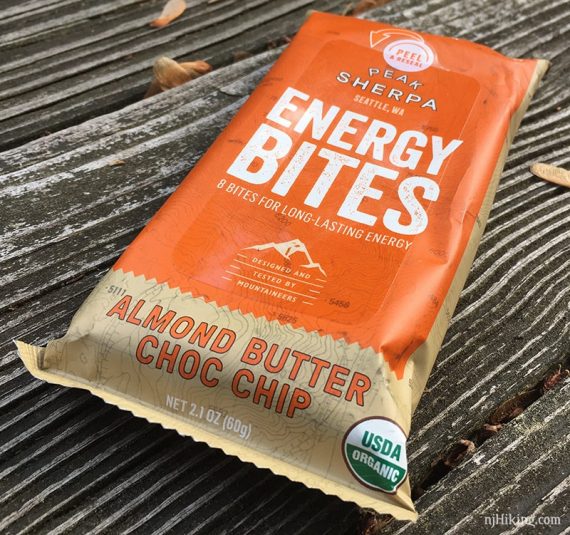 The latest specials from Cairn:
The Summer 2019 Obsidian Collection – "Taste The Good Life" features camping cookwear from Primus Equipment, Opinel, and GrubStick, a growler from MiiR, pancakes and syrup from Backpacker's Pantry and Runamok Maple. Limited quantities available!
The Hammock Collection – This curated welcome box includes: Serac Classic Hammock, Serac Straps, Peak Sherpa Energy Bites, Natrapel Wipes. While supplies last!
More run downs:
– Cairn – June 2019
– Cairn – May 2019
– Cairn – April 2019
– Cairn – March 2019
– Cairn – February 2019
– Cairn – January 2019
– Cairn – December 2018
– Cairn – November 2018
– Cairn – October 2018
– Cairn – September 2018
– Cairn – August 2018
– Cairn – July 2018
– A Year of Cairn
– All reviews…