What's inside the Cairn outdoor subscription box for June 2019.
Considering getting a Cairn subscription or giving one as a gift? Here's a rundown of what this month's box offers.
Disclaimer: Cairn provided a complimentary box for review, but did not provide compensation or exercise control over the content of this post.

In this month's box

Total Value: $53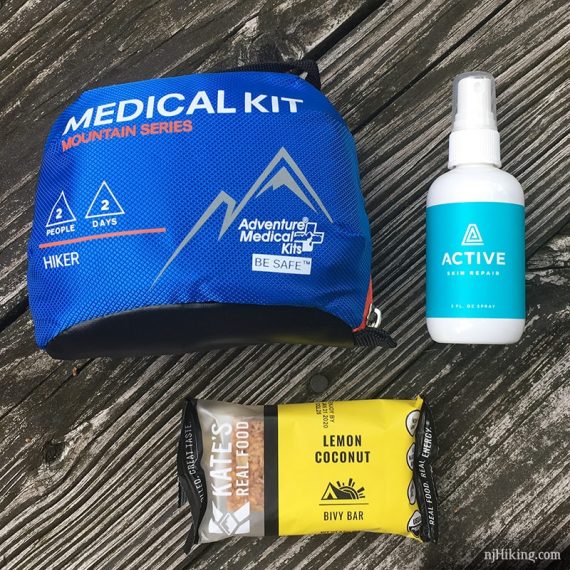 This month Cairn is "showing up" with items that help prep for issues that might crop up in outdoor pursuits with a hiker first aid kit, wound healing spray, and a real food bar.
This kit is geared for two hikers out for two days. The compact bag unzips and opens flat, measures 6.5 x 5.5 x 3 inches, and weighs 7.2 ounces.
There are three separate sections with zippered pockets: wound/burn/blister care, meds and cuts/scrapes, and "stop bleeding fast".
It includes the usual basics in bandages, wipes, and meds but also a guide to wilderness first aid, scissors to cut the provided bandages and gauze, and rubber gloves.
There's enough here to handle most situations contained in a well organized and compact kit.

This non-stinging antibacterial first-aid spray is natural, non-toxic and supports the body's healing process by using HOCl – a clinically proven molecule used in hospitals worldwide.
Use the spray to heal minor wounds, cuts, scrapes, sunburns, traditional burns, chafing, rashes, wounds, insect bites and other skin irritations.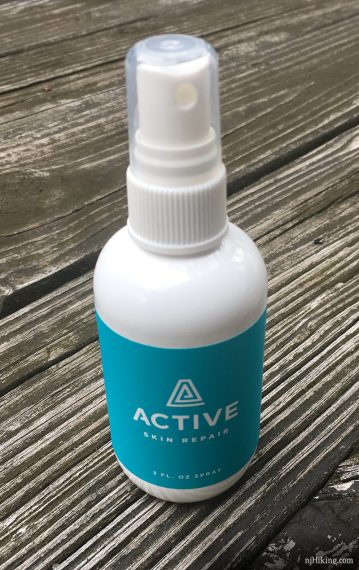 Organic oats, almond butter, coconut, honey, lemon, ginger yummy-ness. Bar is two servings, each serving is 150 calories and 10g of fat so you might not want to nosh this at your desk.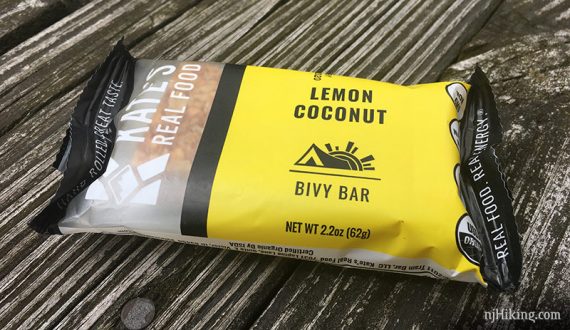 The latest specials from Cairn:
The Summer 2019 Obsidian Collection – "Taste The Good Life" features camping cookwear from Primus Equipment, Opinel, and GrubStick, a growler from MiiR, pancakes and syrup from Backpacker's Pantry and Runamok Maple. Limited quantities available!
The Hammock Collection – This curated welcome box includes: Serac Classic Hammock, Serac Straps, Peak Sherpa Energy Bites, Natrapel Wipes. While supplies last!
More run downs:
– Cairn – June 2019
– Cairn – May 2019
– Cairn – April 2019
– Cairn – March 2019
– Cairn – February 2019
– Cairn – January 2019
– Cairn – December 2018
– Cairn – November 2018
– Cairn – October 2018
– Cairn – September 2018
– Cairn – August 2018
– Cairn – July 2018
– A Year of Cairn
– All reviews…